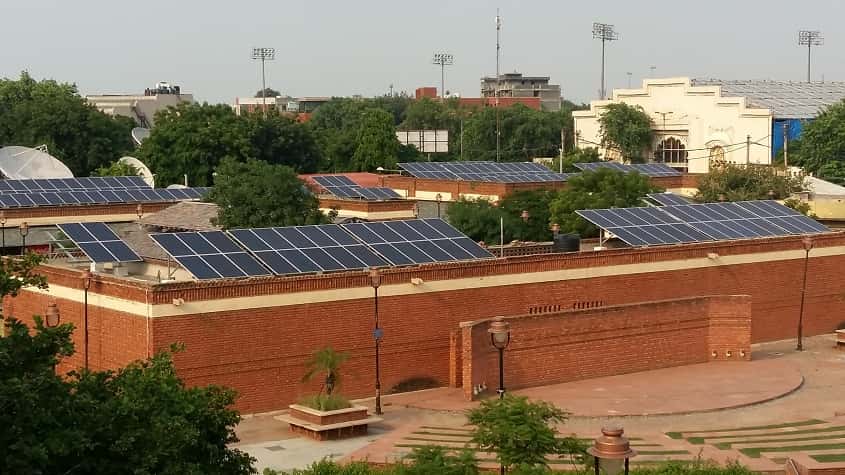 As part of the 2.5 MW contract secured with the Delhi Government's power generation arm, Indraprastha Power Generation (IPGCL), CleanMax Solar has commissioned a 140 kWp solar plant at the food and craft bazaar, Dilli Haat in Pitampura.
This rooftop solar power plant is expected to generate 1.97 lac units of electricity through the year. This will help achieve a whopping 50 percent saving per unit, reducing INR 9.7 lacs per annum on the electricity cost.
With Delhi's electricity consumption on the rise, rooftop solar plants will assist in bridging the demand-supply gap. Moreover, with the rising levels in pollution, plants will provide some respite to the smog engulfed city with the inclusion of sustainable energy. The solar plant is expected to reduce CO2 by 186 tonnes per annum. Commissioned under the unique OPEX or pay-as-you-go model, the plant is investment free, risk free and hassle free. This has made it a good business proposition for the State Government of Delhi in their efforts to make this renowned tourist destination green and sustainable.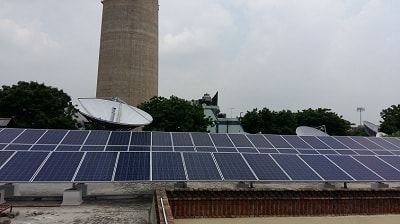 Commenting on this initiative, Andrew Hines, Co-founder, CleanMax Solar said, "We are glad to aid public facilities and infrastructure projects to go green. While CleanMax is already the industry leader for providing solar solutions to corporates and education institutes, we see a fantastic opportunity to help state & central governments in public infrastructure domain do the same. Besides Dilli Haat, some of our public infrastructure clients include Kempegowda International Airport (Bengaluru), Chennai Metro and various CPWD buildings in Delhi, Mumbai and Bengaluru."
"Due to the visitors' footfall pattern, Dilli Haat witnesses a significant load consumption in the evening and night time, although the optimum solar energy is generated during the day. Due to the net metering facility, the disparity between the time of solar production and consumption can be eliminated. Moreover, net metering also enables the State DISCOMS (Distribution Companies) to help stabilise their peak load demand in the day by pumping the extra units back to the grid, at the time when they need it the most", he added.
About CleanMax Solar:
CleanMax Solar is India's largest on-site solar power provider. The company was founded in 2011, and since then, CleanMax Solar has successfully installed more than 200 projects for over 50 corporates, with a combined on-site capacity of more than 100 MW. CleanMax Solar is the #1 rooftop solar developer in India for the past three years, with a market share of 24 per cent (as per the Bridge to India 2017 report). CleanMax Solar also built Karnataka's first open access solar farm, of 30 MW capacity, in the Tumkur district, and operates multiple solar farms to supply electricity to corporate consumers on an open access basis across the states of Karnataka and Tamil Nadu, with a combined capacity more than 60 MW.
Focused on corporate and institutional clients in sectors such as Automobiles, Education, Pharmaceuticals, Food & Beverages, and Information Technology, the company develops projects on a turnkey basis, providing power on a per-kWh basis, under long-term Power Purchase Agreements, at rates cheaper than prevailing grid tariffs. CleanMax Solar has been recognised by the Ministry of New & Renewable Energy (Government of India) with National Excellence Awards for Rooftop Solar Developer and Rooftop Solar EPC Player in 2016. CleanMax Solar has also been awarded the Best Rooftop Solar Player at the Renewable Energy Exposition (REI) 2017.
For more information, log onto www.cleanmaxsolar.com
About Dilli Haat:
Dilli Haat was established jointly by Delhi Tourism (DTDC), Government of Delhi and NDMC, D.C. (Handicrafts) & D.C. (handlooms), Ministry of Textiles & Ministry of Tourism, Govt. of India and opened in March 1994. Delhi's second Dilli Haat, the Dilli Haat, Pitampura, also was developed by DTTDC in Pitam Pura, close to Pitam Pura TV Tower and spread over 7.2 hectares, was opened in April 2008. Over the years, Dilli Haat transcended to a venue of crafts, music, dance and cultural festivals.
Media Contacts:
Radhika Bhadada
+91 8879540088
radhika_bhadada@cleanmaxsolar.com
Reby Abraham
+91 9930390608
reby@communicateindia.com
Mayukhi Mondal
+91 9168464125
mayukhi.mondal@communicateindia.com
Manasi Sohoni
+91 9920980293
manasi.sohoni@communicateindia.com