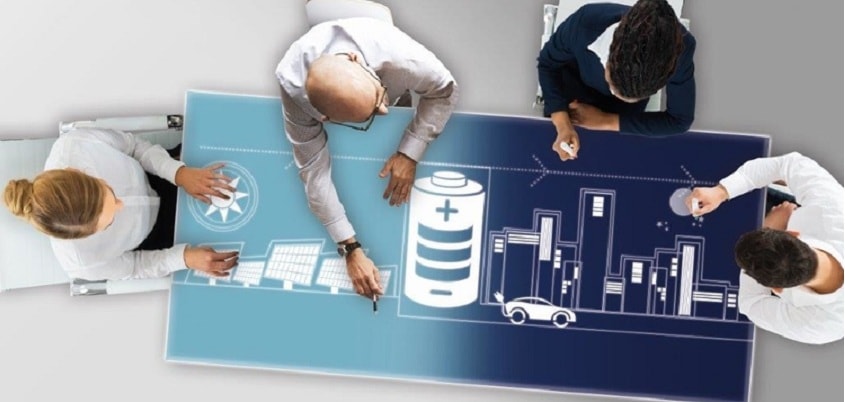 ees North America 2018, the premier energy storage exhibition and conference in North America, will highlight the growing market opportunity of solar-plus-storage, the electrification of transportation, and promising storage technologies at its fourth annual event in San Francisco July 10 to 12 at Moscone West.
Co-located with Intersolar North America, the two shows represent the first major solar and storage industry events of the year in the United States.
The energy storage industry is predicted to cross the 1 gigawatt (GW) threshold by 2019, according to GTM Research, and industry experts have identified energy storage as a driving force for the wider implementation of renewable energy.
As a result, energy storage has maintained steady growth in deployments throughout the past year, and is on track for continued boosts in the market due to its vital role in both the solar and transportation industries. From 2017 to 2023, the U.S. storage market will grow to nearly 15 times its current size, GTM Research reports, with behind-the-meter deployments making up half the annual market by 2022.
In order to provide cutting edge information that will give attendees an edge on the market, ees North America organizers developed its conference program in close consultation with roster of partners. These include representatives from the National Alliance for Advanced Transportation Batteries (NAATBatt); Fraunhofer Institute for Solar Energy Systems ISE; CALcharge; DNV GL Energy Americas; the Energy Storage Association; GTM Research; India Energy Storage Alliance; Sandia National Laboratory; and Siemens. As a result, the 15 conference sessions and workshops offered at this year's event will provide attendees with important insights from industry leaders and promising start-ups.
Highlights of this year's conference include:
With the expected growth in the storage marketplace, choosing a renewable to pair with it is critical. In a GTM Research poll, solar energy was favored by 71 percent over other technologies as the renewable resource of choice to pair with storage. Top installers have expressed their interest in installing projects by offering solar-plus-storage packages, which may contribute to another deployment spike in the next few years. Incentive programs, such as California's Self-Generation Incentive Program (SGIP), have enabled these projects and brought them to completion. Co-located with Intersolar North America, ees North America is the perfect place to discuss the future for the evolving solar plus-storage market, and network with executives from solar, storage and project development companies, as well as policymakers and financiers.
"Solar-plus-storage certainly will play an important role for all the reasons that have long been identified," said Jim Greenberger, executive director of NAATBatt, in a recent interview. "The positive economics of solar-plus-storage is now catching the attention of the most skeptical folks in the utility sector. Storage is no longer just an environmental story – it's a story of producing cheaper electricity that in turn helps create a more reliable grid."
Key conference sessions include:
The full conference program is available online, including the Power2Drive conference track. Initial speaker selections have been announced. Early-bird pricing, which offers substantial savings, is available for the full conference pass through May 8.
Power2Drive Arrives on the ees North America Exhibition Floor
For the first time, ees North America is hosting the Power2Drive North America special exhibition and conference program.
With growing EV demand, automakers and utilities are stepping in to provide the necessary charging infrastructure to support the electric transportation future. According to The Global EV Outlook published by OECD and IEA, the global electric car stock doubled in size from 1 million in 2015 to 2 million in 2016. The United States is holds a strong lead in the space, witnessing a 21 percent increase in vehicles sales from 2016 to 2017 according to GTM Research. More information on exhibiting at Power2Drive is available online.
About ees North America
Covering the entire value chain of innovative battery and energy storage technologies, ees North America is the leading exhibition and conference for the electrical energy storage industry. ees North America connects manufacturers, distributors, users and suppliers of stationary and mobile storage products in the epicenter of the U.S. storage market, California.
Co-located with Intersolar North America, North America's premier solar event, ees North America provides the best opportunity to explore energy storage systems in combination with solar technologies and beyond. This year, ees North America will feature the new special exhibition Power2Drive, focused on charging infrastructure, traction batteries and electric vehicles.
In 2017, 130 energy storage exhibitors and more than 15,000 attendees participated in the co-located events. Launched in 2015 as a special exhibition, ees North America became a standalone exhibition and conference in 2016, and is now part of the ees global exhibition series. Together with ees Europe in Munich, ees South America in São Paulo, and ees India in Mumbai, ees events are represented on four continents.
For more information on ees North America please visit www.ees-northamerica.com
Organizers: Intersolar and ees North America are organized by Solar Promotion International GmbH, Pforzheim and Freiburg Management and Marketing International GmbH (FMMI).