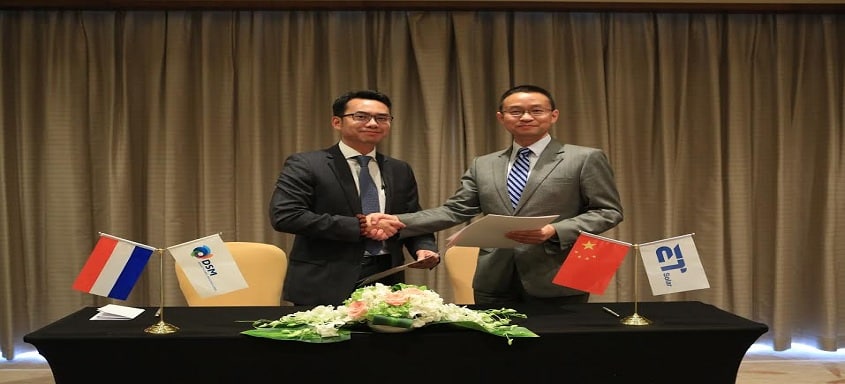 ET Solar, a differentiated global top-quality PV module provider,and Royal DSM, the global Life Sciences and Materials Sciences company signed a strategic partnership agreement to commercialize PV solar modules featuring unique sustainable and durable backsheets.
These backsheets can make a significant contribution to further lowering the levelized cost of energy (LCOE). 
Under the agreement, ET Solar will apply DSM's new high-durability backsheets to boost power gain in their high-efficiency modules. Furthermore, the two companies will collaborate in developing and testing new environmentally friendly backsheetsthat will help reduce the levelized cost of energy (LCOE) even further.
By combining ET Solar's extensive module technology know-how with DSM's decades of experience in material science innovation, this partnership represents a significant step for the solar industry, saysMr. ZhenhaiGuo, president of ET Solar."DSM is a global science-based company, with strong expertise in health, nutrition and materials. The partnership with DSM will contribute not only to the solar industry, but also to the environment. We are proud to be DSM's global strategic partner in making environmentally friendly modules. I'm confident thatour cooperation with DSM will be successful. DSM has a strong position in materials, which are vital to create the best module components. I believe the partnershipwill bring great benefits to both companies in the future."
"The strategic partnership with ET Solar is an important next step inrealizing our growth ambitions in the backsheet market,"says Oscar Goddijn, Vice President DSM Advanced Solar. "New materials and technologies will clearly play a crucial role in solar PV innovation, as well as in the relentless search for opportunities to reduce the LCOE. These developments can only be successful if, as an industry, we work closelytogether.Our backsheet technology is designed to deliver long-term power gain and is made from materials proven to perform for decades in the harshest conditions. And as they are fluoride-free, they are friendly to the environment, resulting in a 30% lower CO2 footprint compared to fluoride-based backsheets."
The DSM commitment: Same sun. More power.™
While solar energy has become a key part of the global energy mix over the past decade, more work is needed for it to increasingly become a global and financially viable alternative to fossil fuels. This essentially means that the levelized cost of energy (LCOE) of solar PV needs to be reduced. Building on the success of its industry-leading Anti-Reflective coating, DSM aims to commercialize a portfolio of innovations focused on lowering the cost of solar energy by providing solid, durable and sustainable materials solutions. This includes the unique, high-performance solar photovoltaic backsheets based on co-extrusion technology. Polymer backsheets are essential to the performance of solar PV modules: they increase both the modules' durability and output. 
The ET Solar commitment
The strategic partnership with DSM is an extensive and long-term collaboration, including development cooperationwith regard tobacksheets, anti-reflective coatings, anti-soiling coatings, and other environmentally friendly materials. The partnership has far-reaching significance; it will not only enhance the efficiency of ET Solar's modules, but also contribute totheindustry and the environment. The cooperation between DSM and ET solar will have mutual benefits and will help the development of PV manufacturing in China.
To learn more about the partnership, visit us at the SNEC 11th (2017) International Photovoltaic Power Generation Conference & Exhibition from 19-21 April in Shanghai (DSM Booth #W5-350, ET Solar Booth #E2-550).
ET Solar
ET Solar is a differentiated global top-quality PV module provider. With local sales & marketing subsidiaries and offices in Asia, Europe, Oceania, and North & South America, ET Solar has provided solar modules and turnkey solution services to customers in over 90 countries. To learn more about ET Solar,visit http://www.etsolar.com.
DSM – Bright Science. Brighter Living.™
Royal DSM is a global science-based company active in health, nutrition and materials. By connecting its unique competences in Life Sciences and Materials Sciences, DSM is driving economic prosperity, environmental progress and social advances to create sustainable value for all stakeholders simultaneously. DSM delivers innovative solutions that nourish, protect and improve performance in global markets, such as food and dietary supplements, personal care, feed, medical devices, automotive, paints, electrical and electronics, life protection, alternative energy and bio-based materials. DSM and its associated companies deliver annual net sales of about €10 billion, with approximately 25,000 employees. The company is listed on Euronext Amsterdam. More information can be found at www.dsm.com/solaror at www.dsm.com
Media Contact:
Christina Celestine                                                            
DSM Asia-Pacific                                                                
Tel: +65-66326591                                                                                 
Email:Christina.celestine@dsm.com
Jasmine Dang
DSM (China) Limited
Tel: +86-21-61418165
Email:Jasmine.dang@dsm.com
Helen Wang
ET Solar
Tel: +86 159 9591 6358
Email: wangqian@etsolar.cn