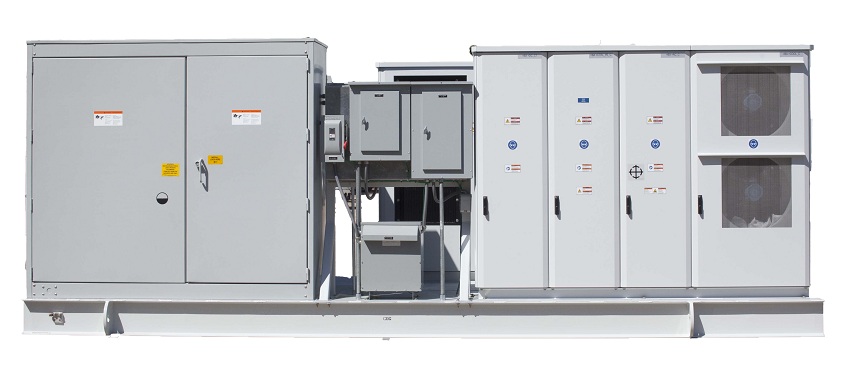 India's booming economy and the increasing need for electricity have made the country quickly emerge as one of the world's hotspots for solar power.
GE Energy Connections is partnering with Solairedirect, a subsidiary of Engie, to equip its plants with 140 megawatts (MW) of LV5 1-MW solar inverters as well as a 25-year, long-term service agreement (LTSA). Inverters will be installed in two solar plants with 70-MW capacity each. Included in the service agreement is the provision of parts when needed and the required man-hours for repairs and maintenance for these two plants.
The right technology is key to the plant's success, but ensuring that the technology can continue to keep performing to the desired standard is arguably just as important. GE's LTSA ensures high availability and high energy output of the plant. Thanks to the service agreement, the customer can benefit from improved project bankability and reduce the total cost of ownership throughout the lifespan of the two solar plants.
"In an ever more competitive solar industry, service becomes the differentiator. Thanks to the LTSA provided by GE, lifetime support is guaranteed for our two plants. We are confident in the knowledge that we will be able to continue efficiently supplying solar-fueled power. We look forward to continuing to work with GE," comments by Solairedirect.
'GE's experience in turnkey projects execution and its strong footprint in India assures the customer of our reliability and ability to supply quality products that adhere to their technical requirements. With a 400/220 kV substation under execution at the same location—Bhadla in Rajasthan—the customer is confident of meeting the stiff completion schedule with available site establishment," said Sujoy Ray, regional commercial leader, South Asia, GE Energy Connections' Grid Solutions.
"We are seeing an increase in solar developers who are looking to reduce risk in their businesses by having the OEM provide long-term service support. GE's maturity in this service segment as well as experience with solar technology assures customers they are working with a reliable and knowledgeable partner," said Azeez Mohammed, GE Energy Connections' Power Conversion.
Learn more about GE's LV5 solar inverters.
About GE
GE (NYSE: GE) is the world's Digital Industrial Company, transforming industry with software-defined machines and solutions that are connected, responsive and predictive. GE is organized around a global exchange of knowledge, the "GE Store," through which each business shares and accesses the same technology, markets, structure and intellect. Each invention further fuels innovation and application across our industrial sectors. With people, services, technology and scale, GE delivers better outcomes for customers by speaking the language of industry. To learn more, please visit www.ge.com
About GE Energy Connections
GE Energy Connections designs and deploys industry-leading technologies that turn the world on.  We transport, convert, automate and optimize energy to ensure we provide safe, efficient and reliable electrical power. Uniting all the resources and scale of the world's first digital industrial company, we connect brilliant machines, grids, and systems to power utility, oil & gas, marine, mining and renewables customers, that keep our world running. Power Conversion and Grid Solutions, a GE and Alstom joint venture, is part of GE Energy Connections.
For more information, please visit www.geenergyconnections.com