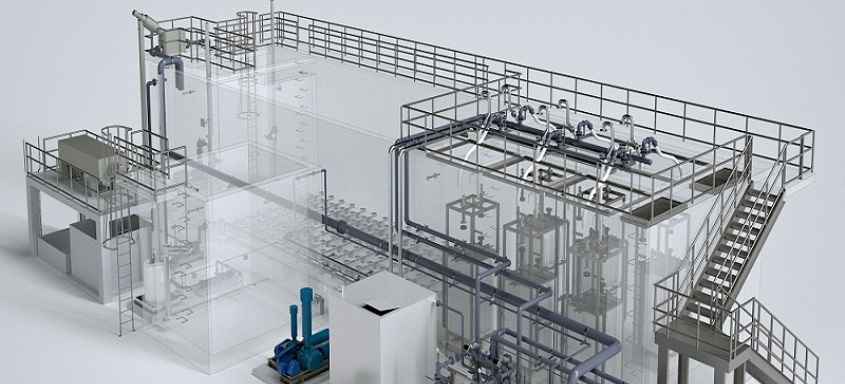 Hyflux Ltd a global leader in sustainable solutions for water and energy resources, announced at WETEX Dubai 2016 that it is expanding the available configurations for its PoroCep® Membrane Bioreactor (MBR) packaged systems.
Compact and energy-efficient with superior performance efficiency, the systems help industries and municipalities save energy and reduce costs in its wastewater treatment efforts. 
Expanding beyond the current configurations of 100, 200 and 400 cubic meters per day (m3/day) in containerized and non-containerized versions, the four newly launched skidbased models in larger treatment capacities of 600, 1,000, 2,000 and 3,000 m3/day will complete the PoroCep® MBR packaged systems range. 
Targeting wastewater treatment and recycling applications, the PoroCep® MBR packaged systems are innovatively designed and built for exceptional reliability as well as to minimise downtime. 
In challenging feed water conditions, optional pre- and post-treatment options as well as system optimisation add-ons are available for customisation according to the customers' requirements. These optional add-ons include the Remote Assistance Monitoring (RAM)
and Enhanced Performance Program (EPP), adopting the proprietary SuperBiotiX™, a special blend of microbial formulation proven to effectively reduce effluent BOD, COD, Enhancing Clinical Practice with Evidence-Based Technology Tools
The PoroCep® MBR packaged systems incorporate Hyflux's patented PoroCep® membranes made from high-density polyethylene (HDPE), a non-toxic and non-leaching material with excellent tensile strength, as well as strong pH and oxidation resistance.
The PoroCep® skid also has one of the highest membrane packing densities among submerged membranes for MBR systems available in the market. The high filtration capacity and smaller tank footprint will translate into cost savings for users. 
"The newly-launched PoroCep® MBR packaged system models represent Hyflux's continued commitment to increase the accessibility of sustainable solutions. The wider range of models provide end-users with more options of pre-designed and ready-to-install MBR systems to choose from that will fit their needs," said Mr Nik Chia, Vice President of Channel Sales at Hyflux. 
The PoroCep® MBR packaged systems have already been installed at multiple locations in textile, sewage, food & beverage sectors in Asia, Central America, Europe and Middle East regions to treat wastewater and ensure that stipulated discharge standards are met. 
About Hyflux
Hyflux is a global leader in sustainable solutions, focusing on the areas of water and energy. Headquartered and listed in Singapore, the Group has operations and projects in Southeast Asia, China, India, the Middle East, Africa and the Americas. Hyflux is committed to providing cost-effective and innovative solutions that contribute to resource optimisation and sustainable growth for communities and industries. A specialist in water treatment, Hyflux is distinctive in its ability to address the challenges at every point of the entire water value chain. The Group's track record includes Singapore's first water recycling plant and some of the world's largest seawater reverse osmosis desalination plants in Algeria, China, Oman and Singapore. For more information, please visit www.hyflux.com
For sales and marketing enquiries, please contact:
Nik Chia (Mr)
Channel Sales
DID: (65) 3157 7775
Email:nik_chia@hyflux.com 
Kit Lee Chong (Ms)
Corporate Marketing
DID: (65) 3157 7665
Email: kitlee_chong@hyflux.com