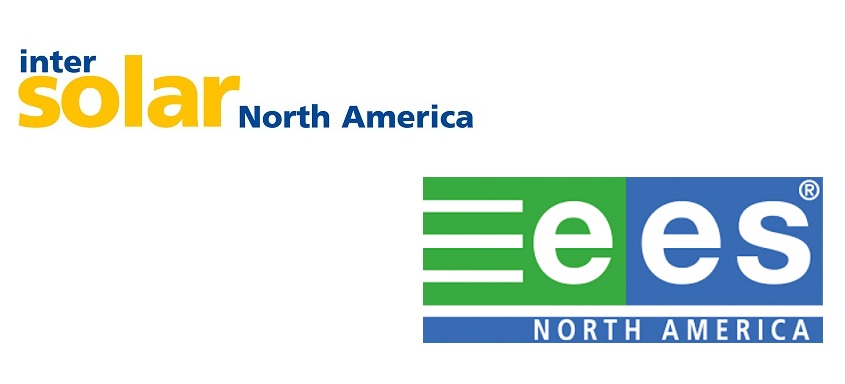 Many of this year's hottest innovations in smart renewable energy (SRE) will be on display at Intersolar and ees North America, the premier solar and energy storage events in North America.
Held July 10 to 12 at the Moscone Center in San Francisco, the exhibitions are co-located with SEMICON West and offer unparalleled insight into the trends like SRE and others that are shaping the future of energy.
Tickets for the Intersolar and ees North America exhibition and conferences are currently available online at early bird prices until June 7. One exhibition registration grants full access to all three co-located exhibitions.
The integration of SRE technologies with solar and energy storage will only increase during the transition to renewable power. An expected 16,000 attendees at both events will have a first glimpse of these emerging smart technologies and new market growth opportunities. The California market is rapidly moving toward smart energy integration, with the California Energy Commission's (CEC) recent decision to require all new homes in California to include solar by 2020.  
With solar and storage practices on the rise, utilities are adopting smart renewable energy technologies to support the grid. The U.S. Energy Information Association reports that smart meter installations have more than doubled since 2010 and now comprise nearly half of all 150 million U.S. electricity customer accounts. The devastating storms that caused power outages in many North American communities in 2017 are also prompting utilities to plan resiliency efforts. By tapping into distributed energy resources like energy storage and electric vehicles (EVs), utilities are developing demand response programs that can be used to shift and reduce electricity demand and offset costly infrastructure spending.  
"Over the past four years, Intersolar and ees North America has been instrumental in connecting Ideal Power with key industry players and provides the opportunity to showcase our innovative power conversion systems to potential new partners," said Lon Bell, CEO of Ideal Power, one of this year's exhibitors. "Year after year, we are pleased with the quality of meetings orchestrated at the event, the conference content, and high-quality dialogue with attendees. The high-traffic show floor has exposed our technology to a variety of applications and customers that we consider to be valuable prospects."
Companies from across the United States and the world will demonstrate the importance of smart energy technologies as more resilient practices are applied with the rapid growth of solar-plus-storage installations nationwide. The full list of exhibitors is available on the Intersolar and ees North America website. Booth spaces at the 2018 event are still available; applications to exhibit are currently available online.
Two Expo Stages Highlight What's Next for Solar, Storage and SRE
In addition to visiting exhibitor booths, 2018 attendees can also participate in select expert presentations and workshops on the expo floor.
At the Innovation & Application Stage, exhibitors and Intersolar AWARD finalists will deliver presentations that discuss latest trends and technological innovations driving the solar and energy storage industries forward. The ees Stage program will offer insights into the energy storage market on Tuesday and electric transportation / Power2Drive topics on Wednesday. This program is drafted together with IBESA (International Battery & Energy Storage Alliance).
Several special events will also be held at the stage. GTM Research will present a new white paper on Tuesday at 11 a.m. on grid edge innovation and offer market predictions for the coming years. The white paper will be free to download for all attendees. Additionally, IREC's annual 3iAwards ceremony will be held on Wednesday to celebrate innovation, ingenuity and inspiration and honors the nation's best in renewable energy and energy efficiency people, programs and projects.
New this year: On Wednesday at the Innovation & Application Stage, exhibition visitors may also attend technical training opportunities at installation workshops that are free of charge and hosted by trusted industry professionals. During each workshop, experts will give hands-on tutorials demonstrating how to correctly design, install and maintain PV and storage products and systems. Each one-hour installation workshop is valid for one NABCEP CEU (Continuing Education Unit).
The full expo program is now available. Additional information on the corresponding Smart Renewable Energy conference track (additional registration fee required,) with five conference sessions, is also available online.
About Intersolar North America
Since 2008, Intersolar North America has served as the industry's go-to source for invaluable information and premier networking opportunities that move the North American market forward. Co-located with ees North America, Intersolar North America's exhibition and conference sit at the cross-section of solar technology, energy storage, and smart renewable energy. The event takes place annually in San Francisco, California, the heart of energy innovation, and is co-located with SEMICON West.
More than 530 exhibitors and 15,000 visitors from over 80 countries participated in Intersolar North America 2017. The conference and exhibition program featured 39 sessions with more than 220 speakers and 22 educational workshops.
Intersolar North America is organized by Solar Promotion International GmbH, Pforzheim and Freiburg Management and Marketing International GmbH (FMMI). For more information on Intersolar North America, please visit: http://www.intersolar.us
Intersolar Global is the world's leading exhibition series dedicated to the future of clean energy.
With more than 25 years of experience, Intersolar has the unique ability to bring together members of the energy industry from across the world's most influential markets and supply chains. Intersolar exhibitions and conferences are held annually in Munich, San Francisco, Mumbai and Bangalore, São Paulo, and Dubai. These global events are complemented by the Intersolar Summits, which take place in emerging and growing markets worldwide. For more information on Intersolar Global, please visit: http://www.intersolarglobal.com
About ees North America
Covering the entire value chain of innovative battery and energy storage technologies, ees North America is the leading exhibition and conference for the electrical energy storage industry. ees North America connects manufacturers, distributers, users and suppliers of stationary and mobile storage products in the epicenter of the U.S. storage market, California.
Co-located with Intersolar North America, North America's premier solar event, ees North America provides the best opportunity to explore energy storage systems in combination with solar technologies and beyond. Together, the events are co-located with SEMICON West at the Moscone Center in San Francisco.
In 2017, 130 energy storage exhibitors and 15,000 attendees participated in ees North America and Intersolar North America.
Launched in 2015 as a special exhibition, ees North America became a standalone exhibition and conference in 2016, and is now part of the ees global exhibition series. Together with ees Europe in Munich, ees South America in São Paulo, and ees India in Mumbai, ees events are represented on four continents.
For more information on ees North America please visit: www.ees-northamerica.com