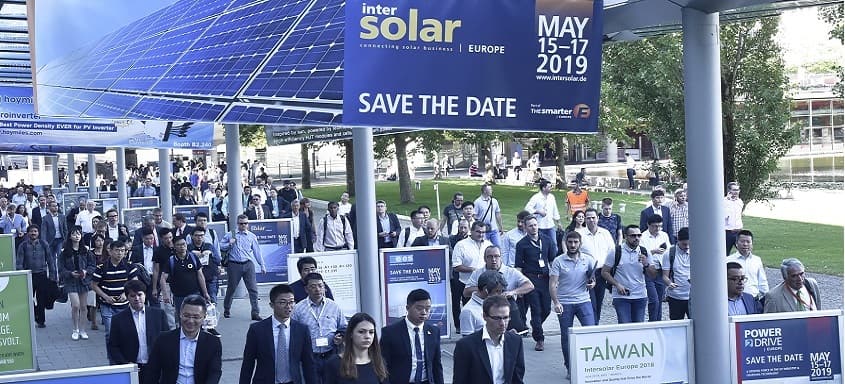 Intersolar Europe has started 2019 with a bang: 95 percent of the 63,000 square meter exhibition space has already been booked – and there are still four months to go!
The current booking status reflects the development of the photovoltaics (PV) industry. In June 2018, the total worldwide capacity of solar and wind energy installations reached the one terawatt mark (1,000 gigawatts) – a milestone for the new energy world. From May 15–17, 2019, visitors to the Intersolar Europe exhibition in Munich can explore the newest trends and technologies in the solar industry. For the second time, the exhibition will take place alongside three parallel events as part of The smarter E Europe – the innovation hub for empowering new energy solutions.
Renewable energies are contributing more and more to the clean provision of energy. In fact, according to a recent Deloitte study, PV and wind energy have now evolved from established to preferred energy sources. Renewable energies today already play an integral role in the power supply in many countries. There are a lot of reasons why: As storage becomes cheaper and easier to integrate, more and more consumers are producing the energy they use themselves. "Our most recent figures show that in 2018 alone in Germany, approximately two thirds of newly acquired solar energy systems with an output of three to ten kilowatts peak were bought together with storage systems," said Markus A.W. Hoehner, CEO of the International Battery & Energy Storage Alliance (IBESA).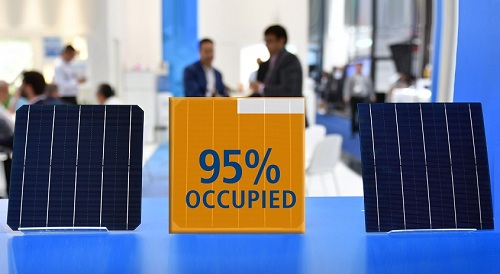 PV module price reductions
In addition, the sinking prices of solar modules are playing a major role in the PV industry. IHS Markit predicts that European module prices for solar systems alone will sink by 30 percent – as a result, demand is expected to increase by 40 percent in 2019. One reason for this trend is the expiration of the minimum import prices for PV products imported to Europe from China, Taiwan and Malaysia. Another driving force behind this development is the reintroduction of government incentives, which countries including Italy and Spain have adopted this year to try and stimulate the purchasing of private PV installations together with storage systems. There's a sunny outlook for market development and Intersolar Europe 2019: The exhibitors of Intersolar Europe have recognized this development and have secured a space at the exhibition well ahead of time. 95 percent of exhibition space has already been sold out, four months before the start of the event.
Topics trending in 2019: Production technologies, PV power plants, PV-powered vehicles
The industry's robust growth is also fueling a boom in production technologies. Reason enough, then, to dedicate more space to the topic at the exhibitions in 2019. For the first time, Intersolar and ees Europe will be tackling the topic of production technologies together in a whole dedicated hall. In hall C1, exhibitors and trade visitors can familiarize themselves with the newest innovations in PV and battery production. There will also be accompanying sessions at the PV and Battery Production Forum in the same hall to round off the offerings. This year's Intersolar Europe Conference will shine a light on new aspects alongside the more established focus areas. This means that PV power plants and electrical energy storage systems will be at the forefront. Business models and current projects will be presented, amongst other developments in these areas. PV-powered vehicles will also be discussed.
Intersolar Europe
With events spanning four continents, Intersolar is the world's leading exhibition series for the solar industry and its partners. It unites people and companies from around the world with the aim of increasing the share of solar power in our energy supply. Intersolar Europe takes place annually at the Messe München exhibition center in Munich, Germany and focuses on the areas of photovoltaics, solar thermal technologies, solar power plants, grid infrastructure and solutions for
the integration of renewable energies. Since being founded, Intersolar has become the most important industry platform for manufacturers, suppliers, distributors, service providers and partners in the global solar industry.
The accompanying conference consolidates selected exhibition topics and showcases international markets, largescale power plants, financing and pioneering technologies. With over 25 years of experience, Intersolar has the unique ability to bring together members of the solar industry from across the world's most influential markets. Intersolar exhibitions and conferences are held in Munich, San Francisco, Mumbai, São Paulo and Dubai. These global events are complemented by the Intersolar Summits, which take place in emerging and growing solar markets worldwide.
In 2019, ees Europe, Europe's largest exhibition for batteries and energy storage systems, will take place in parallel to Intersolar Europe for the sixth time. The two exhibitions will be complemented by the Power2Drive Europe and EM-Power exhibitions, which both debuted in 2018. Power2Drive Europe is dedicated to traction
batteries for e-mobility and topics relating to charging infrastructure, while EM-Power focuses on intelligent energy use in industry and buildings. All four exhibitions are being held at the innovation hub for empowering new energy solutions: The smarter E Europe. For more information, please visit: www.intersolar.de or www.thesmartere.de