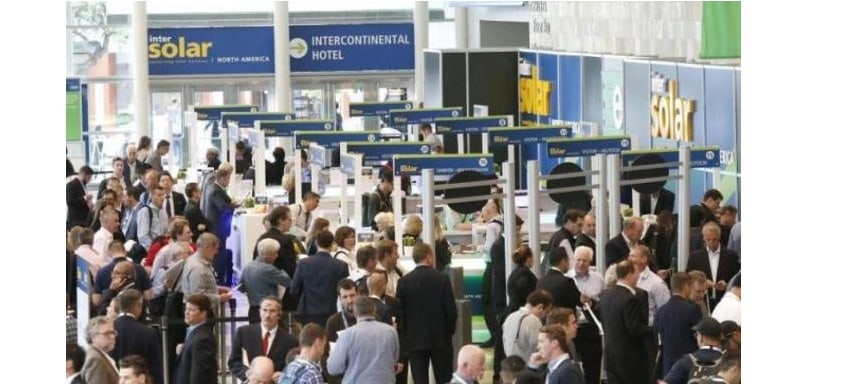 Celebrating its 10-year anniversary, Intersolar North America will once again be the first major solar event of the year. It takes place July 11-13 at the Moscone Center in San Francisco, andis co-located with ees North America and SEMICON West.
These combined events bring together professionals from the solar, energy storage and semiconductor industries to share knowledge and innovation, network, and accelerate business goals. With its consistent growth to18,000+attendees in 2017,Intersolar North America is the most-attended solar event in North America.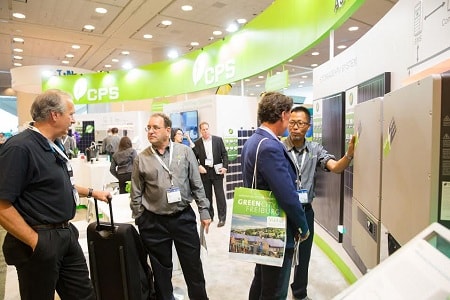 This year Intersolar will celebrate its 10th Anniversary in conjunction with its long time event partner California Solar Energy Industries Association (CALSEIA), also celebrating an anniversary – its 40th year of service to the California solar community.  Intersolar, CALSEIA and SEMICON will party in grand style at the largest solar networking event ever at AT&T park, home of the San Francisco Giants major league baseball team.  With the financial support it receives from Intersolar, this is CALSEIA's largest fund raising event of the year.
Intersolar is the solar event most trusted for its intent to foster innovation and curate high-quality speakers, exhibits and connections. From the biggest names in solarto startups, nonprofits, students and under-represented members of the solar community, all participants add to the vibrancy and excitement of the event. Attendees meet face-to-face with the market leaders, founders, policymakers, and downstream professionals that matter to their business.
Intersolar North America has been located for 10 years in California, the epicenter of technology innovation and cutting-edge solar policy. Intersolarfunds local market development through policy and industry-focused educational campaigns, fundraising activities with CALSEIA and in collaboration with other regional organizations.Due to the nature of its global solar platform operating on four continents, the event draws industry decision-makers from more than 80 countries around the world. 
As the premier solar exhibition and conference, Intersolar North America is known for delving into the hottest solar trends of the day, including smart renewable energy, the rise of project finance, the intersection of energy storage and electric vehicles, and local and national policy trends influencing the growth of the sector.
In partnership with ees North America, Intersolar North America hosts off-site special events for attendees. The proceeds from the events go to local solar advocacy group and longtime Intersolar partners, like CALSEIA, NorCal Solar, and others. 
More than 550 exhibitors and more than 18,000 visitors participated in Intersolar North America in 2016. The conference and exhibition program featured 39 sessions with more than 260 speakers and 22 workshops.
ees North America Overview for Media Partners
ees North America is the first major energy storage event of the year, July 11-13, 2017 in San Francisco, California. Co-located with Intersolar North America, ees North America brings together more than 18,000 professionals from the fast-growing energy storage and solar industries. Participants have the opportunity to discuss the latest trends in the entire value chain of innovative battery and energy storage technologies, share ideas and network with fellow energy storage enthusiasts and professionals.
In addition to Intersolar North America, ees North America is also co-located with SEMICON West at Moscone Center,bringing professionals from the solar, storage and semiconductor industries together all within one week and in one city. 
The events are located in the heart of the energy storage industry–California. With a mandate to achieve 50 percent renewable energy by 2030, California leads the country in energy storage policy innovation and technology development. Thus far, California has deployed 73.2 megawatts of energy storage – far surpassing any other state. 
Featuring a highly curated exhibition and conference, ees North America highlights both longstanding market leaders and emerging innovators. In just one year, participation in the exhibition has grown by over 120 percent and is expected to continue that trajectory in 2017. With conference speakers from leading and up-and-coming companies, participants can expect to learn about the hottest trends in the energy storage industry, including the rise of project finance, the intersection of energy storage and electric vehicles, and local policies that are influencing the growth of the sector.Smart renewable energy that integrates software, solar and storage will also play a prominent role in this year's exhibition and conference.
ees North America, in conjunction with Intersolar North America, also provides off-site special events for attendees. Tours, group runs, and sailing trips all help to create a networking environment focused on energy storage and supportive of business goals.  Many of these events benefit the solar and energy storage advocacy work of key ees partners such as the California Solar Energy Industries Association (CALSEIA) and the Northern California Solar Energy Association. 
ees North America is part of the ees global exhibition series. Together with ees Europe in Munich, ees South America in Brazil, and ees India in Mumbai, ees events are represented on four continents and cover the international energy storage industry.