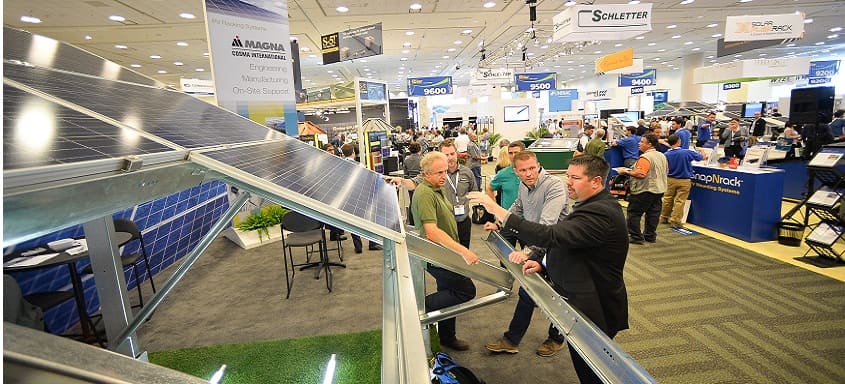 The Future is shining bright for Mexico's renewable energy and green technology industry. Solar is the fastest growing power generation source.
An abundance of solar resources, high power prices, falling technology costs, and an increasing need for resource diversification combine to place Mexico among the global leaders for solar development. The growing number of solar installations is also stimulating the energy storage market. Intersolar and THE GREEN EXPO® are joining hands to offer the industry the ideal renewable energy and Green Technology platform in Mexico.
Market analysts are bullish about Latin America's solar market development. Spearheaded by several key markets such as Mexico, Chile, Brazil and Argentina, opportunities for solar PV are being pushed by clean energy certificates, competitive auctions, corporate procurement and increased utilization of distributed generation. Currently, the region has collectively installed over 7 GW of solar PV. With an additional 46 GW expected to be developed by the end of 2022 Latin America will account for over 10% of global solar demand by 2022.
Mexico's solar market is on the rise
Mexico is one of the epicenters when it comes to solar deployment and dynamic growth potentials. The federal government passed the General Climate Change Law, aiming to have 35% of energy come from renewables by 2024, and 50% by 2050. Fittingly Mexico's solar resources are among the best in the world, with annual daily solar irradiance levels ranging between 4.4 kWh/m2 and 6.3 kWh/m2. In mid-2018, the Ministry of Energy launched its 2018 edition of the National Electricity System Development Program (PRODESEN 2018-2032).
The program is used to showcase the country's energy demand for the upcoming 15 years and predicts a 11,906 Million USD investment in solar energy. The Mexico Secretariat of Energy expects 11.6 GW of cumulative solar power and 58.5 GW of clean energy to be reached by 2032. That ranks Mexico 5th for expected new solar capacity by 2021, with 10,000 MW capacity (an 84% growth). Clean energy certificates, which apply to power providers and industrial consumers, will increase from 7.4% in 2020 to 10.9% in 2021 and 13.9% in 2022.


Energy Storage gains importance
The growing number of solar installations is also stimulating the energy storage market. One of the current global trends is the growth in large-scale projects combining solar power and storage in power plants. Business is also booming in the area of smaller storage systems for domestic and commercial applications. For Central and South America analysts predict that more than 1.4GW of energy storage will be installed by 2025 to ensure security of supply to around six million households, as well as industrial and commercial applications.
Intersolar and THE GREEN EXPO® join forces
Intersolar and GREEN EXPO® are combining forces to offer the industry the ideal renewable energy and green technology platform in Mexico. The event will happen September 3-5, 2019 in Mexico City and will help find business contacts and partnerships that matter. The organizers expect approximately 250 exhibiting companies from 12 countries and more than 13.000 international visitors. More information can be found at http://www.thegreenexpo.com.mx and www.intersolar.mx. "We are enthusiastic about our partnership with THE GREEN EXPO®. Together, we will offer the industry the best in class renewable energy and green technology platform in Mexico," stresses Dr. Florian Wessendorf, managing director of Solar Promotion International GmbH and Daniel Strowitzki, CEO of Freiburg Management and Marketing International GmbH (FMMI) jointly. "THE GREEN EXPO® now in its 27th edition is excited to begin working with Intersolar to further strengthen the event for the Mexican and Central American markets. As Mexico´s leading event in renewables and green technology, working with Intersolar is a perfect fit for the market", says Paul St. Amour, VP, Tarsus Mexico.
About Intersolar
With events spanning four continents, Intersolar is the world's leading exhibition series for the solar industry and its partners. It unites people and companies from around the world with the aim of increasing the share of solar power in our energy supply.
The event's conference focusses on the areas of photovoltaics, PV production technologies, and energy storage systems. Since being founded, Intersolar has become the most important industry platform for manufacturers, suppliers, distributors, service providers and partners in the global solar industry. With 25 years of experience, Intersolar has the unique ability to bring together members of the solar industry from across the world's most influential markets. Intersolar exhibitions and conferences are held in Munich, San Francisco, Bangalore, Mumbai, São Paulo, and Dubai. These global events are complemented by the Intersolar Summits, which take place in emerging and growing markets worldwide.
About THE GREEN EXPO®
THE GREEN EXPO® is Latin America's premier event for cutting-edge, sustainable solutions and technologies in an ever-increasing number of markets.
As society becomes more aware of the serious and negative impact on growth and economic development, environmental solutions are more important than ever. The Stern Report estimates that the consequences of not taking immediate action against the risks of climate change would amount to the loss of at least 5% of annual global GDP, now and forever. If one takes into account a greater diversity of risks and impacts, the estimated damages could reach 20% of GDP or even higher.
The concept of a circular economy is a system of resource utilization in which the reduction, reuse and recycling of elements is priority. This concept offers an attractive and viable alternative that many companies and organizations around the world are beginning to explore. With this in mind, THE GREEN EXPO® continues to unite industries interested in economically sustainable development through a Circular Economy with Zero Waste, extending the current framework of knowledge and business exchange.