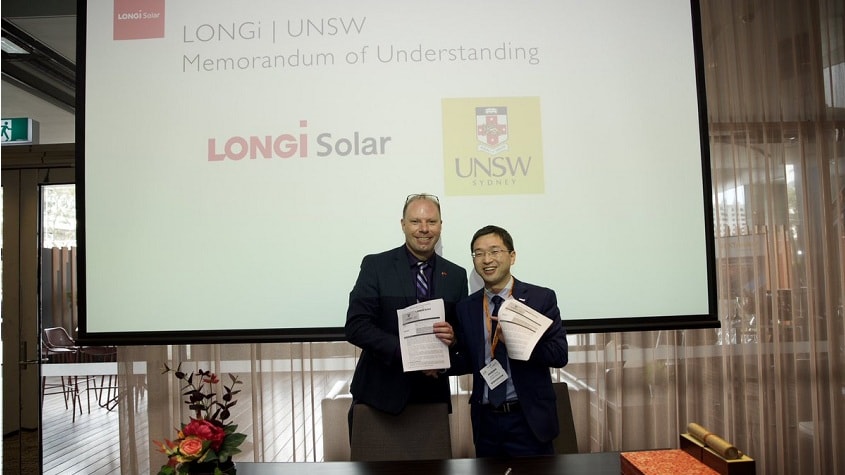 LONGi renewed its strategic cooperation with the University of New South Wales ('UNSW'), a world renowned university with a globally leading photovoltaic research institution.
Warwick Dawson, Director of Knowledge Exchange Division of Enterprise and Professor CheeMun Chong of UNSW and Vice President Tang Xuhui of LONGi Solar signed the contract in a private press conference held as part of All Energy in Melbourne, Australia.
LONGi started cooperation with the UNSW as early as  November 2015 when both parties reached a strategic partnership on technology R&D and industrialization, and personnel training. In August 2017, the strategic partnership was renewed to further strengthen LONGi Solar's technology leadership in the photovoltaic industry.
Director Warwick Dawson said:" Our cooperation with LONGi in the past few years has achieved remarkable results, and we are honored to witness the determination for globalization and passion for technology of LONGi as a global leading solar technology company. UNSW will continue to exchange advanced lab technologies with enterprises to accelerate the application of technologies to production lines."
Mr. Tang Xuhui added: "The cooperation is of great significance to both sides, and will also promote the in-depth exchange of PV technologies between Australia and China.. The PV industry is driven by technology. LONGi has always attached great importance to scientific research.  Through close cooperation with UNSW,we have made great strides in innovations that contributes high efficiency technology solutions to the industry, brings high yield PV products to end users and accelerates the progress of PV grid parity."
LONGi and UNSW have carried out extensive communication and cooperation. A recent result of the partnership is light-induced regeneration (LIR) technology – a monocrystalline low LID solution – which was  jointly released by LONGi and UNSW in Shanghai on April 20, 2017.. The technology completely solved the initial LID phenomenon and leads to higher capacity and lower LCOE of monocrystalline module systems..
In addition to the cooperation with UNSW, LONGi Solar actively participates in the Australian PV market with high-efficiency monocrystalline products since October 2016, With reliable products and backed by strong financial health, LONGi has developed rapidly in Australia and established strong relationships in large-scale power stakeholders, EPCs and local distributors. In a short two years, LONGi has deployed its high efficiency monocrystalline modules in Queensland, New South Wales, and Victoria.. LONGi plans to export more than 50% of its module products to overseas markets by 2020, and Australia is an important destination.