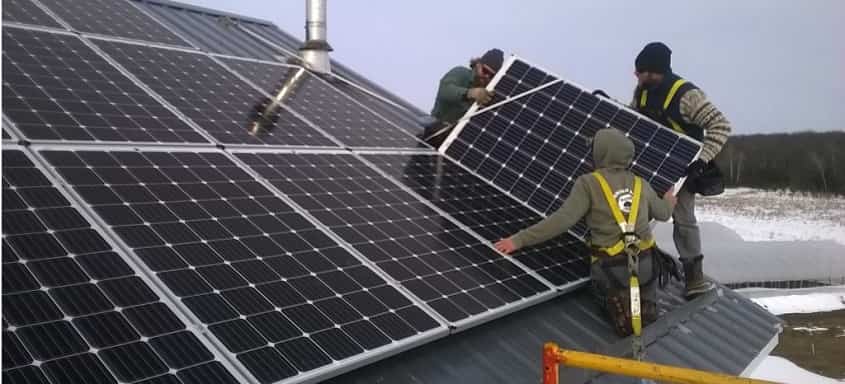 Waseda Farms has created a unique footprint in Northeast Wisconsin the last 10 years by turning organic farming into healthy consumption of beef, pork, poultry and eggs at the table. Its forward-thinking team has taken its sustainability-infused process for breeding animals and producing wholesome food a step further.
This summer, Waseda Farms added a solar-power system. The cows, pigs and chickens share the pastures at the progressive Door County farm with over 140 solar panels. The recent activation of the vast solar array is expected to generate considerable savings in use of and cost for electricity at Waseda Farms while augmenting its signature production of certified organic food through environmentally centered practices. Jeff Lutsey, chief engineer and farm administrator at Waseda Farms, said he and his family who own and operate the farm with over 1,000 acres have been exploring the addition of solar energy for several years.
"Solar power is in line with our greater mission to raise animals and grow and deliver food in the most sustainable way possible," Lutsey said. "Through a lot of research, we found that utilizing renewable energy from the sun is the best way available for us to do that. And the more energy we can utilize that comes from green sources, as opposed to finite Earth resources like coal and natural gas, the more sustainable we can be."
The continued emphasis on going green is the latest in a series of what Jeff Lutsey says are long-term investments made at Waseda Farms since his parents, Sharon and Tom Lutsey, started the business in 2008. One of those ventures that has yielded robust results for the operations is the Temple Grandin-designed handling system, which ensures humane treatment of livestock, including beef cattle. The integration of solar energy is expected to pay off for Waseda Farms now and well into the future.
"This long-term investment into smarter power production and use will benefit our little piece of earth for decades to come," Jeff Lutsey said.
Lutsey says the new system, which features five rows of 29 solar panels that each measure 6 feet by 3 feet, will cover about 50 percent of the energy use on site. The estimated monthly energy savings are 3,500 to 7,000 kilowatt hours, which translates to a cost savings of $300-$600 per month.
"The solar power that is produced will reduce our power draw from our electrical grid, resulting in reduced coal and natural-gas consumption at the farm by 30 tons per year and reduced carbon-dioxide gas emitted by 75 tons per year," Lutsey said.
The production and distribution of the homegrown meat, eggs, dairy products, and fruits and vegetables by Waseda Farms through its markets in Baileys Harbor and De Pere as well as numerous restaurants, stores and schools in Northeast Wisconsin also is receiving an energy boost. The solar panels power the cooler and freezer storage units on the farm.
The new system also is powering the farmhouse at Waseda Farms, where three farm team members live, and on-site animal stewardship and management, including electric fencing and water pumps. North Wind Renewable Energy of Stevens Point, Wisconsin, installed the solar panels this summer. Harbor Construction of Baileys Harbor and the team at Waseda Farms provided pre-installation land management.
"The solar-panel array is the gift that keeps on giving — to our farm and to the earth," Jeff Lutsey said. "It will serve as a constant reminder to us at the farm to always be as conscientious as we can with energy use.
"And we hope it can also be of good use to educate and inspire our Door County, our Brown County and our entire Northeast Wisconsin neighbors and friends and partners to be as green and organic and sustainable and good in every aspect of life," he added.
Lutsey has been instrumental in the advancement of the environmental mission at Waseda Farms. He's a mechanical engineer by trade and brought a unique perspective and skill set when he returned to Door County in 2015 to reunite with family and help direct day-to-day operations on the farm.
After he graduated with honors from Northwestern University in the Chicago area, Lutsey crisscrossed the country and honed his engineering expertise for 15 years in notable roles. He worked in the aerospace propulsion program at Honeywell and then had a 12-year stint of coordinating programs and initiatives for the U.S. Navy and U.S. Department of Energy. He trained Navy sailors, tested reactor plant safety systems and managed reactor design teams at the Naval Nuclear Laboratory with Bechtel Marine Propulsion Corporation.