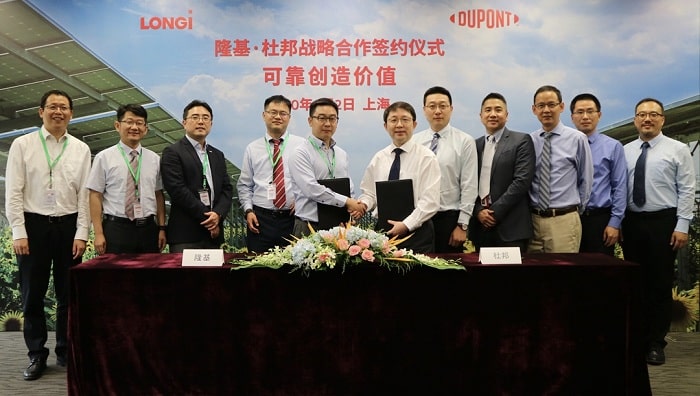 LONGi, the world's leading solar technology company, signed a strategic cooperation agreement on June 2, 2020 in Shanghai with DuPont, with the aim of jointly creating high-quality modules through efficient and reliable materials, helping downstream customers to build more reliable and higher-quality photovoltaic power plants. Both parties have also agreed to promote the industry's understanding of the value of reliable products, and to continuously create value for the photovoltaic industry through deepening cooperation on product innovation, technology R&D, branding and marketing.
LONGi and DuPont have cooperated since 2015. Over the past five years, the power and efficiency of photovoltaic modules have made qualitative leaps, and the cost of photovoltaic power has been declining, now close to the threshold for achieving grid parity. During this period, LONGi and DuPont have been actively working together to explore more advanced products and solutions, and to promote the popularization of high-quality products. The results of the cooperation between the two parties have been verified in many projects around the world and the efficiency and reliability jointly advocated by both companies is gaining more attention and recognition globally.
Dennis She, Senior Vice President of LONGi Solar, commented, "Inheriting the concept of stable operations and technology leadership, LONGi has always been committed to providing customers with reliable and valuable module products. We are honored to deepen the strategic cooperation with DuPont since the technological advancement of cells and modules requires the participation of the material side. We hope to jointly develop higher quality and more competitive products, create reliable value for global customers, and ensure the long-term return on investments of photovoltaic power plants."
Mark Ma, Global Marketing Director of DuPont Photovoltaic Solutions, said, "DuPont and LONGi have entered into a new stage of cooperation, based on the common vision of reliability and value. We work together to adhere to product quality and promote the sustainable development of the photovoltaic industry. The signing of this agreement marks another milestone in the collaboration between our two companies. With more than 40 years of experience in the field of specialty photovoltaic materials, DuPont looks forward to helping reduce the cost of electricity and enabling more regions to truly achieve the mission of 'affordable power for all'."
LONGi has developed mono-crystalline PERC technology over many years, optimizing it to become the mainstream in the industry today. LONGi has also achieved mass production of its breakthrough modules, and each product of its Hi-MO series has become an industry benchmark. While product technology is continuously innovating, LONGi always places the long-term reliability of its products first, and continues to focus on the performance of each product in the entire life cycle of an actual application environment. Through strict testing and outdoor empirical verification of product reliability, LONGi has won many awards in tests organized by third-party organizations such as PV Magazine, TÜV Rheinland and RETC.
Since 1975, more than 50% of photovoltaic modules installed worldwide have used DuPont materials. DuPont is committed to tracking material degradation and its effect on panel performance and collaborates with global institutions, using a variety of criteria –including module, material, mounting, time in service, and climate, to help investors make the right material choices in solar panels.. The key factor for achieving grid parity is module reliability. The longer the life of a photovoltaic module, the more electricity can be generated, resulting in higher project revenue, which will in turn further accelerate the development of the photovoltaic industry.