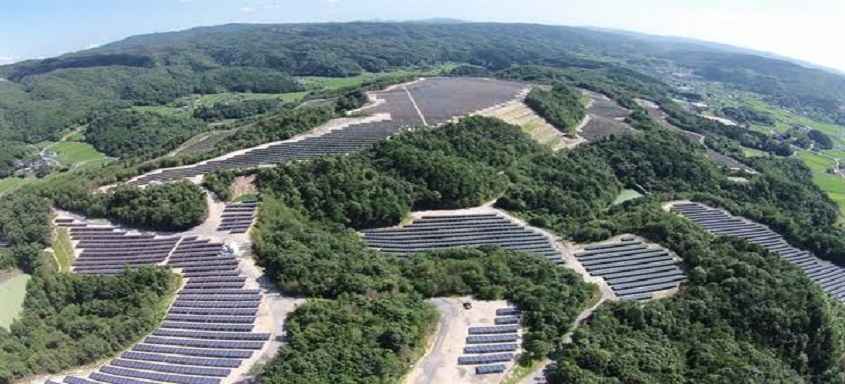 When developing a utility-scale solar PV project, accurately projecting the site's power output is crucial. For its 33MW Kumenan PV project in Japan, Pacifico Energy experimented with publically available data before seeking a more precise measurement solution.
After implementingSRA Systems from Renewable NRG Systems (RNRG)—a leading designer and manufacturer of decision support tools for the global renewable energy industry—Pacifico Energy increased the accuracy of power output projections at the Kumenan PV project by up to 14%. The gain allowed the company to secure more competitive financing terms to build the PV plant.
As the utility solar industry continues to grow, the need for solar resource assessment to facilitate more accurate power output forcasting is becoming increasingly important. The most critical parameter used to estimate power output is Global Horizontal Irradiance (GHI). Because of its direct impact on energy production estimates, miscalculations of GHIcan cause critical financial risk for project owners and investors. When Pacifico Energy first set out to determine power output at the Kumenan PV project, they used publically available, long-term GHI data from New Energy and Industrial Technology Organization (NEDO). Such resources are common in Japan,but are not ideal for every project. 
In Pacifico Energy's case, the weather stations used byNEDO to collect GHI data were located too far from the Kumenan PV project to provide accurateoutput projections. Instead, they selected an approach that aligns with the solar industry's GHI measurement best practices,integrating the high-quality irradiance data collected onsite with RNRG's ground-based SRA Systems with long-term satellite data. According to Nate Franklin, who manages Pacifico Energy's activities in Japan, "Deploying finance-grade solar assement campaigns like this one is fairly new in Japan, but Pacifico Energy wants to lead the way towards a high-standard approach to PV project development in the country." 
Pacifico Energy opted for RNRG's solution because of its exemplary quality, reasonable cost, and its easeof installation and maintenance. The SRA Systems were installed at the Kumenan PV site in 2013 and collected real-time irradiance data for one year. The monitoring station was equipped with best-in-class meteorological sensors that integrated seamlessly with RNRG's much-laudedSymphoniePLUS3datalogger, providingmeasured data directly to Pacifico Energy's controlroom. Thelong-term satellite data were later corrected with the recordscollected by the SRA Systems, providing the most accurate irradiance input to energy production simulation model."The SRA System configuration that is used here is recommended for utility-scale resource assessment campaigns and solar monitoring applications when measurement accuracy is the top priority," said Dave Hurwitt, VP Marketing & Product Management at RNRG. "Pairing RNRG's solution with satellite data ensures that deviations between predicted irradiance and actual site conditions are minimized, which is extremely beneficial for PV project developers." 
Once the solar assessement campaign reached completion, Pacifico Energy concluded that RNRG's SRA Systems helped improve the long-term GHI estimation by up to 14% when compared with theirradiance data collected byNEDO weather stations alone.The Kumenan PV planthas been in operation since early 2016 andpower outputhas closely mirrored RNRG's predictions. The impressive resource assessment accuracy at the Kumenan PV project led Pacifico Energy to install RNRG's SRA Systems at six other projects in Japan. "This way, we can ensure that all of our projections reflect reality," added Franklin.
About Renewable NRG Systems:
Renewable NRG Systems (RNRG) measurement products and technical services are purpose-built for the global renewable energy industry. RNRG pioneered wind resource assessment more than 30 years ago, when the wind industry was just beginning. Today, the company serves multiple stages of wind and solar project development—from site assessment to commercial operation. You'll find RNRG products in use by utilities, OEMs, developers, research institutes, and governments in more than 150 countries.For more information, please visit www.renewablenrgsystems.com
About Pacifico Energy:
Founded in 2012 to help meet Japan's domestic energy needs, Pacifico Energy is a Japanese power plant development company focused on solar photovoltaic projects. Pacifico Energy covers all aspects of solar power plant development, including permitting, design, financing, construction, and asset management. Based in Tokyo, Pacifico Energy's strength is in its team and investment partners consisting of professionals with deep solar industry and energy experience.For more information, please visit www.pacificoenergy.jp
Press contact
Jonathan Collings,
Alesia Communications,
The Renewable Energy PR Agency
FR  +33 (0) 652 694 221
jonathan@Alesia-communications.com