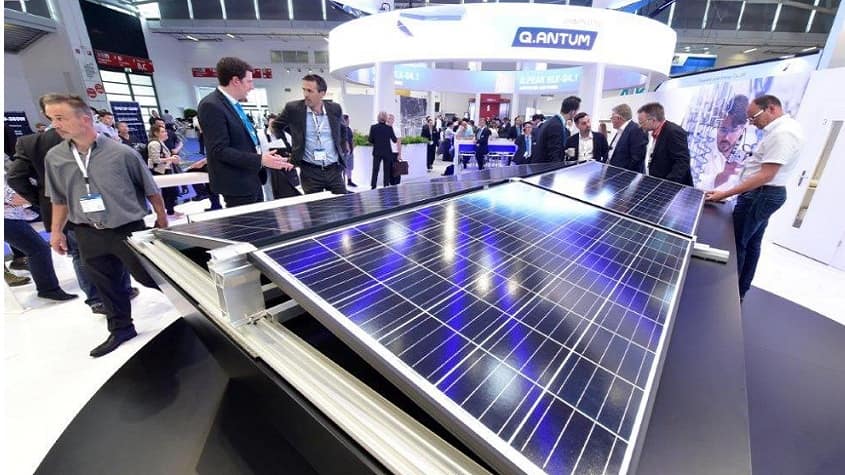 The global photovoltaics (PV) market is gathering speed: 2018 is likely to see annual PV deployment pass the 100 gigawatt (GW) mark for the first time, according to the latest analysis from GTM Research. Europe in particular is witnessing a new PV boom.
In 2018, experts expect deployment to exceed 10 GW for the first time in years. Last year the European solar market already recorded annual growth of 28 percent, based on deployment of 8.61 GW. The European market is primarily driven by tenders and power purchase agreements, where PV scores points thanks to its low cost. The advantages of solar power self-consumption are also bolstering growth.
Intersolar Europe will shine a light on new developments in the PV market and the changes that are energizing it, from June 20-22, 2018 in Munich. This year, the international industry event will be taking place alongside other energy exhibitions for the first time under the umbrella of The smarter E Europe.
The European solar market is poised for a renaissance. In 2018, growth of more than 30 percent is expected – in Germany and also, in particular, in the Netherlands, Spain and France. In Spain and the Netherlands, 2018 will see deployment exceed one gigawatt for the first time.
Larger PV plants with a capacity of just under 4 GW are also planned in Spain before the end of 2019. Behind these advances is the growing success of photovoltaics as an economical alternative to wind power in public tenders. Sunny days are also on the horizon for France, where solar power plants with a capacity of roughly 20 GW are to be set up by the year 2023. Alongside large PV power plants, the country also supports smaller installations and on-site consumption via public tenders.
Broad range of growth drivers energizing markets
The upturn in Europe has a number of contributing factors. Market developments are becoming less and less dependent on state incentive programs. They are benefiting instead from falling costs and technical advances. Furthermore, new business and marketing models such as power purchase agreements, tenant power and sector coupling are generating new areas of business.
The brighter prospects for growth are also due to an increasing commitment to solar power on the part of utilities such as EDF, Enel, E.ON, innogy, Statoil and Vattenfall. And political incentives too are becoming increasingly common across Europe with the use of public tenders, net metering and decentralized "citizen power" generation. In France, for example, the annual capacity of PV tenders is set to rise to 2.45 GW starting in 2018.
In Italy, as in other countries, increasing profitability is one of the main drivers of growth. Direct purchase agreements or self-consumption, as well as a repowering market, are providing crucial momentum here. These make it possible to expand the capacity of older installations up to 20 kWp without causing the operator to lose their feed-in tariff. Spain's PV market is forecast to grow 35-fold this year, from 40 MW in 2017 to 1.4 GW in 2018. Here too, public tenders account for a significant proportion of PV projects. Another factor is the ambition to meet the European Commission's expansion goals for renewable energies.
These require 20 percent of total energy consumption to come from renewable sources by 2020, and 30 percent by 2030. In the Netherlands, the net metering remuneration model for private domestic PV installations and small commercial installations is convincing individuals and businesses alike. Germany is back on a winning track thanks to falling costs, public tenders and growing self-consumption, among other factors. Another boon for the market for self-consumption solutions is the approaching begin of retrofit projects as the first installations reach the end of the 20-year remuneration period fixed by the country's Renewable Energy Sources Act (EEG), from January 1, 2021. Following this, a range of new self-consumption concepts should act as a further stimulus for the market.
Intersolar Europe takes on issues, trends and growth factors
As the world's leading exhibition for the solar industry and its partners, Intersolar Europe focuses on the broad spectrum of new developments driving growth in the PV market. In Munich, the key players in the solar industry encounter new technologies, concepts and sources of inspiration which are invigorating the diverse mix of factors supporting the health of the PV market and fostering further growth.
Both the exhibition forums and the accompanying Intersolar Conference will address issues surrounding the European PV market. Some conference sessions will look at individual European markets, including Italy and Spain; others are dedicated to the topic PV Power Plants (planning, construction, management, repowering) and future areas for investment.
Intersolar Europe is the ideal meeting point to discuss and develop the new synergy effects shaping the markets. PV manufacturers and service providers in particular have previously entered new areas of business which they can now connect to the reinvigorated classic PV market, as with the example of e-mobility.
This increasingly close coupling of different sectors is also highlighted at the new innovation hub The smarter E Europe, which brings together four energy exhibitions – including Intersolar Europe. The smarter E Europe is also the home of Power2Drive Europe, the new exhibition for charging infrastructure and electromobility, and thus closes the gap between the solar and transport sectors. Alongside Intersolar and Power2Drive Europe, The smarter E Europe also includes ees Europe and the new exhibition EM-Power.
Intersolar Europe and the parallel events will take place from June 20-22, 2018 under the umbrella of The smarter E Europe at Messe München.
For more information, please visit:
www.intersolar.de/en
www.TheSmarterE.de/en
Intersolar Europe
With events spanning four continents, Intersolar is the world's leading exhibition series for the solar industry and its partners. It unites people and companies from around the world with the aim of increasing the share of solar power in our energy supply.
Intersolar Europe takes place annually at the Messe München exhibition center in Munich, Germany and focuses on the areas of photovoltaics, solar thermal technologies, solar power plants, grid infrastructure and solutions for the integration of renewable energies. Since being founded, Intersolar has become the most important industry platform for manufacturers, suppliers, distributors, service providers and partners in the global solar industry. The accompanying conference consolidates selected exhibition topics and showcases international markets, large-scale power plants, financing and pioneering technologies.
With over 25 years of experience, Intersolar has the unique ability to bring together members of the solar industry from across the world's most influential markets. Intersolar exhibitions and conferences are held in Munich, San Francisco, Mumbai, São Paulo and Dubai. These global events are complemented by the Intersolar Summits, which take place in emerging and growing solar markets worldwide.
In 2018, ees Europe, Europe's largest exhibition for batteries and energy storage systems, will take place in parallel to Intersolar Europe for the fifth time. Both exhibitions will also be complemented by two new events, Power2Drive Europe and EM-Power. Power2Drive Europe is dedicated to traction batteries for e-mobility and topics relating to charging infrastructure, while EM-Power is the exhibition for intelligent energy use in industry and buildings. All four exhibitions are being held under the umbrella of The smarter E Europe – the innovation hub for empowering new energy solutions.
Every two years Intersolar Europe will also be accompanied by automatica, the leading exhibition for smart automation and robotics, which brings together the world's largest range of industry and service robotics, assembly systems, industrial machine vision systems and components. It allows attendees from every industry to discover forward-looking solutions for improved products and more efficient manufacturing.
For more information on Intersolar Europe, please visit: www.intersolar.de/en
Intersolar Europe is organized by Solar Promotion GmbH, Pforzheim, and Freiburg Wirtschaft Touristik und Messe GmbH & Co. KG (FWTM).