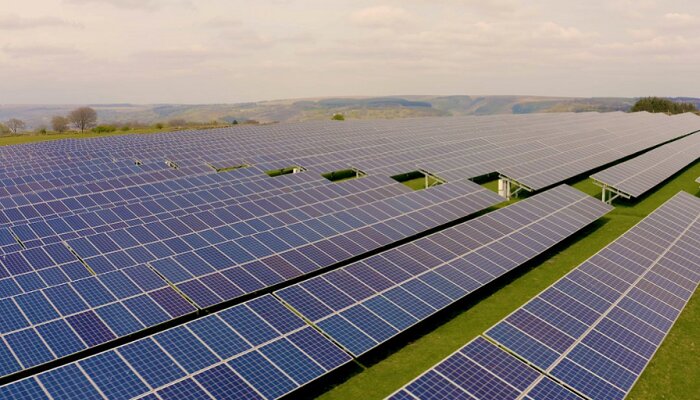 President Recep Tayyip Erdoğan officially inaugurated what is said to be Europe's biggest solar power plant built on a single site and one of the five largest in the world. In another landmark announcement during the ceremony, he also announced that Türkiye has also discovered high-quality petroleum in southeastern Anatolia with a daily production capacity of 100,000 barrels.
"Türkiye will no longer be a country in need of energy resources but will rather be a country capable of energy export," the president told the audience attending the inauguration ceremony.
He continued by saying that Türkiye has started oil production in regions where oil wells were shut over claims of no oil, and locations that were forced to be abandoned due to PKK terrorist threats.
Pledging to overcome all obstacles on the way to Türkiye's energy independence, Erdoğan said Türkiye will erase terrorism off the country's agenda for good.
Developed by Kalyon Energy, an affiliate of one of Türkiye's top conglomerates, Kalyon Holding, the solar plant in the central province of Konya boasts an installed capacity of 1,350 megawatts (MW).
The Kalyon Karapınar Solar Power Plant promises to help Türkiye curb its vast energy imports and back its drive to boost renewable energy production that has already been propelled by large-scale solar and wind power tenders.
More than 3.2 million solar panels at the facility are to generate 3 million kilowatt-hours of electricity annually, enough to provide power to 2 million people and prevent the use of $450 million of fossil fuel equivalent resources.
The $1 billion plant has already started producing electricity, will prevent 1.5 million tons of carbon emissions annually and increase the share of solar energy in Türkiye's total energy production by 20%.
Kalyon Holding, in August last year, agreed to sell a 50% stake in Kalyon Energy to the Abu Dhabi conglomerate International Holding Co (IHC) for about $490 million. The transaction included the solar power project in Karapınar, in addition to another one in the Gaziantep region and a wind power project in Ankara.
Kalyon Energy developed the plant as part of the country's Renewable Energy Resource Zone (YEKA), a government initiative to establish renewable facilities in areas with a high concentration of at least one renewable energy source, such as wind or solar power.
YEKA projects use investments from local investors and/or consortiums to manufacture equipment and construct large-scale electricity generation facilities.
The facility differs from others listed as large solar parks in that it is funded by a group of investors or consortiums rather than a single investor.
The plant, whose installation was launched in early 2020, covers an area of 20 million square meters and is situated in an area with the highest solar exposure.
The solar panels in the facility come from Türkiye's first integrated solar ingot-wafer-module-cell production factory in Ankara, which was established by Kalyon Solar Energy Technologies Production Company and started production in August 2020.
Inaugurated in August 2020 by Erdoğan, the Kalyon Solar Technologies Factory marks the first fully integrated solar panel production center to gather all stages of solar panel production, including research and development (R&D), under a single roof.
Kalyon PV's yearly 1,000 MW production capacity was increased from the initial 500 MW and is planned to be lifted to more than 2,000 MW through a $150 million to $200 million investment.
In recent years, YEKA projects have been the main drivers of growth in renewable energy, both in terms of technology development, equipment manufacture and electricity generation.
Türkiye's current renewable capacity accounts for over half of the country's total installed power capacity, which stood at 104,488 MW by April 7.
After a hydropower capacity of around 31,600 MW, wind is the second-biggest renewable source of electricity at 11,490 MW. Solar power installations reached 9,820 MW in the same period.
At least 1,000 MW of wind and solar energy capacity each is expected to be added to the country's renewable portfolio in 2023.
According to the International Energy Agency (IEA), Türkiye is forecast to see around 64% growth in its renewable energy capacity to 90 gigawatts (GW) in the next five years, with almost 75% of this addition being solar and wind.
The growth will help it rank fourth in Europe and among the 10 biggest renewable markets in the world.