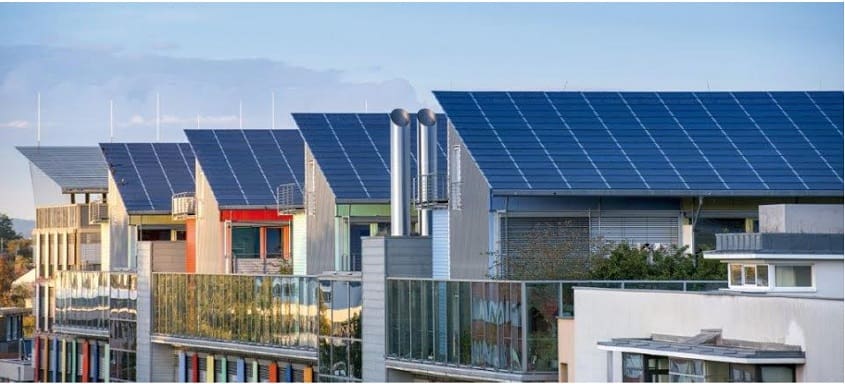 Today, it is primarily homeowners who benefit from installing photovoltaic (PV) systems on their roofs. New models, however, intend for tenants to also share in what is known as the direct power concept and, in turn, take part in the urban energy transition.
This topic will therefore be under the spotlight at Intersolar Europe, the world's leading exhibition for the solar industry and its partners, which will be held from May 31–June 2, 2017 in Munich. Urban areas, in particular, are seen as having significant potential for PV expansion, potential that has remained unexploited thus far due to a lack of framework conditions and unanswered questions regarding the economic viability of tenant power. That said, the development of business models for tenant power projects is increasingly picking up speed. 
According to a study commissioned by the Federal Ministry for Economic Affairs and Energy (BMWi), 3.8 million apartments could be supplied with tenant power. The German Solar Association (BSW-Solar) also estimates that three to four million apartments in multi-family dwellings and commercial multiple occupancy properties could be part of tenant power projects and, in the medium-term, produce some four billion kilowatt hours to be consumed on site. The market potential of tenant power using PV systems is therefore huge, especially since it has remained largely unexploited. The Federal Ministry for Economic Affairs and Energy has recognized this and recently published a key issues paper to also lend political support to tenant power. The tenant power subsidy aims at ensuring that both suppliers and consumers benefit from the model in the future. The ministry is currently working on draft legislation for a direct subsidy, which is due to be passed in this legislative period. A subsidy of between 2.2 and 3.8 euro cents per kilowatt hour should be possible according to this legislation. 
From niche to norm – tenant power is big business 
Tenant power refers to the decentralized electricity produced on the roof of a multi-family dwelling and consumed directly on site in rented and owner-occupied apartments. This is an appealing opportunity for tenants and landlords alike. The model can not only help to relieve power grids and reduce costs associated with the energy transition, but also creates attractive business opportunities for the energy world, both new and old. 
Various stakeholders are involved in the new business model, with diverse arrangements possible between municipal utilities, energy suppliers, tenants, landlords as well as real estate companies, whose collaboration must pay off. Those involved in previous projects have already successfully shown how they can help shape the energy market with in line with the energy transition. The advantages offered by this model are clear: Tenants and property owners can enjoy low energy prices, property values are boosted in the long term and all stakeholders play an active role in helping to protect the environment. Municipal utilities and energy suppliers can also bolster their image and benefit from customer loyalty by providing balancing power when the energy produced on site does not meet demand. 
Some German states already recognize the potential offered by the model, with Hessen, North Rhine-Westphalia and Thuringia having introduced incentive programs for the new business model. 
Workshop for the new business model 
The German Solar Association has put a lot of energy into tenant power over the last few years, making it perfectly placed to organize a side event on the topic at the Intersolar Europe Conference. At the event titled Tenant Power Opportunities from Solar Energy: A New Business Model & a Win-win Solution for Landlords, Tenants and the Energy and Solar Industry, experts will discuss the topic with interested participants, focusing on how the business model can work and how all stakeholders can benefit. The workshop is being held on June 1 from 2:00pm to 3:30pm. 
Intersolar Europe 2017 will take place from May 31–June 2 at Messe München.
Further information on Intersolar Europe can be found at www.intersolar.de/en
Partners of Intersolar Europe
Intersolar Europe is supported by the leading solar industry associations: the German Solar Association (BSW-Solar) as an exclusive partner, the German Solar Energy Society (DGS), the European Solar Thermal Industry Federation (ESTIF), the International Solar Energy Society (ISES), and the platform for photovoltaic production equipment within the German Engineering Association (VDMA-PV).With the support of SolarPower Europe.
About Intersolar
With events spanning four continents, Intersolar is the world's leading exhibition series for the solar industry and its partners. It unites people and companies from around the world with the aim of increasing the share of solar power in our energy supply.
Intersolar Europe takes place annually at the Messe München exhibition center in Munich, Germany and focuses on the areas of photovoltaics, energy storage and renewable heating, as well as on products and solutions for smart renewable energy. The accompanying Intersolar Europe Conference consolidates selected exhibition topics and showcases international markets, financing and pioneering technologies. Since being founded, Intersolar Europe has become the most important industry platform for manufacturers, suppliers, distributors, service providers and partners in the global solar industry.
With more than 25 years of experience, Intersolar has the unique ability to bring together members of the solar industry from across the world's most influential markets. Intersolar exhibitions and conferences are held in Munich, San Francisco, Mumbai, São Paulo and Dubai. These global events are complemented by the Intersolar Summits, which take place in emerging and growing solar markets worldwide.
In 2017, ees Europe, Europe's Largest Exhibition for Batteries and Energy Storage Systems, will take place in parallel to Intersolar Europe for the fourth time. Together with the accompanying ees Europe Conference, the exhibition covers the entire value chain of innovative battery and energy storage technologies.
For more information on Intersolar Europe, please visit: www.intersolar.de/en
Intersolar Europe is organized by Solar Promotion GmbH, Pforzheim and Freiburg Wirtschaft Touristik und Messe GmbH & Co. KG (FWTM).
Contact:
Solar Promotion GmbH
P.O. Box 100 170
75101 Pforzheim, Germany
Horst Dufner
Tel.: +49 7231 58598-0
Fax: +49 7231 58598-28
info@intersolar.de
Press contact:
fischerAppelt, relations
Otl-Aicher-Straße 64
80807 Munich, Germany
Robert Schwarzenböck
Tel.: +49 89 747466-23
Fax: +49 89 747466-66
rs@fischerAppelt.de