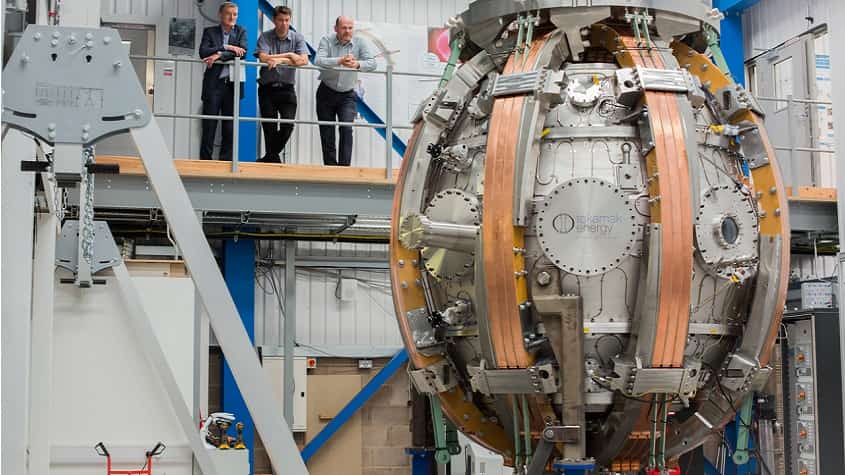 Tokamak Energy has engaged Atkins, member of the SNC-Lavalin group, to help establish the costs, concept design and timeline for the next step in realising the UK's first ever fusion facility to generate more energy than it consumes, and that could evolve to deliver a fusion device to put energy into the grid.
The project will:
Develop a timeline and strategy to secure the required authorisations and approvals for the facility. These include (where necessary) Development Consent Orders and Environmental Permits. Develop a scheme design for the entire development, including designs for the reactor and all relevant infrastructure required to run it.
Develop a credible cost estimate, schedule and risk evaluation for the project, including design and construction of the facility as well as operations and decommissioning.
The tokamak at the centre of this installation is expected to be about 3-4 times larger than Tokamak Energy's current prototype device, the ST40, which is 4m tall and 2.5m in diameter.If this project is successful, there will be scope to develop Tokamak Energy's plans further with Atkins looking at how it can help support and enable the design of a fusion power plant ready for use in the energy network.Tokamak Energy has established itself as one of the world's leading private fusion energy venture, having already designed and built three experimental tokamak devices to prove the potential of its spherical compact design. With the science behind the spherical compact design well-established, Atkins will use its considerable expertise across the energy sector to help tackle the regulatory and engineering challenges in bringing the technology to market in the future.
Tokamak Energy, through scientific research and engineering developments, makes use of novel superconducting materials to reduce the scale of a fusion reactor whilst still maintaining the power necessary for fusion. It is aiming to produce temperatures of 100 million degrees Celsius in its current prototype – the ST40 – in 2018. This is in the temperature range required to sustain a fusion reaction. To this Atkins brings more than 50 years of experience across the nuclear sector, including a multidisciplinary role on EDF Energy's Hinkley Point C, as a founder of the Nuclear Safety Baseline and Design Authority and, since 2010, as Architect Engineer as part of the Engage consortium at the ITER fusion project in France.
Martin Grant, CEO of Atkins' Energy business, said: "We work with operators in the nuclear, oil and gas and thermal generation sectors to safely extend the life of existing energy infrastructure to secure supply in the short term whilst we work with a range of clients in new nuclear, renewables and emerging technologies to develop a low carbon, sustainable and secure energy mix for the future. We are excited to be working with Tokamak Energy and we fully support their novel approach that seeks to make fusion power a cost effective and affordable reality."
Atkins (www.atkinsglobal.com) is one of the world's most respected design, engineering and project management consultancies, employing some 18,300 people across the UK, North America, Middle East, Asia Pacific and Europe. We build long term trusted partnerships to create a world where lives are enriched through the implementation of our ideas. You can view Atkins' recent projects on our website. Founded in 1911, SNC-Lavalin is a global fully integrated professional services and project management company and a major player in the ownership of infrastructure. From offices around the world, SNC-Lavalin's employees are proud to build what matters. Our teams provide comprehensive end-to-end project solutions – including capital investment, consulting, design, engineering, construction, sustaining capital and operations and maintenance – to clients in oil and gas, mining and metallurgy, infrastructure and power. On July 3, 2017, SNC-Lavalin acquired Atkins, one of the world's most respected design, engineering and project management consultancies. www.snclavalin.com