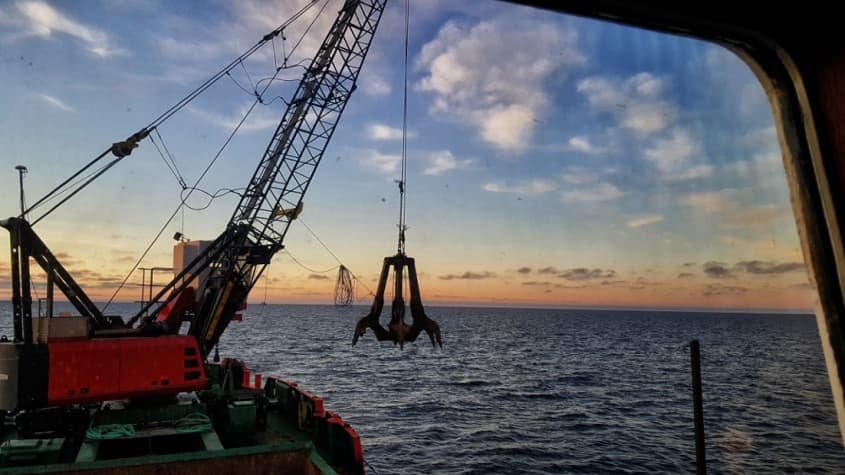 Construction work on the Arkona wind project in the German Baltic Sea has begun. E.ON reports that the first foundations have been successfully laid in the seabed.
A total of 60 so-called monopiles will be installed for the Arkona wind park before the transition pieces, towers and turbines are mounted on them. The foundation for the common substation with grid operator 50Hertz was installed end of July.
The steel tubes have a diameter of between seven and nearly eight metres and weigh up to 1,200 tons. Since production started in September 2016, the manufacturer EEW Special Pipe Constructions in Rostock has processed about 53,000 tons of steel for the Arkona project.
In terms of transport to the construction site, the monopiles are sealed at both ends, launched and floated to the construction site. There, the heavy-load crane ship Svanen will hammer the monopiles (which have a maximum length of 81 metres) 40 metres deep into the seabed – at water depths ranging from 23 to 37 metres. A modern sound-proofing system ensures that the noise from this work is minimised for marine fauna.
400 people are working on the Arkona project at the beginning of the construction phase. The project will employ up to 600 people during its busiest period. A large part of the value from the project will be generated for the state of Mecklenburg-Vorpommern. The base port for the project and its subsequent operation is the Mukran Port in Sassnitz on the island Rugen.
E.ON is also introducing innovation in the form of steel foundations for environmental protection in offshore wind parks. Together with partner companies, E.ON has developed a new technology for anti-corrosion protection and is the first offshore company to use this. A new coating process significantly reduces the impact to the sea during the operation period, as compared to conventional processes.
The Arkona project is located 35 kilometres northeast of the island of Rügen. The wind farm will have a capacity of 385 megawatts (MW) and will be able to supply up to 400,000 households with renewable energy from 2019 onwards. Compared to conventionally produced electricity, Arkona will save up to 1.2 million tons of CO2 annually. The project will see the installation of 60 Siemens six-megawatt turbines. Arkona is a joint venture between E.ON and the Norwegian energy company Statoil.