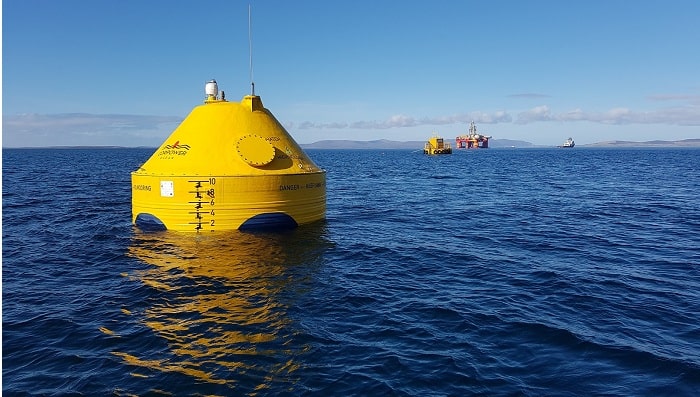 After securing a private placement of 9 MEUR, CorPower has extended its equity funding to 20.3 MEUR, for the commercial scale demonstration of its wave energy technology. The investment round was led by Midroc New Technology and included SEB Greentech VC, family offices and private investors. Pareto Securities acted as Sole Manager and Bookrunner in the transaction.
The 9 MEUR investment announced today combined with previous tranches of 9 MEUR in July 2020 and 2.3 MEUR in December 2018 brings total equity funding to support the demonstration of CorPower's first commercial scale WEC in the flagship HiWave-5project – and its long-term development of supply and service capacity for commercial wave farms to 20.3 MEUR.
CorPower Ocean is a global leader in wave energy technology. Its new generation of high-efficiency Wave Energy Converters (WECs) are inspired by the pumping principles of the human heart. Advanced control technology allows large amounts of energy to be harvested using small, low-cost devices. A unique solution makes them resistant to storm waves, which provides survivability in the harshest ocean conditions.
The equity together with public investments from Sweden, Portugal and EU brings the total funding secured for CorPower's HiWave-5 program to 38 MEUR, supporting CorPower's pan-European efforts in Sweden, Portugal, Ireland, Scotland and Norway.
Patrik Möller, CEO of CorPower Ocean said: "We are delighted to see continued strong support from investors who share our vision of bringing reliable and competitive wave energy technology to the world, unlocking one of the largest untapped sources of clean energy on earth. We welcome SEB Greentech VC and several new family offices and private investors as new shareholders in CorPower."
The HiWave-5 demonstration project aims to convert CorPower's wave technology into a bankable product by 2024, by proving the survivability, performance and economics of a grid-connected array of WECs in northern Portugal. This will unlock mainstream renewable project financing for commercial array projects developed by CorPower's customers.
Göran Linder, CEO of Midroc New Technology said: "We have high confidence in CorPower's technology and the team's ability to deliver on plan, and beyond, as demonstrated since our entry investment. We use a 'stick-with-the-winner' approach to our investments and are happy to continue increasing our stake in CorPower through this funding round. The next stage of development will be particularly exciting – demonstrating the technology at commercial scale. We believe this new source of clean ocean energy will play a large role in future energy systems due to its predictable and consistent power profile helping balance the intermittency of wind and solar power."
Markus Hökfelt, head of SEB Greentech VC said: "SEB is thrilled and proud to back this world-leading team in their advancements to harvest clean and cost-efficient energy from the oceans. It remains one of the most challenging and demanding environments to conquer and one in which many have failed. However, CorPower is delivering a rare combination of innovative technology and sound financial metrics to make it a reality. The economic and environmental benefits could be pivotal to the clean energy transition enabling a deeply decarbonized energy system around the world."
About CorPower Ocean
CorPower Ocean brings a new class of high efficiency Wave Energy Converters (WECs) enabling robust and cost-effective harvesting of electricity from ocean waves. The design principle is inspired by the pumping principles of the human heart and offers five times more energy per ton of device compared to previously known technologies, allowing a large amount of energy to be harvested using a small and low-cost device. The CorPower WEC's unique ability to become transparent to incoming waves provides survivability for the WEC in storm conditions.
CorPower's is headquartered in Sweden, with offices in Portugal, Norway and Scotland. The company has received broad backing across Europe, with funders including EIT InnoEnergy, the European Commission, the Swedish Energy Agency, AICEP Global (Norte2020), Wave Energy Scotland, Midroc New Technology, ALMI Invest Greentech, SEB Greentech VC and additional private investors.
CorPower's HiWave-5 Project
CorPower's HiWave-5 Project continues in northern Portugal following a decade of product development and three decades of research on wave hydrodynamics. The Swedish-headquartered developer is currently fabricating its first commercial scale C4 WEC – a 9m diameter device with a weight of 60 tonnes and 300kW power rating. Dry testing in Sweden is scheduled for the first part of 2021, before ocean installation at the Aguçadoura site in Portugal towards the end of the year. This will be followed by three additional CorPower C5 machines in 2023 to form a pilot array and secure type certification.