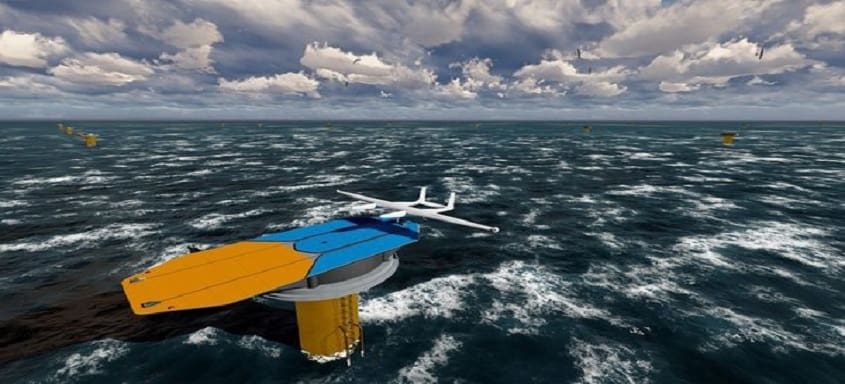 European-based public utility E.ON SE announced this week that it is investing in airborne wind energy, an innovative type of wind energy based around offshore tethered drones.
E.ON, one of the major public utilities in Europe, and recently a new energy-focused company, announced on Tuesday that it had committed to invest in the development and potential construction and operation of an airborne wind energy demonstration site in County Mayo, Ireland. Alongside this agreement, E.ON has made an agreement with Dutch Ampyx Power to be the first user of the upcoming test site, where the company will test its 2 MW Airborne Wind Energy System (AWES).
Simply put, airborne wind energy is what happens when you tether a specifically configured drone to an offshore platform via a line which turns a winch that drives a generator. The autonomous drone aircraft moves in a regular cross-wind figure-8 pattern at altitudes from 200 meters up to 450 meters.
Ampyx Power would use the test site to test, verify, and demonstrate the continuous operation of its 2 MW AWES demonstrator. Further, Ampyx believes that its 2 MW AWES system can "be tailored to repower the first generation offshore wind parks once the service life has come to an end."
"This cooperation with E.ON, one of the leading energy companies in the world, is a major milestone for our company," said Wolbert Allaart, its Managing Director. "It is fundamental for us as it allows us to incorporate E.ON's vast offshore wind expertise into our product design efforts. The clear proof of market interest inspires our team of almost 50 engineers who are working on product development since 2014, after we have proven our concept in the initial five years of our existence."
This is the second foray into airborne wind energy for E.ON, following its 2016 investment in Scotland-based airborne wind energy startup, Kite Power Systems.
"Airborne wind supports one of our overall targets to drive down cost for renewable energy," said Anja-Isabel Dotzenrath, CEO of E.ON Climate & Renewables. "In addition to making airborne wind competitive to conventional wind power, we would like to work with authorities and legislators to pave the way for introducing this exciting technology and eventually make it eligible to participate in tendering processes."
"E.ON has been looking into Airborne Wind technologies for five years and we believe it has true game changing potential," added Frank Meyer, SVP B2C Solution Management and Innovation at E.ON. "It supports one of our overall targets to drive down cost of renewable energy, and also allowing production of renewable energy at locations where it is currently not economical and technical feasible today. While in principle we are technology agnostic, we consider this cooperation with Ampyx Power a major step in our efforts to take a leading role in furthering the promising emerging Airborne Wind Energy sector."