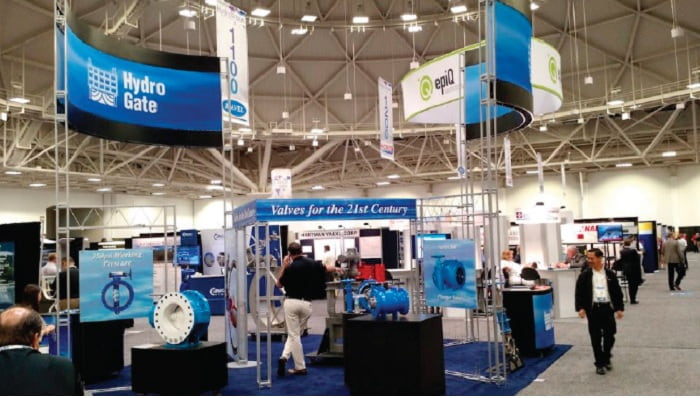 Due to the current difficult conditions surrounding COVID-19 rates in the U.S. and worldwide, it is not possible to hold HYDROVISION® International, and Clarion Events, Inc. must postpone HYDROVISION® International to July 12-14, 2022, in Denver, Colo., U.S.
"Since the beginning of the pandemic, we have been putting the safety and wellbeing of our customers, attendees, staff and suppliers above all other priorities. When we pushed the show to September 21st – September 23rd, we were very encouraged that we would be able to host a safe, quality driven HYDROVISION® International. However, we have been reviewing the data related to the pandemic in the past couple of weeks, and it has become clear that we cannot hold the show. After having numerous conversations with exhibitors, attendees, speakers and Power Producers, it is ultimately in the best interest of the worldwide hydropower and dams industry to postpone the 2021 show. We look forward to safely hosting HYDROVISION® International in 2022. With many people in our industry under new travel restrictions, postponing makes the most sense for all," said Desiree Hanson, Executive Vice President of Clarion Events, Inc.
"We are beyond disappointed we will not be gathering as a community in Spokane, Wash. This was not a decision we came to lightly, especially after the months and months our team, as well as our exhibitors, have put into planning for HYDROVISION® International. With all clouds there are silver linings, and we are encouraged to see our partners already arranging their participation for our Denver July 2022 show, which is shaping up to be the strongest yet," added Leah Steinhardt, Hydro Portfolio Director of Clarion Energy at Clarion Events, Inc.
However, HYDROVISION® International 2021 was always intended to have a virtual component, to expand its reach past the in-person event to the thousands in the global market who have been learning and connecting via our HYDRO+ virtual series since April 2020. To honor this, we will be offering several virtual sessions, featuring content scheduled to be delivered in Spokane, on Sept. 21 to 23. Interested attendees may still sign up for a virtual program ticket. Additionally, we will be offering other opportunities to bring the industry together in the coming months. "We know this community was very excited about being back in person at this time and while we cannot do that this month, we have developed a digital one-to-one meeting event, Hydro Connect, to bring the hydropower community together in December 2021."
"Throughout 2020 and 2021, a large part of Clarion Events' business was redesigned to bring the industry together through virtual content and meaningful connections between buyers and sellers that ultimately led to the continuation of business and development of new partnerships. We did this by running successful Connect virtual qualified meetings within the power and energy industry, and we are thrilled to bring the same virtual summit to the hydro power community in this way through HYDRO Connect, December 6-10, 2021," said Hanson.
HYDRO Connect is a unique virtual summit designed around guaranteed, qualified meetings and education bringing together qualified decision makers from hydro power producers who are actively sourcing for current or upcoming projects and matching them with best-in-class solution providers who match their specific challenges and current project needs. All of the leg work and meeting arrangements are handled and qualified by the HYDRO Connect team presenting the hydro community an unparalleled experience you won't find anywhere else. In addition to meetings, HYDRO Connect will also include exclusive educational content from some of the top sessions that were originally on the program for HYDROVISION® International 2021. Find out more information and see what other industry professionals have to say about Connect at www.hydroevent.com/connect.
HYDROVISION® virtual conference program – September 21-23, 2021
HYDRO Connect – one-to-one virtual meeting event – December 6-10, 2021
HYDROVISION® International – in-person event – July 12-14, 2022, in Denver, Colo., U.S
The Clarion Energy team will continue to be in touch with all exhibitors, sponsors, speakers and attendees to answer any questions. There will be further communication to these groups over the coming days and weeks to facilitate a smooth transition and prepare for the postponement into July 2022.
About:
HYDROVISION® International is the largest gathering of hydro professionals worldwide, which highlights perspectives on the role of hydropower, explores issues affecting hydro resources, and helps participants develop a vision to meet challenges and ensure the future sustainability of hydro. Visit hydroevent.com for more information.
Organized by Clarion Energy, which is part of Clarion Events, Inc. With over 30 events that cover the oil, gas, power and energy sectors, Clarion Energy is one of Clarion Event Inc.'s largest portfolios. Learn more here: clarion-energy.com
https://www.hydroevent.com/show-news/hydrovision-international-has-been-postponed-until-july-12-14-2022-in-denver-colorado?&sortby=publishedDate%20desc%2Ctitle%20asc&searchgroup=libraryentry-show-news
>>.