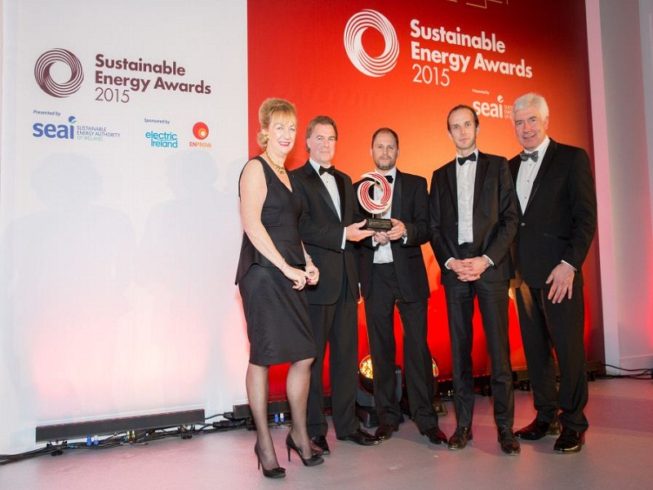 Tidal technology developer OpenHydro, a DCNS company, has been honoured in three categories at the Marine Industry Awards which took place at the Radisson Blu Hotel, Galway last night, Thursday 30th June.
The Offshore Ireland Award, Excellence in Marine Renewable Energy Award and the Overall Marine Excellence Award were secured by OpenHydro for its pioneering activities in the development of tidal turbine technology. Established in 2005, OpenHydro specialises in the design, manufacture and installation of marine turbines generating renewable energy from tidal streams, silently, invisibly and with no impact on the environment.
Commenting on achieving the top award for offshore exploration and development, Andrew Good, head of Resource Assessment at OpenHydro said: "We are delighted to have won the Offshore Ireland award. It is a great honour and is further recognition of the exciting and innovative work we do at OpenHydro."
The Marine Industry awards, now in its second year, acknowledges the individuals and companies that play a significant role in the growth and development of the industry in Ireland while recognising the key functions within the industry that promote growth and sustainability.
James Ives, Chief Executive at OpenHydro, said: "We are delighted to receive these prestigious awards which recognise the ground-breaking work taking place at OpenHydro and our contribution to the development of the marine industry in Ireland. We are now, with DCNS' support, transitioning from research and development, to a company focused on industrial supply to our international projects".
OpenHydro press office
00353 (0) 877 972 660
pressoffice@openhydro.com
About OpenHydro
OpenHydro is a DCNS company specialising in the design, manufacture and installation of marine turbines generating renewable energy from tidal streams. The company's vision is to deploy turbine arrays under the surface of the oceans to produce energy silently, invisibly and with no impact on the environment. OpenHydro has achieved a number of industry firsts including being the first to deploy a tidal turbine at the European Marine Energy Centre (EMEC), the first to connect to and generate electricity from tidal streams onto the UK National Grid and the first to successfully demonstrate a method of safely and economically deploying and recovering turbines directly on the seabed. The deployment and recovery method delivers a step change in the economics of tidal energy. OpenHydro has a project portfolio spanning Canada, France, Northern Ireland, Scotland and the Channel Islands with utility partners including Emera, EDF, Brookfield Renewable Energy Group, SSE Renewables and Alderney Renewable Energy. OpenHydro has won a number of awards for its innovations in the field of renewable energy technology. About DCNS DCNS is the European leader in naval defense and a major player in renewable marine energy. It is a hightech company with a global reach built on meeting the needs of its customers through its unique expertise, unique industrial resources and ability to mount innovative strategic partnerships. The Group designs, builds and supports the service of submarines and surface ships. It also provides services for naval shipyards and bases. The Group offers a wide range of solutions in renewable marine energy. Attentive to social responsibility issues, DCNS is a member of the UN Global Compact. The Group achieved a turnover of 3.04 billion Euros and has 12,953 employees (data 2015). www.dcnsgroup.com