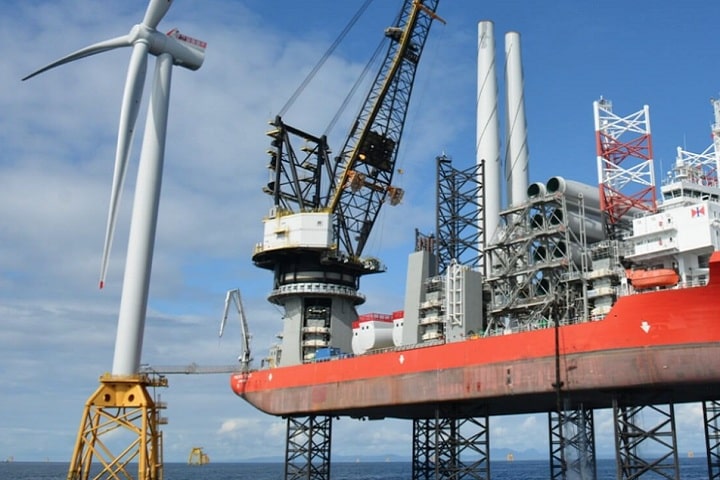 ACCIONA and SSE Renewables have signed an exclusive agreement to develop offshore wind energy projects in Spain and Portugal. The two companies will also explore joint opportunities in other markets.
ACCIONA and SSE Renewables plan to establish a 50% joint venture that will combine ACCIONA's strength as a developer and operator of renewable facilities in Spain and Portugal with the capabilities and experience of SSE Renewables in the development, construction and comprehensive management of world-class projects in offshore wind. ACCIONA will also contribute with its network integration and energy management technology through the Renewable Energy Control Center (CECOER) and its know-how in engineering applied to offshore wind turbines.
SSE is one of the leading offshore wind project development, construction, operation and management groups in the UK and Ireland. It currently has 487MW of offshore wind in operation and a portfolio of 6GW projects under development in the area.
The company is currently building the world's largest offshore wind farm, Dogger Bank Wind Farm (3.6GW) in the North Sea together with Equinor, as well as Scotland's largest offshore wind farm, Seagreen Offshore Wind Farm (1, 1GW), in the Firth of Forth, together with Total.
"After developing a global leadership position in onshore wind and photovoltaic, this agreement with SSE Renewables will allow us to accelerate our entry into the offshore wind market, in which we see high potential," said Rafael Mateo, ACCIONA's CEO of Energy. "Addressing offshore technology is one more step in our strategy of offering the best alternatives to customers seeking clean energy solutions."
Jim Smith, CEO of SSE Renewables, stated: "We are very satisfied with this exclusivity agreement reached with ACCIONA. Partnering with a leading renewable player in Spain and Portugal will allow us to put our offshore wind expertise at the service of both countries' goal of achieving carbon neutrality by 2050. This agreement is an example of our strategy to build a solid portfolio of wind projects in international markets ".
ACCIONA is a global company, leader in the provision of regenerative solutions for a decarbonized economy. Its business offering includes renewable energy, water treatment and management, eco-efficient transport and mobility systems, resilient infrastructures, etc. The company has been carbon neutral since 2016. ACCIONA recorded sales of € 6,472 million in 2020 and has a business presence in more than 60 countries.
SSE Renewables is the renewable energy development and operation subsidiary of the SSE plc group, listed on the FTSE. Its strategy is to lead the transition to a zero emission future through the development, construction and operation of renewable energy assets. With an operational portfolio of 4GW in onshore and offshore wind and hydro and a pipeline of projects under development in those technologies of over 8GW, SSE Renewables is the industry leader in the UK and Ireland. The offshore wind portfolio of more than 6GW makes SSE Renewables a world leader in the development of this technology. The company is building together with Equinor the world's largest offshore wind farm, Dogger Bank Wind (3.6GW), in the North Sea and Scotland's largest offshore wind farm, Seagreen Offshore Wind Farm (1.1GW), in the Fjord. of Forth, along with Total. In Ireland, SSE Renewables is developing the second phase of the Arklow Bank project (520MW). The company currently operates 487MW offshore wind farms in two wind farms, Beatrice and Greater Gabbard, which it owns together with other partners.