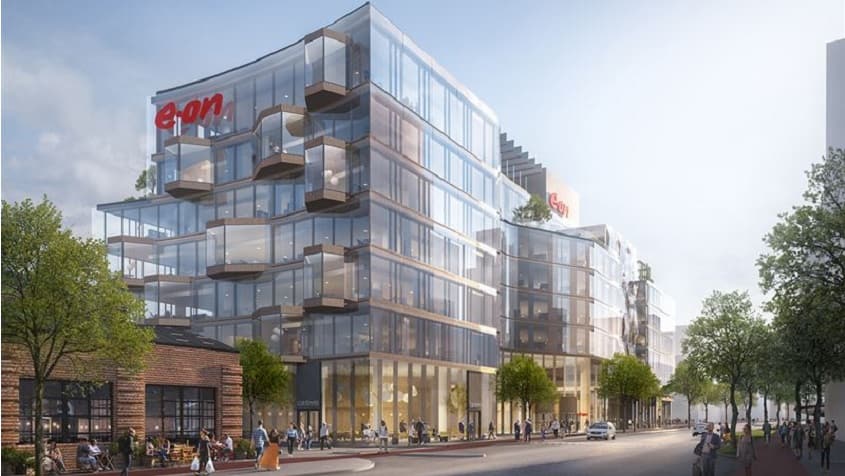 Concluding a tendering process, E.ON Sweden AB, a subsidiary of one of the world's largest energy corporations has signed a contract with Castellum to construct E.ON's new Nordic Headquarters for approx. 1,500 employees in the Nyhamnen district of Malmö close to the central station.
The project establishes Castellum as one of the major city-developers in the Malmö region's most central growth areas. Nyhamnen's transformation is an important element in broadening and continuously developing the Malmö city core. Fully extended, the area will grow into a densely populated, mixed-use city district with close to 13,000 new workplaces and 6,000 new residential units.
"It's very gratifying that the choice fell on Castellum. In particular, it's a pleasure to be chosen from among tough market competition – as the most suitable partner for development of a modern head office building, considering E.ON's sky-high demands for sustainability and modern technology.
Further, this agreement helps Castellum strengthen its position as a major city-developer in the Öresund region. In close cooperation with E.ON and the City of Malmö, we'll be along to influence and take responsibility for Malmö's city environment and continued development", says Castellum CEO, Henrik Saxborn.
The planned new construction in Nyhamnen comprises approx. 24,500 sq.m. of leasable area. The next step will be zoning plans, including building-permit activities. The actual construction schedule is calculated for 24 months. The new building is slated for completion in 2021, and according to plans, the 12-year tenancy agreement between Castellum and E.ON will become effective at the same time. Fully leased, this investment is calculated to generate yearly revenues of SEKm 68.5.
"It has become increasingly clear that we need to find a new, inclusive office building that contributes to our operations, reflects our brand and company culture, and strengthens our position as an attractive employer. This is why it feels really positive to join with Castellum in developing and building E.ON's Nordic headquarters, with the clear ambition of creating not only a building – but a sustainable role-model, says Marc Hoffmann", General Manager for E.ON Sweden.
Both E.ON and Castellum have the ambition of constructing an office-building which is extraordinary from a sustainability standpoint. This spirit will permeate all aspects of the project, from construction management to material choices to energy-source solutions. The new construction will therefore be certified according to the highest environmental certification level and according to The Well Building Standard. The latter with unique demands on human health and well-being at work.
Castellum intends to fund the investment with own earned funds and unutilized credits.
This information is information that Castellum is obliged to make public pursuant to the EU Market Abuse Regulation and the Securities Markets Act. The information was submitted for publication, through the agency of the contact persons set out below, at 08:00 am CET on March 8, 2018.