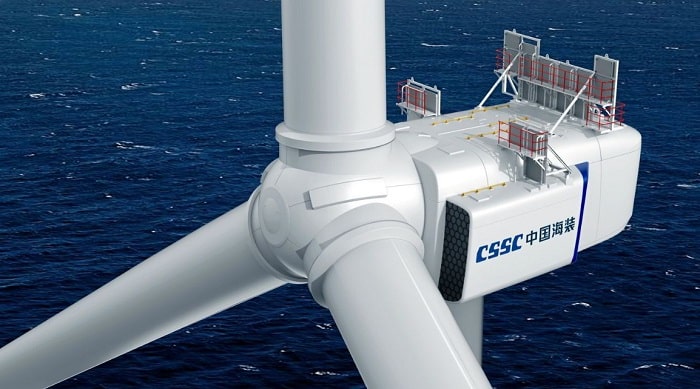 State-controlled CSSC Haizhuang Wind Power presented the progress it made in the construction of the prototype of what would now be the biggest wind turbine on the planet. The machine, intended for offshore deployment, is designed for 18 MW. The company pointed out that it aims for the main components to be 99% domestically made.
China is set to reach another in a long streak of milestones and records in the renewable energy sector on a global scale. Right after China Three Gorges New Energy began works on the first part of a 16 GW power plant complex in a desert in Inner Mongolia, which should mostly consist of wind and solar parks, another government-owned company showed the prototype it is developing for a giant offshore wind turbine.
CSSC Haizhuang Wind Power, based in Chongqing, unveiled the nacelle for the H260-18MW model. At 18 MW in nameplate capacity, the turbine would currently be much larger than anything that is under development throughout the world.
Estimated output may underperform
But the expected annual output doesn't fare so well. CSSC Haizhuang estimated its solution can deliver more than 74 GWh, while its competitor MingYang is preparing to roll out a turbine capable of generating 80 GWh per year. Its model is named MySE 16.0-242. A version of 16.6 MW is envisaged to be deployed in a project in the South China Sea.
In comparison, the GE Haliade-X 14.7 MW-220, which General Electric claims is now the most powerful fully certified windmill, is designed for 76 GWh of gross annual output. China Three Gorges (CTG) and Goldwind have recently started the production of a 16 MW unit, with an estimated average production of over 66 GWh.
Vestas said late last month that it installed its V236-15.0 MW prototype and began testing. The projected annual output is 80 GWh.
Rotor diameter designed at 260 meters
CSSC Haizhuang is part of the China State Shipbuilding Corp. conglomerate. It is important for offshore wind turbine producers to have access to the sea and the vessels and technology to install them. The H260-18MW model will have a rotor diameter of a record 260 meters, so transporting the blades is a major challenge as well.
The company said CSSC's subsidiaries are responsible for the main components, including blades, the gearbox and generator, and that the nationalization rate – the share of domestic production – would reach 99%.
Last year CSSC Haizhuang deployed China's first deep-sea floating offshore wind turbine. The Fu Yao has 6.2 MW.