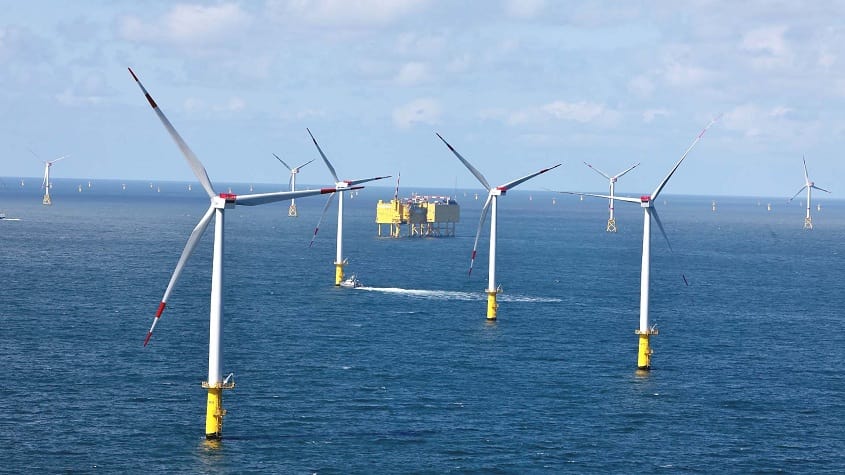 TSO TenneT and wind farm developer DONG Energy have signed the grid connection agreement for the wind farm Borssele 1 & 2 off the coast of the Dutch province Zeeland.
The signed agreements relate to the realization, connection, and transmission of power of DONG Energy's Borssele wind farm with TenneT's Borssele Alpha platform and are the first under the new Dutch tender system. In July of last year DONG Energy won the public tender by the government for the first two areas in Borssele of 700 MW. 
TenneT not only facilitates the physical offshore grid connection, but also integrates the renewables into the energy system at minimum societal cost.
Mel Kroon (CEO TenneT): "Because TenneT, and not individual parties with commercial interests, is responsible for all offshore network connections, we have been able to carry out standardization leading to the desired cost savings for Dutch society. We have also started the planning and licensing processes already two years ago and integration of offshore electricity systems into our own high voltage power grid on land is of great added value."
In order to do this as efficient as possible, TenneT has between 2014 and 2016 developed new standards for the offshore grid, in cooperation with the stakeholders within the offshore wind industry. During the consultation sessions with wind farm developers a number of technical and judicial topics were discussed. The results formed the basis for model agreements. Through this process liabilities etc. were agreed during the construction phase, and as well as technical issues such as descriptions of the connection, technical standards, and conformity requirements.
Marco Kuijpers, senior manager Offshore Netherlands TenneT added: "By signing this agreements we, for the first time, formalize the full connection of an offshore wind farm to the Dutch grid. According to plan our first offshore grid connection will be operational  in 2019, in order for DONG Energy to deliver the wind energy through our high voltage grid to the Dutch households." 
Offshore wind area Borssele
The grid connection Borssele consists of two platforms, both with a capacity of 700 MW. These will be operational in respectably 2019 and 2020. TenneT has officially been appointed as offshore grid operator in the Netherlands, and will develop -as contribution to the Energy Agreement- at least 3,500 MW of offshore-connections till 2023; all with a standardized concept of 700 MW per connection.