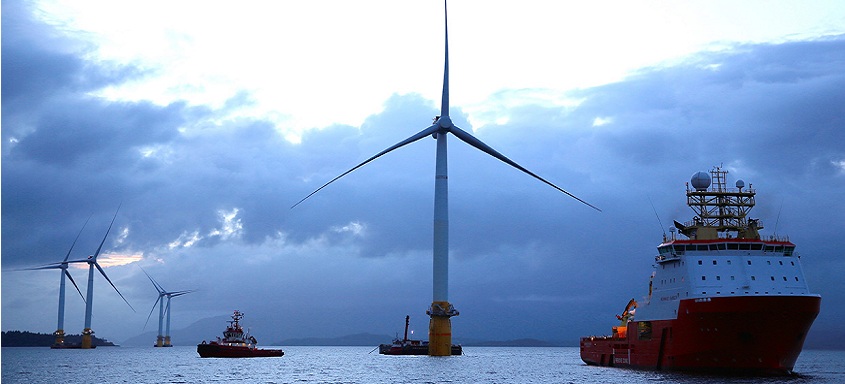 GE Renewable Energy and the UK's Offshore Renewable Energy (ORE) Catapult have announced a $11 million four-year research partnership aimed at minimizing the time people have to spend offshore, which will enhance both safety and operating costs for offshore wind farms.
The "Stay Ashore!" program is built on three pillars:
Reliability by design, which is primarily focused on validation of key wind turbine components.
Enabling full remote operability and troubleshooting of the turbines through advanced digital functionality, to reduce the need to go offshore for unplanned events.
Use of robotics for planned maintenance events, specifically repetitive tasks, inspection activities as well as activities in areas that are difficult to access.
This partnership is aimed at further reducing the operating costs of offshore wind, which will benefit electricity consumers. It is part of GE's broader offshore wind strategy for the UK – collaborating with local partners to drive down the cost of electricity and improve reliability of offshore wind projects.
Minister for Energy and Clean Growth Claire Perry said "We are a nation of innovators and this latest $11 million research partnership between GE Renewable Energy and the Government's ORE Catapult is a fine example of how we're working with industry to embrace cutting-edge technology to ensure the UK offshore sector stays ahead of the pack. As part of our modern Industrial Strategy we're putting the finishing touches to our Offshore Wind Sector Deal to create the right business conditions to export this type of expertise around the world to ensure this sector goes from strength to strength."
John Lavelle, president & CEO of GE's Offshore Wind business, said "By eliminating unplanned offshore human intervention through increasing productivity with digital and robotic tools, in addition to our Haliade-X 12 MW performance and design features, we will contribute significantly to reducing the cost of offshore wind energy."
ORE Catapult Chief Executive, Andrew Jamieson said "This further strengthening of ORE Catapult's partnership with GE Renewable Energy will see significant investment in nationally important R&D, growing not only our expertise but providing opportunities for the UK supply chain to capture domestic and international market share in an offshore wind market expected to be worth $39 billion per year by 2030."
The ongoing collaboration between GE Renewable Energy and ORE Catapult will launch focused technology innovation challenges to the UK Small to Medium Enterprises and academic community, including robotics, blade and tower inspections and repair processes.
About GE Renewable Energy
GE Renewable Energy is a $10 billion business with an innovative spirit and entrepreneurial mindset, bringing together one of the broadest energy products and digital services portfolios in the renewable energy industry. Combining onshore and offshore wind, blades, hydro and innovative technologies such as hybrid systems and concentrated solar power, GE Renewable Energy has installed more than 400+ gigawatts capacity globally to make the world work better and cleaner. With more than 22,000 employees present in more than 80 countries, GE Renewable Energy is working on new ways to power the world's biggest economies and most remote communities. Follow us @GErenewables and www.gerenewableenergy.com.GE Renewable Energy and the UK's Offshore Renewable Energy (ORE) Catapult have today announced a $11 million four-year research partnership aimed at minimizing the time people have to spend offshore, which will enhance both safety and operating costs for offshore wind farms. The "Stay Ashore!" program is built on three pillars: