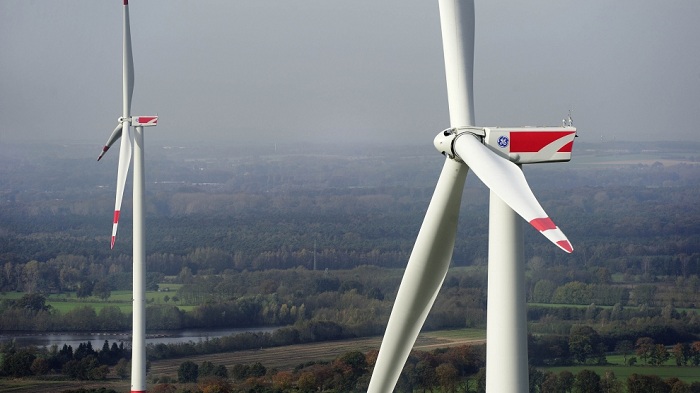 GE Renewable Energy announced that it will provide 81 onshore wind turbines to power the 220 MW Potegowo Wind Project in Slupsk County, Northern Poland. This is the first project between GE Renewable Energy and Potegowo Mashav Sp Z OO. With a current installed base of 580 MW in Poland, GE Renewable Energy will increase its installed base to 800 MW in the country, once the project is commissioned.
81 of GE's 2MW onshore wind turbines will power the wind farm, which is divided in four sub-projects: Biecino, with five units already in the process of being installed; Karzcino and Wrzescie, with 13 units; Gluszynko, with 20 unit; and Malechowo, with 43 units.
All turbines will be manufactured at GE Renewable Energy's site in Salzbergen, Germany. GE will also provide a five-year Full Service Agreement (FSA) offering data-driven insights, expert recommendations, and advanced field services.
Peter Wells, Onshore Wind CEO for Europe and SSA at GE Renewable Energy said, "we are proud to announce our first project with Potegowo Mashav Sp Z OO and reiterate our commitment to bring sustainable green electrons to the Polish grid. Poland's wind industry is vibrant and will continue to thrive, as the upcoming auctions offer promising opportunities to continue supporting the country's National Energy and Climate Plan (NECP) on its path towards decarbonization."
Tomer Eizenberg, CEO of Mashav Energia said, "we are thrilled to have the opportunity to build one of the largest wind farms in Poland, which would not have been possible without our partners at GE Renewable Energy. This is a significant milestone in our wind farm investment program, having won the Polish government tender in November 2018 for the supply of 220 MW of wind generated energy to the Polish electricity network".
The project is backed by the European Bank of Reconstruction and Development (EBRD) and is the first renewables investment in Poland in the past three years. The Potegowo wind farm is expected to help save 480,000 tons of carbon dioxide (CO2) emissions per year.
About GE Renewable Energy
GE Renewable Energy is a $15 billion business which combines one of the broadest portfolios in the renewable energy industry to provide end-to-end solutions for our customers demanding reliable and affordable green power. Combining onshore and offshore wind, blades, hydro, storage, utility-scale solar, and grid solutions as well as hybrid renewables and digital services offerings, GE Renewable Energy has installed more than 400+ gigawatts of clean renewable energy and equipped more than 90 percent of utilities worldwide with its grid solutions. With nearly 40,000 employees present in more than 80 countries, GE Renewable Energy creates value for customers seeking to power the world with affordable, reliable and sustainable green electrons.
Follow us at www.ge.com/renewableenergy, on www.linkedin.com/company/gerenewableenergy, or on www.twitter.com/GErenewables
About Mashav Energia
Mashav Energia is a joint venture between CERAC- a group of highly experienced, dedicated local energy professionals, Israel Infrastructure Fund II (IIF II) – international project finance and debt structure specialists, CME and Helios Fund (Helios III) – renewable energy investment specialists, pooling their knowledge base, extensive experience in project financing, last mile preparation and project management to build a top tier independent wind energy company in Poland mashavenergia.com