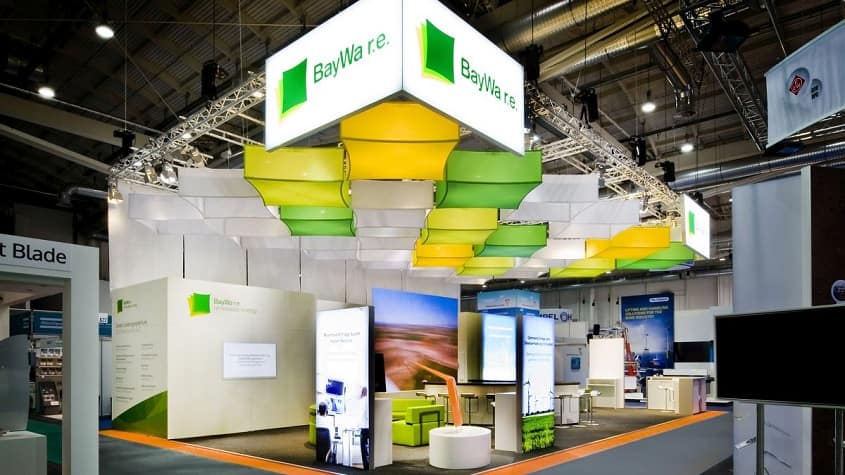 As a leading provider in the renewable energy sector, BayWa r.e. will also have a booth at the major German wind trade fair Husum Wind 2017. From the 12 – 15 September, the company will present its wide-ranging service portfolio at booth 2D10, in Hall 2.
Renewing wind energy together
With its WindGuide 20+ product, the company is responding to the fact that a large number of wind farms in Germany will cease to qualify for the feed-on tariff over the next few years. BayWa r.e. helps operators to decide what the future of their wind farm will be and provides support in the creation of tailored, economic and logical concepts. Solutions are presented to operators in an initial assessment – from optimised further operation, including energy marketing, to location-specific re-powering to the removal and sale of used installations. As a full service provider, BayWa r.e. is able to deliver all services from a single source.
In response to the amended framework conditions and the introduction of wind tendering, the company will also present partnership models tailored according to various requirements for public utilities companies, project developers and public involvement energy companies.
New ideas for optimised operation
Even in the area of operations, BayWa r.e. is putting new services forward. Christoph Reiners, Managing Director of BayWa r.e. Operation Services GmbH: "The topic of IT security is trending right now. Even in the renewable energies sector, we have noticed a significant increase in digital attacks. In response, we have strengthened our team and developed new solutions based on our years of experience." At the trade fair, the O&M team will present a system which controls the entire communication with wind and solar farms – while taking top safety standards into account.
In the face of changing requirements and standards in the area of technical operational management (TBF), BayWa r.e. has also founded the TBF partner network. Managing Directors or Project Developers with their own operational management services can have BayWa r.e. take care of individual duties such as the monitoring of wind turbines or 24/7 on-call availability. Participants also benefit from the option of including their own services in the partner network and simultaneously profit from the training options offered by BayWa r.e.
Furthermore, service packages which allow BayWa r.e. to take over responsibility for turbines in accordance with DIN-VDE 0105-100, for example, can also be put together.
The service spectrum in the area of wind energy also includes comprehensive maintenance and service offers for rotor blades from any manufacturer. This business area is rounded out by the direct marketing of EEG energy, the supply of green energy and technical consultation and planning services. 
BayWa r.e. renewable energy GmbH (BayWa r.e.):
As a wholly-owned subsidiary of BayWa AG, BayWa r.e. renewable energy GmbH combines the activities of the solar energy, wind energy, bioenergy and geothermal energy business sectors. Based in Munich, BayWa r.e. is active in the core markets of Europe and the USA. As a full service partner with over 1,200 employees and more than 25 years of market experience, BayWa r.e. develops, implements, consults and supports projects in the renewable energies sector. The company also provides the operational management and maintenance of plants. Other business activities include the trade with photovoltaic components and the purchase and marketing of energy from renewable sources.
The parent company BayWa AG is an international trading company and service provider whose core segments include agriculture, energy and construction. 
Contact:
BayWa r.e. renewable energy GmbH
Felix Gmelin
Corporate Communications
Telephone: +49 89-383932-5817
E-mail: felix.gmelin@baywa-re.com