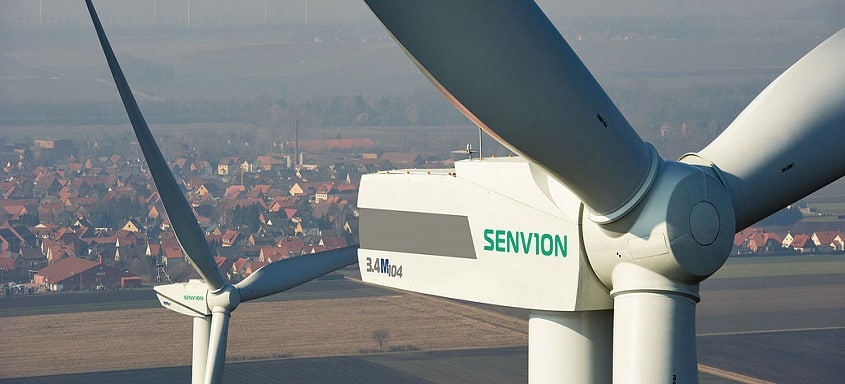 Senvion, a leading global manufacturer of wind turbines, has been appointed by Beleolico Srl, a Belenergia S.A. affiliate, as the supplier for Taranto wind farm. Taranto will be the first offshore plant in the Mediterranean sea, with a total rated power of 30 megawatts (MW).
The project will feature ten Senvion 3.0M122, each with a hub height of 100 meters. The turbines will be located in front of Taranto harbor in the Apulia region (Southern Italy), in a water depth of 4 to 18 meters. Delivery and installation of the turbines is currently planned in summer 2018, while their commissioning is expected to take place in autumn 2018. Jointly with the turbines supply and installation, the agreement signed by Beleolico and Senvion foresees a 25-year full maintenance service contract for the Taranto wind farm.
Carlo Schiapparelli, Managing Director of Senvion Italia, says: "We thank Belenergia for the trust in our technology for this project which further strengthens Senvion relationship with Italy and the Apulia region in particular. We are proud to contribute our experience to the construction of the first Italian offshore wind farm. Senvion has always been a pioneer in offshore wind energy and we are now continuing this path in Italy. With the very specific requirements on the turbines, Senvion combined its offshore experience and its onshore expertise on the 3.XM machine to provide the ideal turbine for the Mediterranean Sea."
Jacques Edouard Lévy, CEO of Belenergia SA, adds: "Belenergia has been investing in the offshore wind project of Taranto since 2012. After a long administrative and engineering gestation, we are happy to enter into the industrial phase, with the help of our local and international design engineering firms (Studio Severini, IA.ING, Deutsche Offshore Consult GmbH) and naturally, the strong support of Senvion. Belenergia is well aware that this is a first offshore plant in the Mediterranean see, with specific challenges to meet. But thanks to the upstream initial works, we are quite confident that this new venture will be an industrial success that both our investors, but also our Italian and European partners, will be proud of, both from a technological dimension and for its ecological impact."
Active in the Italian market since 2004, Senvion has installed nearly 940 MW in the country, producing almost all the necessary steel towers in Apulia region, at Leucci Costruzioni facilities in Brindisi. With its Italian subsidiary Senvion Italia Srl, the German manufacturer has a strong presence in Italy, with about 90 employees mainly located in the six maintenance centers led by the Service Headquarter in Foggia.
About Senvion:
Senvion is a leading global manufacturer of onshore and offshore wind turbines. The company develops, produces and markets wind turbines for almost any location – with rated outputs of 2 MW to 6.15 MW and rotor diameters of 82 metres to 152 metres. Furthermore, the company offers its customers project specific solutions in the areas of turnkey, service and maintenance, transport and installation, as well as foundation planning and construction. The systems are designed at the Senvion TechCenter in Osterrönfeld and manufactured at its German plants in Husum (North Friesland), Trampe (Brandenburg) and Bremerhaven, as well as Portugal. With approximately 4,500 employees worldwide, the company makes use of the experience gained from the manufacture and installation of more than 6,600 wind turbines around the world. The company's operational subsidiary Senvion GmbH is based in Hamburg and represented by distribution partners, subsidiaries and participations in European markets such as France, Belgium, the Netherlands, the UK, Italy, Romania, Portugal, Sweden, and Poland as well as on a global level in the USA, China, Australia, Japan, India and Canada. Senvion S.A. is listed on the Prime Standard of the Frankfurt Stock Exchange.
About Belenergia SA
Belenergia is a fast-growing, mid-sized, agile renewable operator investing in solar, biomass/waste to energy (2 signficant plants commissioned in 2016/2017 in Italy and France) and wind (70 Mw under construction in Puglia). More than other purely financial investor, inspired by the philosophy of its Chairman Vincent Bartin, its reference and founding shareholder, Belenergia has been able to turn ambitious projects into industrial realities. Belenergia has recently received the support of institutional funds to pursue its development.
Senvion Press contacts:
Immo von Fallois
Phone: +49 40 5555 090 3770
Mobile: +49 172 6298 408
Email: immo.von.fallois@senvion.com
Stephanie Oxley
Mobile: +44 7534 260 998
Email: stephanie.oxley@senvion.com
Senvion Investor Relations contact:
Dhaval Vakil
Phone: +44 20 7034 7992
Mobile: +44 7788 390 185
Email: dhaval.vakil@senvion.com