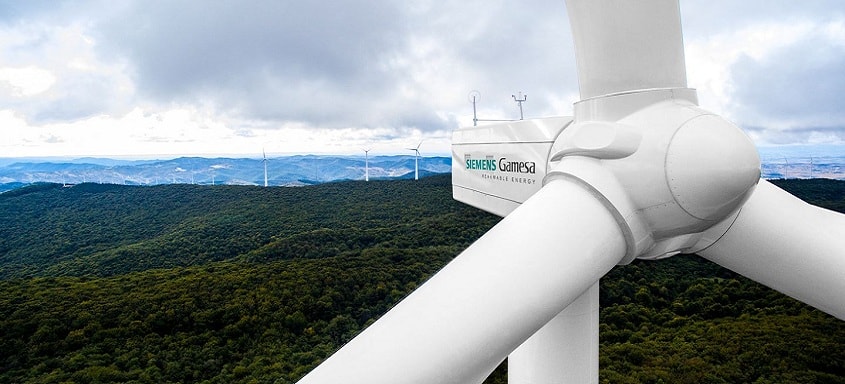 Siemens Gamesa Renewable Energy has reached an agreement with Norvento, a Spanish renewable energy technology company, to supply 34.6 MW for a wind project located in the A Mariña district of Lugo, in Spain.
The company will deliver ten units of the SG 3.4-132 wind turbine, which has a unit capacity of 3.465 MW and a blade diameter of 132 metres. This model is particularly suited to the winds and terrain of the wind farm location in Lugo. Delivery of the turbines is expected to be completed by summer 2019.
The blades for this turbine will be produced at the Aoiz (Navarra) plant, while the nacelles will be produced at the plant in Ágreda (Soria).
"We are grateful for the confidence that Norvento has placed in our turbines. The cutting-edge technology in these wind generators assures the best performance and the highest standards of reliability," said Enrique Pedrosa, CEO Onshore of Siemens Gamesa for Southern Europe and Africa.
Iván Nogueiras, Energy Manager at Norvento, said that "our commitment is to choose the best wind technology for installation in Galicia, while ensuring the utmost respect for the environment; the Siemens Gamesa wind generators play a key role in achieving that."
Siemens Gamesa, leading manufacturer in Spain
The company continues to enhance its lead in Spain, where it is the leading manufacturer, accounting for close 56% of the installed fleet (close to 12,500 turbines). Siemens Gamesa is also in charge of maintaining over 6,000 MW, approximately one-quarter of Spain's total installed capacity. The company has one of its main R&D centres in Spain, where it designs some of its latest models of wind turbine. Siemens Gamesa spends close to €400 million on R&D worldwide each year. Spain is also one of the company's main production and supply hubs.
About Siemens Gamesa Renewable Energy
Siemens Gamesa is a global leader in the wind power industry, with a strong presence in all facets of the business: offshore (#1), onshore (#2) and services (#2). In 2017, the company placed first in the turbine OEM ranking compiled by Make Consulting, with a market share of over 17%.
Through its advanced digital capabilities, the company offers one of the most versatile product portfolios as well as industry-leading service solutions, helping to make clean energy more affordable and reliable. With 89 GW installed worldwide, Siemens Gamesa manufactures, installs and maintains wind turbines, both onshore and offshore. Its backlog stands at €22.8 billion.