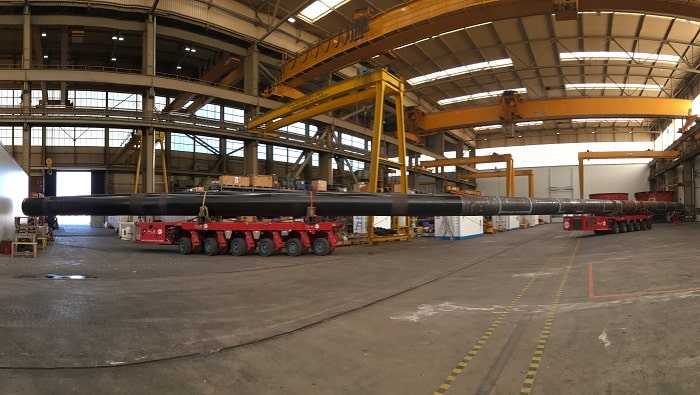 The Hydrohammer is a hydraulic impact hammer used for a variety of sector-based projects, including onshore and offshore piling and foundation work, ranging from starter piles to the biggest monopiles in the world. ALE provided a turnkey solution for the transportation of a pipe that will be used for the testing of Hydrohammers to prove their effectiveness and reliability.
The abnormal load had to be transported from Papendrecht to Sliedrecht in the Netherlands, where it would be lifted. ALE was able to offer the full scope of transportation with an SPMT load-out and load-in. This enabled the operation to be co-ordinated efficiently as the client only had one point of contact.
First, the pipe was lifted onto SPMT trailers and secured with lashing. This had to be carefully applied so that it did not damage the pipe's coating. The pipe was then loaded-out onto a barge and transported several kilometres before being loaded-in.
In a construction hall, the pipe needed to be rotated by 90°. As there was limited room to manoeuvre, the expertise of ALE's SPMT operators was vital for the positioning of the pipe.
The pipe, weighing 102t and measuring 62m long with a diameter of 1.2m, was transported on 2 x 6 axle lines of SPMT.
This work has enabled the thorough testing of the Hydrohammers, which will soon begin work on a variety of large-scale construction projects.
ABOUT ALE
ALE has a Smarter, Safer, Stronger solution to any heavy transportation or lifting challenge, no matter how complex.
Our specialised engineering teams, large fleet of innovative equipment and global network of operating centres allow us to bring an intelligent and flexible approach to projects across a wide breadth of industry sectors. This means that clients trust us to help them achieve feats that were once considered impossible, and we have often broken records in doing so.
Developed by our own R&D team, the Innovation Series features world leading lifting and jacking capabilities that have helped to reduce schedule and risk for a range of major projects. This is coupled with an extensive fleet of heavy cranes, specialist transport and installation equipment that allows us to work Smarter, Safer and Stronger regardless of project size or scope.