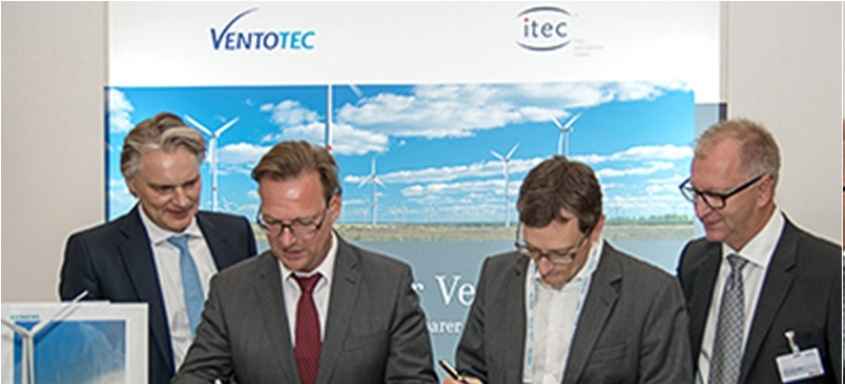 German wind power plant project developer Ventotec GmbH is looking to work closely with Siemens. At WindEnergy Hamburg 2016, the firm, headquartered at Leer in East Friesland, signed a framework agreement for the supply of at least 200 Siemens direct-drive wind turbines.
The turbines will be deployed in a number of current and upcoming onshore projects being planned by Ventotec across Germany. In addition, Siemens will service the turbines on behalf of Ventotec under a 20-year full-scope maintenance agreement.
Ventotec's joint managing directors Helmer Stecker and Ralf Heinen (left to right) together with Jan Brockmöller and Hans Joern Rieks, heading Siemens onshore business in the EMEA region.
Under the agreement, Siemens will supply at least 35 units to Ventotec per year, enabling around 40 new wind farms to be built over the next eight years, notably in the German states of Mecklenburg-West Pomerania, Saxony, Saxony-Anhalt, Brandenburg and Thuringia. Siemens' current direct-drive wind turbines offer rotor configurations and hub heights to cover a wide range of site conditions, and can also be configured for special requirements. This allows noise abatement regulations and, in particular, grid requirements (relating, for example, to bat protection or deicing) to be met.
"Siemens, with its state-of-the-art systems and equipment, is an ideal partner for us," said Ventotec's joint managing directors Helmer Stecker and Ralf Heinen. "As we are always looking to develop new projects, we need mature technology that can be supplied to our wind farms on an ongoing basis. This framework agreement allows us to implement our projects within short planning lead times, and gives us continuous access to optimally adapted wind turbines."
"We are looking forward to the close, long-term collaboration that this agreement will bring", said Thomas Richterich, CEO Onshore of Siemens' Wind Power and Renewables Division. "As an experienced company with expertise that spans the entire spectrum from project design through licensing to construction and operation of wind farms, Ventotec is a key player in the German market." 
For further information on Siemens' presented innovations at WindEnergy Hamburg, please see: http://www.siemens.com/press/WindEnergy2016
For further information on Siemens Wind Power and Renewables, please see: www.siemens.com/wind
For further information on WindEnergy Hamburg trade show, please see: www.siemens.com/weh
About Siemens AG
Siemens AG is a global technology powerhouse that has stood for engineering excellence, innovation, quality, reliability and internationality for more than 165 years. The company is active in more than 200 countries, focusing on the areas of electrification, automation and digitalization. One of the world's largest producers of energy-efficient, resource-saving technologies, Siemens is No. 1 in offshore wind turbine construction, a leading supplier of gas and steam turbines for power generation, a major provider of power transmission solutions and a pioneer in infrastructure solutions as well as automation, drive and software solutions for industry. The company is also a leading provider of medical imaging equipment – such as computed tomography and magnetic resonance imaging systems – and a leader in laboratory diagnostics as well as clinical IT. In fiscal 2015, which ended on September 30, 2015, Siemens generated revenue of €75.6 billion and net income of €7.4 billion. At the end of September 2015, the company had around 348,000 employees worldwide. Further information is available on the Internet at www.siemens.com
Ventotec GmbH has erected turbines with a total capacity of more than 794 megawatts, and invested a total of over 1 billion Euros, making it one of Germany's largest project developers and suppliers of comprehensive solutions in the wind energy sector. Ventotec covers the entire range of services, including project design, initial planning, licensing, completion and commissioning of turbines, as well as project sales and marketing. In addition, Ventotec is also able to organize project financing. 
Technical and commercial management of renewable energy projects that are already operational is handled by Ventotec's renewable energy alliance partner, ITEC International GmbH. The company currently manages around 750 MW of capacity, 90% of it on behalf of external clients. 
Ventotec GmbH is headquartered in the town of Leer in Lower Saxony, where it employs 60 people in the renewable energy field, responsible for project development and financing. A further 25 people are responsible for the supervision of wind turbines already in operation. The managing directors of Ventotec GmbH, Helmer Stecker and Ralf Heinen, manage the entire renewable energy alliance from the Leer office. To find out more about Ventotec GmbH and its renewable energy projects, visit www.ventotec.de