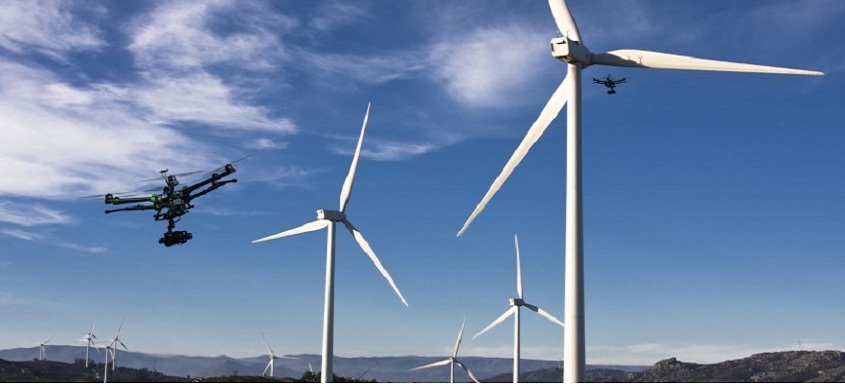 Leading wind Lidar developer, ZX Lidars, has successfully demonstrated the use of Drone Wind Lidar to accurately measure the wind in what is believed to be a world-first.
ZX Lidars provides vertical and horizontal profiling wind Lidars to accurately measure wind conditions remotely and above or ahead of their installed position. These accurate, independent wind measurements are a cornerstone in the development, construction and operation of wind farms globally.
The company has now achieved accurate wind Lidar measurements from a commercially-available drone (an Unmanned Aerial Vehicle) for demonstration purposes, and trialed the system successfully during summer 2018 with excellent data rates and sensitivity.
"ZX Lidars is a pioneer of wind Lidar technology – we were the first on turbines, the first offshore… now we're the first to fly on a small drone" announced ZX Lidars' Managing Director, Ian Locker. "This and other trials conducted since 2015 only stand to further confirm that our core technology is accurate, reliable and robust lending itself perfectly to a range of applications such as Drone Wind Lidar."
Dr Michael Harris, Director of Science at ZX Lidars, has pioneered wind Lidar for the wind energy industry for nearly 20 years, and has been the driving force behind this latest innovation.
A number of ZX Lidar systems are available for trialing in this or similar applications – enquiries should be directed towards Alex Woodward – alex@zxlidars.com
2018 Drone Wind Lidar trial results will be presented at the Wind Energy Science Conference (WESC) 2019.
About ZX Lidars (formerly ZephIR Lidar)
ZX Lidars provides industry-leading wind lidar products, ZX 300, ZX 300M and ZX TM for wind energy and meteorological applications. These Lidars deliver accurate wind measurements in both onshore and offshore applications at measurement heights / ranges across the full swept area of the blades of modern wind turbines, and beyond. With more than 10 million hours of operation in the field and over 1000 deployments (and counting), ZX Lidars has pioneered the use of Lidar in the wind industry. The company is proud of the many world firsts it has achieved with customers including: upwind measurements from a turbine nacelle, turbine wake studies, offshore deployments of both fixed and floating wind lidar, an industry-accepted validation process, re-financing and re-powering of a wind farm, successful demonstration of measurement accuracy in a wind tunnel and total wind project financing from a lidar without need for a met mast.