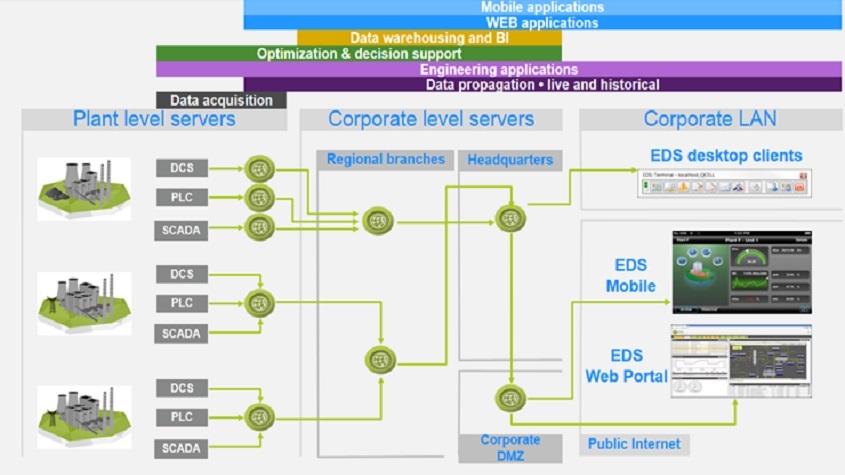 Flexible, integrated & Scalable, solution provides actionable data, secure transport of that data where it's needed, and software as well as expertise to interpret the data.
Intelligent Supervisory significantly improve power plant operation and maintenance activities by providing continuous monitoring to avoid downtime and improve performance. Plant units or an entire fleet can be continuously monitored along with individual Plant Processes. The technology allows experts to monitor multiple plants from any locations. All relevant information of power plant operation and performance is made available remotely by means of a remote visualization solution. It is a real boost in information technology allowing massive data transfer over long distances.
A suite of analytical expert applications is available to provide embedded domain expertise across the enterprise. The intelligent supervisory is capable to generate reports, logs, print summaries, and automatically captures key operating parameters. Enterprise Mobile application is an intelligent data push technology which provides information about the "Right Data at Right Place & at Right Time" using mobile devices such as smart phones and tablets. It allows plant personnel to view in near-real time data therefore enabling greater flexibility in managing the plant operations. The diagnostic web application is available in user-friendly customized web portal. Intelligent Supervisory includes decision support, Fleet Optimization, Virtual Power Plant Simulation, Enterprise data Server & Device management optimization.
Digitalization in Power Generation is transforming the work behavior in plants. Plants are now becoming more and more smarter by digitally integrating assets to make our work easier.
In the past, energy, water and labor cost was less, waste disposal carried little cost, and emissions did not incur fines. On the down side, instrumentation & controls were costly in the past. Now the cost of energy and water is higher, waste disposal is expensive, emission fines are high, cost of labor with the right skills is higher & hard to retain. These are challenges impacting many departments in all plants. These challenges are the same across all industries and it is only going to get more challenging. On the bright side, we now have inexpensive & diversified digital field instrumentation & controls, inexpensive cloud computing and software as a service, and inexpensive telecommunications.
As power producers diversify their energy portfolios and strive to meet the world's growing appetite for energy, plant operations must be able to quickly and efficiently respond to constantly changing market demand. What if the power producers are equipped with solutions that can improve plant economics and achieve a timely return on their optimization investment? The answer is Intelligent Field Equipment, Control, Supervision & Information Management. These solutions allow power producers to capture additional revenue opportunities because the technology used in such plants will allow them to compete in the ancillary power services market while also maintaining grid requirement. With increased market competition and growing concern with environmental safety, electric utilities – particularly those relying on fossil fuels-burning Power producers, face an increasing array of issues including environmental management, operational flexibility, unit performance, fleet management and fiscal responsibility. Finding a Balance for these seemingly conflicting issues is the toughest challenge faced by Power Producers today.
See Beyond the Control Room
How big data from the remote sites is integrated with the rest of the enterprise to support plant personnel beyond the control room.
Companies are dramatically improving the speed and accuracy of decision- making and actions based on having the right information in the hands of the right expert…no matter where they sit. The digital transformation enables companies to exploit technology and expertise better than ever before, but only if the right scalable technology strategy is matched to your business goals. Emerson will put you on the right path.
By deploying Intelligent Supervisory within the existing plant, these plants are made more reliable, more energy efficient more environmental friendly and a safer place to work. Data reaches every personnel be it a Plant Engineer, Plant Technician, Instrument Supervisor or Top Management in plant for situational awareness. Enhanced situational awareness results in improved uptime and better Plant performance.
Plant Analytics
Analytics Capability of the Remote Monitoring Solution allows users to select any point in the system and run calculations to create new tag values, virtual tag values, and equation based advanced calculations and other functions to turn raw data into actionable information and notifications. These calculated points can be used and displayed system wide in the same way as other tags in the system on displays, trends, reports and alarm screens. It uses a visual tree structure for the representation of the calculation. All calculations can be stored in archive function for retrieval by any user. The condition information of multiple assets can be aggregated to compute a Key Performance Indicator (KPI) for the Plant. This analytical capability is ideal for equipment Diagnostic for condition based maintenance. Notification via email and instant messaging of these KPI's can also be done.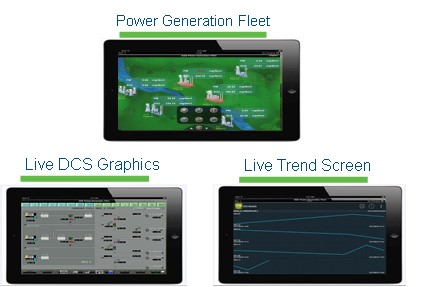 Continuously improving expertise and efficiency
Real-time Data comprising of Diverse, rich data sets (big data) from Multiple Sites & Systems is made available to the Intelligent Supervisory layer to reside upon "Unlimited" storage and processing on Cloud Server which does the Logic analyt ics modelling with embedded domain expertise and can publish role-based reports on dashboards, spreadsheet charts or pivot table including real-time process graphics and trends or as a scorecard. The data from here can be securely distributed to anyone, anywhere across the enterprise for cross-discipline collaboration, well beyond the control room. 
From the Plant Canopy to the Globe
Integrated view of multiple plants that Power Company has around the geographical locations, with each plant often having multiple control systems of many generations. Companies can, at an enterprise level, access data of all their plants around the world through remote web portal, Smart Phone devices or desktop clients. The Smart Phone device provided access to key performance indicator for assets anywhere with mobile telecommunication technology or wireless signal access. The Power companies can compare Plant performances against each other to identify best practices.
At the unit-level, Important Plant KPI's like Gross Electrical Power, Heat Production, Fuel Consumption, Emissions, Boiler Efficiency, Turbine Efficiency, Heat Rate & Plant Availability can be monitored and compared against each other. Easy navigation through a multi-level, custom enterprise hierarchy across various geographic locations is available. The KPI menu populates dynamic screens detailing plant and unit data. Executive Level KPI summary and Key process measurements can also be seen. Touch screen facility allows users to view data for all units by dragging the screen.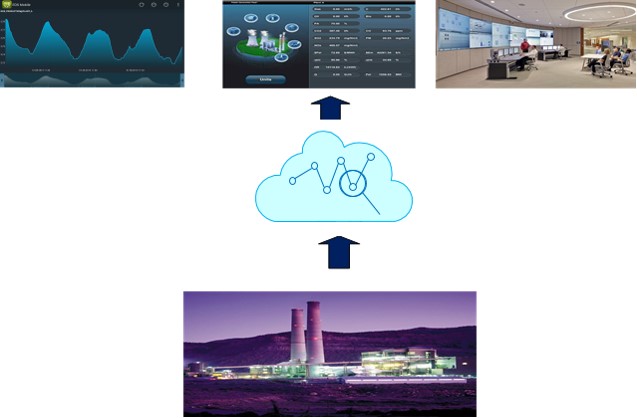 Getting the right data to the right people can improve plant reliability, efficiency and safety, but with increased connectivity comes increased risk – especially during the "first mile" when data is moved from the plant floor onto the internet to power IT and cloud based applications.
Using Emerson's proven & Secure architectures, a plant can transform its operational technology data into information technology data while ensuring outbound paths of information do not become inbound paths that expose its systems to harm. Secure architectures create secure, direct data export paths from DCS systems to the internet and enable plant personnel to exert tight control over the data that is exported. At an enterprise-level, the performance and reliability data can be compared between sites.
Subject Matter Expert's at Emerson's Connected Service Center of operations can remotely monitor assets, interpret the results, and provide an actionable summary so you can align your maintenance and operational response with your business strategy. Subject Matter Experts (SME) at the Emerson Connected Services Center can remotely view any asset to assist in diagnostics and troubleshooting etc. A SME in a Connected Services central location can support many plants. This is enabled by secure Internet connection for plant data and for video conferencing.
Summary
Fact-based decisions can have substantial financial benefits for the end customers. Plant People can achieve these objectives through timely review, reporting, follow-up, and addressing small issues before they combine into bigger problems. More eyes on the process leads to a better understanding of current conditions and to quicker problem identification and resolution. Emerson is the only company that offers a single automation platform reducing complexity while allowing power generators to run their plants smarter and more efficiently.
The Solution meets four critical needs: real-time operating data across the business, secure transport of that data where it is needed, robust and scalable software applications to convert that data into actionable insights, and the domain expertise to make decisions and drive outcomes. "Decades of deep collaboration with our customers in the power and water industries has given us tremendous insight into what they need from their automation supplier". "Emerson will continue to lead innovation that helps to fundamentally improve the way power plants are operated."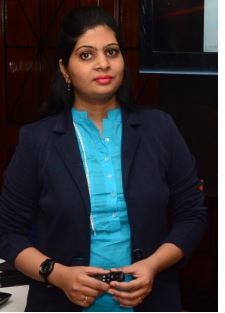 Shubhi Goel – Manager, Marketing, Power & Water Solutions India – Emerson Automation Solutions
Shubhi Goel is having total experience of 10 years & worked as a Product Marketing Specialist for Power Plant Automation. She has conducted several Product Promotional campaigns for Power Industry, Product Launches & presented various Power Industry Seminars across the country. She holds a B.Tech in Instrumentation & Control Engineering from Kurukshetra University,Kurukshetra.
About Emerson:
Emerson, headquartered in St. Louis, Missouri (USA), is a global technology and engineering company providing innovative solutions for customers in industrial, commercial, and residential markets. Our Emerson Automation Solutions business helps process, hybrid, and discrete manufacturers maximize production, protect personnel and the environment while optimizing their energy and operating costs. Emerson's five decades of Power and Water expertise offers reliable and innovative solutions to ensure Power Plant availability and profitability. The company combines superior products and technology with industry-specific engineering, consulting, project management and maintenance services. Our Emerson Commercial and Residential Solutions business helps ensure human comfort and health, protect food quality and safety, advance energy efficiency, and create sustainable infrastructure. For more information visit: www.emerson.com