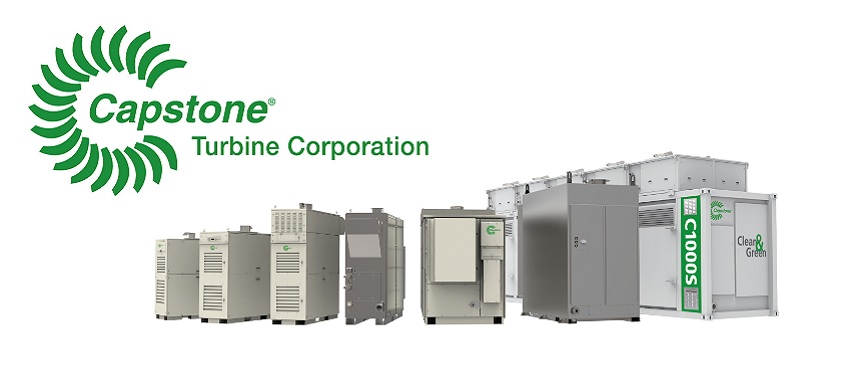 Capstone Turbine Corporation (www.capstoneturbine.com) , the world's leading clean technology manufacturer of microturbine energy systems, announced that it has received an order for a C1000S and C600S Signature Series microturbine with Capstone integrated heat recovery modules and controls to improve the energy efficiency at a hospital in the New York metropolitan area.
Capstone's distributor RSP Systems secured the order, which is expected to be commissioned in late 2017. Capstone microturbines were selected for their low environmental footprint and significant operational cost savings.
"We continue to successfully diversify our market verticals by concentrating on CHP as energy efficiency is a growth market for us globally and New York in specific is one of our fastest growing territories," said Darren Jamison, Capstone's President and Chief Executive Officer. "Our recently launched Signature Series product with its fully integrated heat recovery solution is targeted directly at customers like hospitals as well as hotels, office buildings, retail and industrial applications and I'm proud to say the Signature Series product, and new integrated heat recovery solution is performing well and exceeding expectations," added Mr. Jamison.
Both natural gas-fueled microturbines will be installed in an integrated combined heat and power (ICHP) application and operate in dual mode, which allows the customer to operate independently or with the grid in a load sharing capacity. The clean exhaust heat from the integrated heat recovery modules will help offset the facility's thermal load and boost overall site efficiency.
"This is another example of a U.S. hospital adopting sustainable business practices to become more efficient and have less of an impact on the environment," said Jim Crouse, Capstone's Executive Vice President of Sales and Marketing. "Capstone enables healthcare facilities to become more self-sufficient while saving them money on energy costs," added Mr. Crouse.
About Capstone Turbine Corporation
Capstone Turbine Corporation (www.capstoneturbine.com) is the world's leading producer of low-emission microturbine systems and was the first to market commercially viable microturbine energy products. Capstone has shipped approximately 9,000 Capstone Microturbine systems to customers worldwide. These award-winning systems have logged millions of documented runtime operating hours. Capstone is a member of the U.S. Environmental Protection Agency's Combined Heat and Power Partnership, which is committed to improving the efficiency of the nation's energy infrastructure and reducing emissions of pollutants and greenhouse gases. A UL-Certified ISO 9001:2015 and ISO 14001:2015 certified company, Capstone is headquartered in the Los Angeles area with sales and/or service centers in the United States, Latin America, Europe, Middle East and Asia.
CONTACT:
Capstone Turbine Corporation
Investor and investment media inquiries:
818-407-3628
ir@capstoneturbine.com