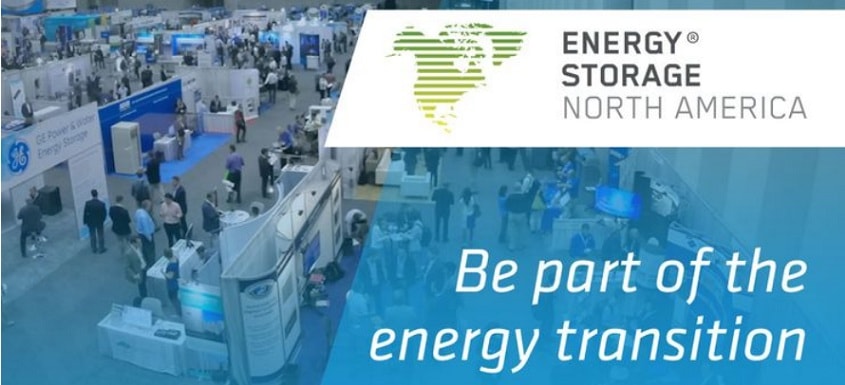 Energy Storage North America (ESNA), the most influential gathering of policy, technology and market leaders in energy storage, announced the finalists for its 2018 Innovation Awards. The awards recognize projects that demonstrate innovation, excellence and impact in energy storage.
The nine ESNA Innovation Award finalists have executed projects of outstanding achievement across three categories: Front-of-Meter, Behind-the-Meter and Mobile Storage. Winners will be honored during an awards ceremony at the annual Energy Storage North America conference and expo, held on November 6-8 at the Pasadena Convention Center. Additionally, ESNA will present two Champion Awards to honor the work of one individual each in the policy and utility sectors who have shown transformational leadership in the advancement of energy storage in North America. Following the awards ceremony, a celebratory reception will be held at the iconic Pasadena Rose Bowl Stadium.
ESNA 2018 Innovation Award Finalists
Front-of-Meter Storage
#ESNA_Fluence – Arizona Public Service (APS) Punkin Center Energy Storage System—submitted by Fluence
#ESNA_LME – Cypress Creek Renewables' Brunswick EMC Solar-Plus-Storage Portfolio—submitted by Lockheed Martin Energy
#ESNA_PSEG – Caldwell Wastewater Treatment Plant Solar Storage System—submitted by Public Service Electric and Gas Company (PSE&G)
Behind-the-Meter Storage
#ESNA_SNC – Sarnia Battery Energy Storage System—submitted by Convergent/SNC Lavalin
#ESNA_Stem – Stem Artificial Intelligence (AI)-Powered Energy Storage at StubHub Center—submitted by Stem
#ESNA_Viridity – Atlantic County Utility Authority (ACUA) Battery Storage Project—submitted by Viridity Energy Solutions, Inc.
Mobile Storage
#ESNA_EC – Energy Storage Control Module for Cadillac CT6 Super Cruise Level 3 Autonomous—submitted by Eberspaecher Controls
#ESNA_Nuvve – INVENT (Intelligent Electric Vehicle Integration)—submitted by Nuvve Corporation
#ESNA_ZapGo – Electric Vehicle Charging at 1 MW—submitted by ZapGo Inc.
Public Voting
The winners in each of the three Innovation Award categories will be determined by public voting. Voting will be conducted on Twitter (@EnergyStorageNA); users must retweet the award voting post using the custom hashtag for their project of choice. Voters may also cast votes using a form on the ESNA Awards page. One vote per user will count toward the final results; votes will be accepted until October 12. Visit the ESNA Awards page for more details on voting, hashtags, and to learn more about the projects.
ESNA thanks its 2018 Award Ceremony sponsor Johnson Controls, as well its Platinum Sponsors – Enel X, Energy Vault, Fluence, GE, IBEW 569, Los Angeles Department of Water and Power and LG Chem – for contributing to the success of this year's program.
About Energy Storage North America
Energy Storage North America (ESNA)
Energy Storage North America (ESNA) is the largest conference, exhibition and networking event covering all applications of grid storage in North America. ESNA is produced by Strategen Consulting and Messe Dusseldorf North America, and is part of the larger World of Energy Storage events happening in Europe, India, China and Japan. ESNA connects utilities, developers, energy users, policy makers and other key stakeholders from around the world to advance understanding and deployment of energy storage, and ultimately build a cleaner, more affordable and more resilient grid. To learn more about ESNA 2018, November 6-8, 2018, in Pasadena, California, visit www.esnaexpo.com