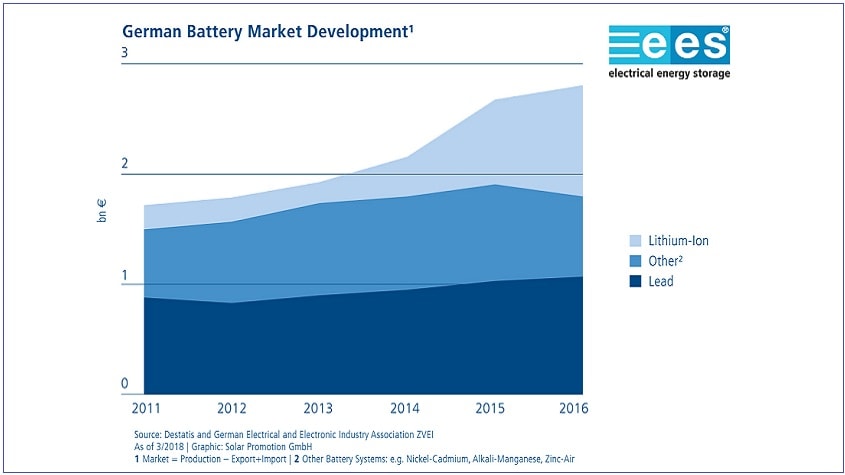 Every year the industry's key players gather at ees Europe, Europe's largest and most-visited exhibition for batteries and energy storage systems, which brings together manufacturers, service providers, project developers, investors, systems integrators and research institutes from all over the world in Munich, Germany.
The main focus is on innovative technologies, visions for the future and significant market trends. In 2018, hot topics include both the expansion of battery production and sector coupling, i.e. the linking of the electricity, heating and mobility sectors.
These topics will also be taken up at the parallel ees Europe Conference, on June 19 and 20, 2018 in Munich, where leading experts from industry and research will discuss storage markets, business models and future technologies in greater detail as part of the extensive conference program. Early bird rates are available for those who register by April 30, 2018.
From June 20–22, 2018, more than 450 suppliers of batteries, energy storage systems, grid infrastructure and solutions for integrating renewable energies will be presenting their products and solutions at ees Europe and the parallel energy exhibitions taking place under the umbrella of The smarter E Europe. The innovative platform The smarter E is bringing together four energy exhibitions under one roof for the very first time – and offering an attractive accompanying program which includes the ees Europe Conference. Together with Intersolar Europe, Power2Drive Europe and The smarter E Europe Conference, the organizers expect around 1,700 international conference participants and more than 200 speakers from around the globe.
Batteries and energy storage systems are an indispensable part of a modern energy supply. The boom in renewable energies in the electricity, heating and mobility sectors requires not only intelligent networks, but also and especially additional, efficient and cost-effective storage resources. This development is reflected in the figures: According to an analysis by Bloomberg New Energy Finance, annual storage deployment worldwide is set to double six times, rising to a total of 125 GW/305 GWh, by 2030.
In Germany, alongside commercial storage systems, domestic storage systems are in particularly high demand. The German Solar Association reports that more than 30,000 new solar storage systems were installed in Germany last year alone, which means that the market volume has tripled over the past three years.
"From private power generators seeking self-sufficiency to utilities looking to offer more power from renewable sources – demand for storage solutions is set to increase yet further in the future," says Dr. Holger Hesse, head of the research group on stationary energy systems and deputy head of the Institute of Electrical Energy Storage at the Technical University of Munich (TUM) as well as a member of the conference committee. "Grid connectivity and efficient energy management have taken on new meaning this year in light of the rise of e-mobility in particular. In this context, stationary energy storage has a key role to play in the future of energy supply, not least due to the continued steep decline in the prices of lithium-ion cells and storage systems," Hesse continues.
In battery production and energy storage, efficiency is paramount
In order to meet growing demand, capacity for battery manufacture and assembly must be expanded and costs reduced so that more battery systems can reach the market more quickly. At the same time, the energy efficiency of the components should be increased. Along with China and Korea, European companies are increasingly getting involved in cell manufacturing with the goal of mass producing lithium-ion batteries – using innovative process technologies and materials. Otmar Frey, Managing Director of the Batteries Division of the German Electrical and Electronic Manufacturers' Association, a conference partner of the ees Europe Conference, sees Germany too as a market participant that should be taken seriously. "The German battery industry has the expertise to produce ready-to-use batteries from lithium-ion cells, for example to be used in domestic storage systems for photovoltaic installations. Between 2011 and 2016, the German market grew from 1.7 to 2.8 billion euros. These figures offer clear evidence that the market can keep pace."
Battery production technologies will feature in discussions at the ees Europe exhibition as well as at the accompanying ees Europe Conference, with several sessions at the conference dedicated to exploring efficiency, automation and new materials. For example, the presentation "Material Innovation & Production Automation" will outline research findings for improving the efficiency of battery components. While touring the exhibition, interested trade visitors can make a stop in hall C1, where key players in battery production technologies will be presenting the latest developments and projects at a dedicated exhibition forum and a shared booth.
The future lies in cross-sector storage projects
As the energy world undergoes transformation, storage integration and new business models are shaping the market. The presentation series "Business Models or How to Make Money with Energy Storage" discusses concepts for using energy storage that have already proven economically viable. Economic viability is also a key consideration in the recycling of storage devices. The session "Environmental Impacts of Battery Storage: LCA and Recycling" shines a spotlight on this topic. "The service life of energy storage devices is important not only from a technical perspective but also an economic one, particularly in terms of environmental impact," says Dr. Matthias Vetter, head of the Department of Electrical Energy Storage at Fraunhofer Institute for Solar Energy Systems ISE, Germany, and chairman of the ees Europe Conference. "The ees Europe Conference explores the financing and safety of storage projects, the quality of the components as well as of overall systems and many other important topics affecting the future of the industry," Vetter continues.
More closely integrating the individual sectors via energy storage systems is of particular interest to the entire energy industry. Sector coupling will continue to grow in importance in the coming years, as is further reflected in the other conferences united under the umbrella of The smarter E Europe. The "Charging Infrastructure Technology" session at the Power2Drive Europe Conference, for example, is concerned with connecting local charging systems with locally generated power, while the presentation series "New Generation Power Plants/Sector Coupling" at The smarter E Europe Conference will take up topics including developments in vehicle-to-grid solutions.
ees Europe
ees Europe is the continent's largest and most visited exhibition for batteries and energy storage systems. Since 2014, ees Europe has been held annually at the Messe München exhibition center in Munich. It serves as the industry platform for manufacturers, distributors, users and suppliers of stationary storage solutions and technologies for electrical energy as well as battery production technologies.
The accompanying ees Europe Conference highlights and consolidates current industry issues.
With additional ees events in San Francisco, Mumbai and São Paulo, ees is represented on four continents.
In 2018, ees Europe is taking place in parallel to Power2Drive Europe, the exhibition for charging infrastructure and e-mobility, for the first time. With its focus on traction batteries and topics relating to charging infrastructure, Power2Drive complements ees Europe perfectly. Intersolar Europe, the world's leading exhibition for the solar industry and its partners, and EM-Power, the new exhibition for the intelligent use of energy in industry and buildings, will also take place at the same time. All four exhibitions are being held under the umbrella of The smarter E Europe – the innovative platform for new energy solutions.
For more information on ees Europe, please visit: www.ees-europe.com/en
ees Europe is organized by Solar Promotion GmbH, Pforzheim and Freiburg Wirtschaft Touristik und Messe GmbH & Co. KG (FWTM).