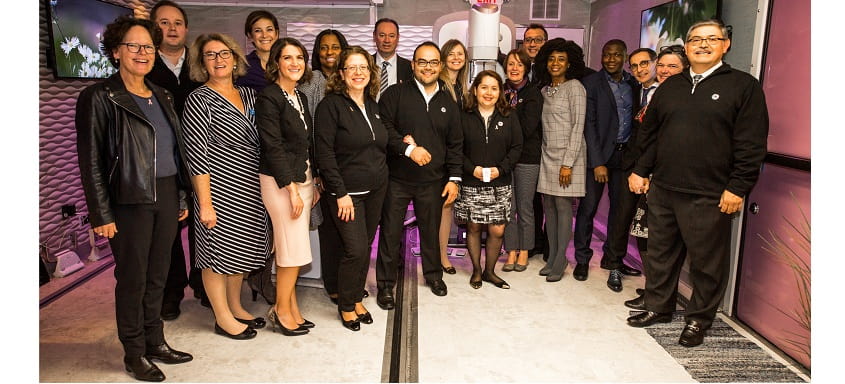 GE Healthcare announced its being recognized as one of Fast Company's Most Innovative Companies of 2018.
As a leading maker of medical diagnostic equipment, GE Healthcare was honored on the Top 10 Most Innovative Companies in Biotech list for the launch of its latest mammography system, Senographe Pristina. Designed to provide a more comfortable mammogram experience for patients, Senographe Pristina features Pristina Dueta, an industry-first patient-assisted compression remote control device that enables women to manage their own breast compression during the exam with the help of a technologist.
Evidence shows that finding breast cancer early reduces a woman's risk of dying from the disease by 25-30 percent or more1. For many women, the number one reason they don´t schedule a mammogram is because of the fear and anxiety from the potential result and exam discomfort.
"Mammograms can be uncomfortable or even painful," said Agnes Berzsenyi, President and CEO of GE Healthcare Women's Health. "But early detection saves lives. No woman should miss out on the potentially life-saving benefits of regular mammograms out of fear of discomfort or anxiety."
Engineered in France by a team of women, GE Healthcare set out to transform mammography with the creation of Senographe Pristina and patient-assisted compression to help decrease pain associated with the exam, improve the patient experience and improve outcomes for breast cancer screening.
In addition to Pristina Dueta, the redesigned mammography system replaced traditional design with rounded edges and a thinner image detector to create a more pleasant experience for women, as well as armrests that position women to relax rather than tense up during the compression and image acquisition process.
Results from patient surveys in Europe prove the new design is providing a more comfortable exam. More than 80 percent of patients surveyed rated their experience with Senographe Pristina as better than with previous systems2, and 4 out of 5 women who used the patient-assisted compression device found it improved the comfort of their exam3.
"Senographe Pristina was designed with empathy," Berzsenyi said. "It humanizes the mammography experience by helping to increase comfort and reduce patient anxiety. The system's potential to help increase the number of annual screening exams is a critical advancement in women's healthcare."
Fast Company's annual Most Innovative Companies issue recognizes pioneering companies across 36 categories, from biotech to artificial intelligence to wellness. More than three dozen Fast Company editors, reporters and contributors surveyed thousands of companies to create these lists.
"This year's Most Innovative Companies list is an inspiring and insightful window into how many companies have embraced innovation and are working to make meaningful change," said Fast Company deputy editor David Lidsky, who oversaw the issue with senior editor Amy Farley.
GE Healthcare was included in Fast Company's Most Innovative Companies of 2017 for reducing pain points at health care facilities and again in 2013 for making portable ultrasound technology that scans the whole body and captures injuries on site at sporting events.