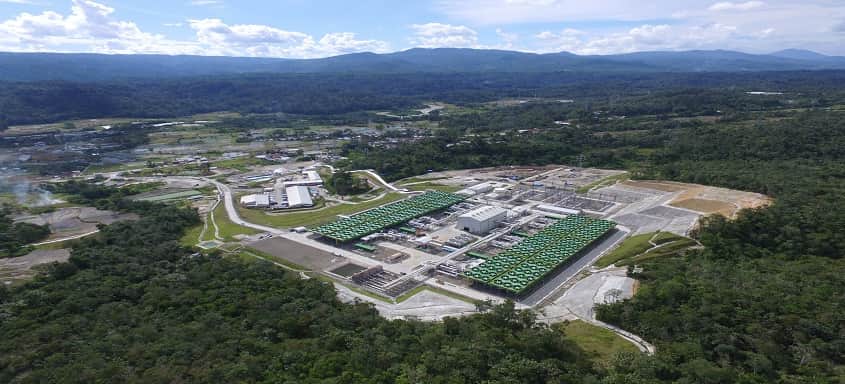 Toshiba Corporation announced that the first unit of the Sarulla geothermal power plant, one of the world's largest power plants, located in Indonesia's North Sumatra, has commenced commercial operation.
The approximately 110 MW power plant, which combines flash and binary technologies to provide a high efficiency power plant and 100% reinjection of the exploited geothermal fluid, is operated by Sarulla Operations Ltd. (SOL). As participants in the project, Toshiba supplied the geothermal steam turbines and generators (STGs) for the flash systems, while Ormat provided the conceptual design of the Geothermal Combined Cycle Unit (GCCU) power plant and supplied its Ormat Energy Converter (OEC), which serve as the condensing units for the steam turbines and utilize the separated brine for maximum resource exploitation and maximum power output.
Toshiba and Ormat will continue to collaborate strategically on global promotion of highly-efficient geothermal combined cycle flash and binary systems, and both companies continue to seek to utilize and promote renewable energy globally.
Commenting on the official start, Mr. Takao Konishi, Vice President of Toshiba's Energy Systems & Solutions Company said, "We are very proud to have installed our highly reliable geothermal STGs in one of the world's largest geothermal power plants. Toshiba has the number one market share in the geothermal sector. We continue to support development of power and infrastructure solutions in Indonesia."
Isaac Angel, Ormat's CEO, added, "The commencement of commercial operation at Sarulla is a significant milestone for Ormat, both as an owner of SOL and as a supplier of our 25-year-proven binary technology. The Sarulla supply contract is the largest single contract that Ormat has signed to date. We manufactured and delivered our equipment ahead of schedule, mainly due to the improvements implemented across our entire value chain and to our professional teams. We continue to share our expertise as work continues on the second and third units of the Sarulla project that are expected to come on line by 2017 and 2018, respectively. Ormat's proven GCCU technology, which was also utilized in the Sarulla reservoir, will assure optimal and sustainable utilization of the resource to deliver to Indonesia clean, cost effective and baseload capacity."
Toshiba and Ormat have fostered a cooperative relationship through the Sarulla project. After signing a Strategic Collaboration Agreement in 2015, the companies also won orders to supply STG and OEC, respectively, for Unit 2 of the Kizildere III Geothermal Combined Cycle Unit Power Plant in Turkey. This project is now making smooth progress.
About Ormat Technologies
With over five decades of experience, Ormat Technologies, Inc. is a leading geothermal company and the only vertically integrated company engaged in geothermal and recovered energy generation (REG), with the objective of becoming a leading global provider of renewable energy. The company owns, operates, designs, manufactures and sells geothermal and REG power plants primarily based on the Ormat Energy Converter – a power generation unit that converts low-, medium- and high-temperature heat into electricity. With 73 U.S. patents, Ormat's power solutions have been refined and perfected under the most grueling environmental conditions. Ormat has 474 employees in the United States and over 700 overseas. Ormat's flexible, modular solutions for geothermal power and REG are ideal for the vast range of resource characteristics. The company has engineered, manufactured and constructed power plants, which it currently owns or has installed to utilities and developers worldwide, totaling over 2,200 MW of gross capacity. Ormat's current 713 MW generating portfolio is spread globally in the U.S., Guatemala, Guadeloupe, and Kenya.