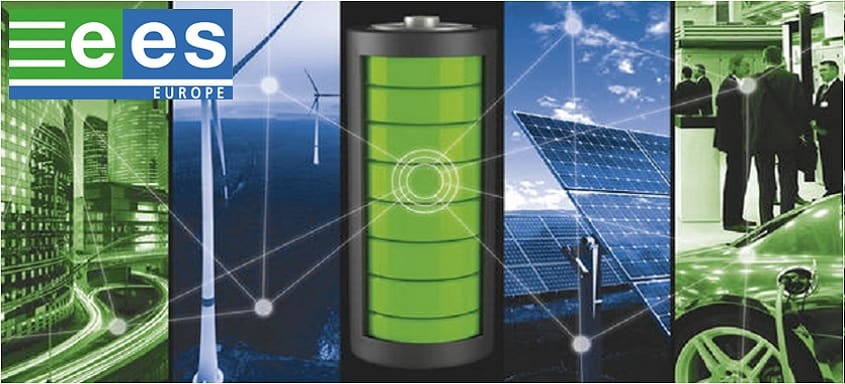 ees Europe, the continent's largest exhibition for batteries and energy storage systems is set to take place from May 31–June 2, 2017 and will once again feature an extensive accompanying program.
Highlights include the ees Europe Conference, a special exhibit on e-mobility as well as the ees AWARD, which celebrates pioneering products and solutions for stationary and mobile energy storage. 
The energy storage market is evolving. Thanks to innovative technologies, batteries and energy storage systems are increasingly able to store large quantities of energy from renewable sources. The potential for storing or distributing power from photovoltaic (PV) systems is far from exhausted, and ever more market opportunities are being created, for example with the help of mobile storage systems. The exhibition itself, which has set yet another exhibitor record, is proof that the market is booming: In 2017, 270 companies are expected across 17,500 sqm of exhibition space, and, together with Intersolar Europe, over 400 of the 1,200 or so exhibitors will be showcasing energy storage technology. The reasons behind the rapid development of the market are varied. "The drivers behind energy storage systems are largely environmental, economic and sociopolitical since storage systems conserve finite resources, allow for the flexible use of renewable energy and ensure high supply safety," explains Markus Hoehner, founder and managing director of the International Battery and Energy Storage Alliance (IBESA), a partner of the ees Forum for a fourth time running.
Charging electric vehicles: Special exhibit E-Mobility & Renewable Energy 
If the energy transition is to succeed, renewable energy and its storage will be essential. With this in mind, e-mobility will play a key role in the future. The number of electric cars is constantly rising, with Bloomberg New Energy Finance anticipating over 100 million electric vehicles on the road worldwide by 2030 – reason enough to discuss the importance of electric cars in the energy mix and present technologies, business models and concepts for mobile storage and charging solutions. And what better place to do this than at the E-Mobility & Renewable Energy special exhibit (hall B1, booth B1.170), where participants are set to present solutions for environmentally-friendly mobility on all three exhibition days.
ees Europe Conference: Stationary and mobile storage solutions come together 
The range array of topics at the accompanying conference is another indication that automotive innovation is one of the hop topics at ees Europe 2017. For the first time, presentations and panel discussions will look at automotive storage systems, storage integration and vehicle-to-grid (V2G) as well as the level of flexibility offered by storage devices in electric vehicles. Of course, stationary storage systems will also play a major role at the conference. This topic affects not only homeowners but also commercial and industrial enterprises as well as energy suppliers. Accordingly, participants will discuss global energy storage markets and new technologies for rechargeable batteries as well as battery production, battery safety, alternative storage technologies without batteries and UPS systems (uninterruptible power supply). The conference is taking place on May 30 and 31, 2017.
ees AWARD: Celebrating trends and developments 
The organizers are set to present the ees AWARD for the fourth time running, recognizing pioneering solutions for mobile and stationary electricity storage along the entire value-added chain – from components and production to concrete applications and business models. The renowned industry award is a prestigious honor for both finalists and winners alike, and reflects industry developments over the years. Initially, the award shone the spotlight on innovative solutions for storing regenerative power but, over time, attention has turned to reducing production costs and simplifying systems. In 2016, submissions focused on optimizing on-site consumption and stabilizing power grids and microgrids. As to what trends will be worthy of the award in 2017, this will be revealed at the award ceremony on May 31 at the Innovation and Application Forum (hall A4, booth A4.530).
ees Forum
On all three exhibition days, experts at the ees Forum will present the latest developments in the field of energy storage (hall B1, booth B1.151). One highlight is the session on e-mobility innovations at ees Europe. On the afternoon of day two of the exhibition, exhibitors and participants in the E-Mobility special exhibit as well as various start-up companies will give short presentations showcasing their solutions. Visitors can expect more exciting sessions, such as Large-Scale Storage: Business Models in the New Energy World and the session titled Small-Scale and Commercial Storage: Differentiation for a Competitive Edge?, as well as presentations by ees AWARD finalists. The ees Forum is co-organized by the International Battery and Energy Storage Alliance (IBESA). 
ees Europe 2017 will take place alongside Intersolar Europe from May 31–June 2 at Messe München; the ees Europe Conference will be held onMay 30 and 31 at ICM – Internationales Congress Center München.
Further information on ees Europe 2017 can be found at www.ees-europe.com.
Partners of ees Europe
ees Europe partners with BSW-Solar (German Solar Association), EUROBAT (Association of European Automotive and Industrial Battery Manufacturers), Naatbatt (National Alliance for Advanced Technology Batteries), and ZVEI (German Electrical and Electronic Manufacturers' Association). 
About ees
With ees Europe in Munich, ees North America in San Francisco, ees South America in Sao Paolo and ees India in Mumbai, ees is represented on four continents. It serves as the industry platform for manufacturers, distributers, users and suppliers of stationary and mobile storage solutions for electrical energy. The ees exhibitions and accompanying ees conferences are co-organized with Intersolar, the leading exhibition for the solar industry, and center on renewable energy storage solutions, from residential and commercial applications to large-scale storage systems for stabilizing the grid. Other focal points are products and solutions for smart renewable energy, energy management, e-mobility and uninterruptible power supply. 
ees Europe is the continent's largest exhibition with the greatest number of visitors for the battery and energy storage industry. More than 400 energy storage exhibitors (including the energy storage exhibitors at Intersolar Europe) and approx. 40,000 visitors from 160 countries are expected at ees Europe 2017. 
For more information on ees Europe, please visit: www.ees-europe.com
ees Europe is organized by Solar Promotion GmbH, Pforzheim and Freiburg Wirtschaft Touristik und Messe GmbH & Co. KG (FWTM).
Contact:
Solar Promotion GmbH
P.O. Box 100 170
75101 Pforzheim, Germany
Horst Dufner
Tel.: +49 7231 58598-0
Fax: +49 7231 58598-28
info@ees-europe.com
Press contact:
fischerAppelt, relations
Otl-Aicher-Straße 64
80807 Munich, Germany
Robert Schwarzenböck
Tel.: +49 89 747466-23
Fax: +49 89 747466-66
rs@fischerAppelt.de