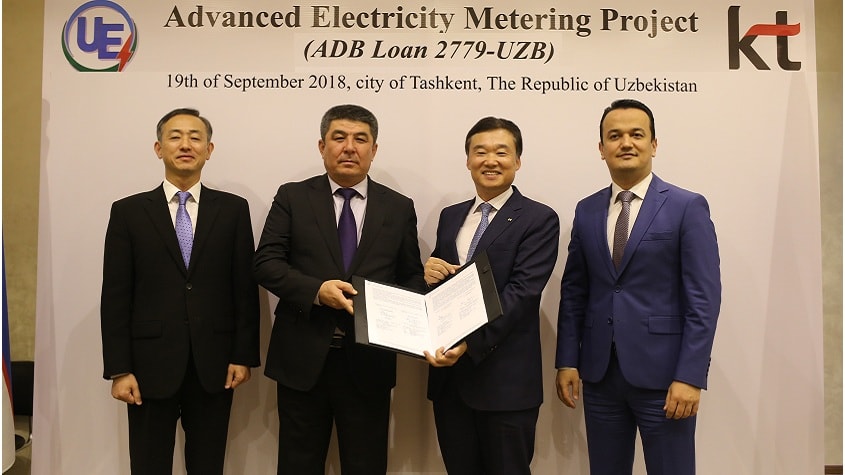 KT Corporation , South Korea's largest telecommunications company, has won a key energy contract for a second time in Uzbekistan, further affirming the company's vision of becoming a global leader in information and communication technology (ICT).
The 30 billion won contract will see smart energy meters installed in 360,000 households throughout Uzbekistan over the next two years. KT formerly signed a deal worth 120 billion won (US$106 million) with Uzbekenergo, a state-run power company in the central Asian country, in 2015.
Based on KT's successful cooperation in Uzbekistan's energy sector, the Korean telecom leader plans to expand its business there beyond telecommunication services to convergence projects, including smart cities, fintech and digital healthcare, in collaboration with domestic small and midsize enterprises.
"This project shows KT's success in building trust in Uzbekistan with our technological excellence," said Yoon Kyoung-Lim, head of KT's Global Business Office. "With the experience and know-how gained in Uzbekistan, we will accelerate our efforts to introduce our smart meter system throughout Eurasian markets."
KT installed its smart energy meters in 1 million Uzbek households throughout the three provinces of Samarkand, Jizzakh and Bukhara as a result of the first contract.
Smart energy meters are electronic devices that record electricity consumption and have a two-way, real-time communication feature between the power company and its customers. Households that have smart energy meters are able to monitor their real-time power usage and view online billing, increasing efficiency and effective energy consumption.
"KT has successfully carried out its smart meter project since 2016, achieving satisfactory outcomes in effective energy management in Uzbekistan," said Ulugbek Mustafoev, chairman of Uzbekenergo. "We have asked KT to continue to cooperate in building an integrated smart meter system for the entire country."
Kwon Yong-Woo, South Korean ambassador to Uzbekistan, said that he hoped KT's business in Uzbekistan would expand to a diverse number of fields in ICT, building on the company's sustained success installing smart energy meters.
ABOUT KT CORPORATION  
KT Corporation, Korea's largest telecommunications service provider reestablished in 1981 under the Telecommunications Business Act, is leading the era of innovations in the world's most connected country. The company leads the 4th industrial revolution with high speed wire/wireless network and innovative ICT technology. After installing 20 million fixed lines in just 12 years, KT was the first telecom provider to introduce 5G broad-scale trial service in 2018. It is another step in KT's continuous efforts to deliver essential products and services as it seeks to be the No.1 ICT Company and People's Company.