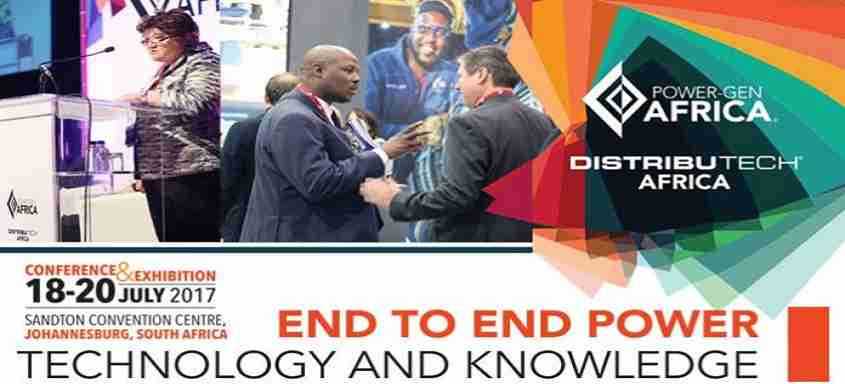 Leading power sector conference to raise the bar on expert insights Sustainable power generation and distribution in a constrained market is a top of mind issue across Africa.
Seeking to share knowledge and catalyse development that helps address Africa's power challenges, PennWell Corporation, the organisers of POWER-GEN & DistribuTECH Africa, have issued a Call for Papers for the co-located conferences to be staged in Johannesburg in July 2017.
Since inception in South Africa in 2012, the POWER-GEN & DistribuTECH Africa conference and exhibition has grown year on year to become a leading knowledge-sharing platform for power generation and distribution industry experts and key players across Africa. "In 2016, when we moved to more closely integrate POWER-GEN &DistribuTECH Africa, the attendee numbers rose from around 2,000 the year before to over 3,000, with 95% saying they planned to return in 2017," says Event Director Feraye Gurel. "We see this as an indication that our high-level presentations, advanced networking opportunities and the fact that the events encompass end-to-end power technology and knowledge, meet the needs of the pan-African power sector."
Delegate research revealed that the 2016 POWER-GEN & DistribuTECH Africa conference drew considerable praise for its comprehensive content and the high quality of presentations. Across four parallel tracks, featuring some 30 separate sessions and over 100 expert speakers addressed conference delegates. In 2017, POWER-GEN & DistribuTECH Africa will offer the latest research and learnings, practical insights and strategic advice from a local, African and international power generation and distribution experts and high profile power users.
PennWell Corporation invites proposals from speakers to present at POWER-GEN & DistribuTECH Africa across the entire power generation and distribution spectrum.
To build on topics that were particularly well received in 2016, enhanced focus will be placed on power sector strategy including design, policy and regulation, privatisation, integration of renewables, project planning and financing, renewable projects and opportunities, and smart technology.For the full list of subject areas and to submit an abstract, please visit http://www.powergenafrica.com/conference/speakers/become-a-speaker
The abstract submission deadline is 5 January 2017. POWER-GEN & DistribuTECH Africa 2017 will be presented by PennWell Corporation from 18-20 July 2017 at the Sandton Convention Centre in Johannesburg, South Africa. For more information, please visit www.powergenafrica.com. See the video highlights of POWER-GEN & DistribuTECH Africa 2016 here
Exhibitors may also secure their exposure at POWER-GEN & DistribuTECH Africa 2017. For more information, please contact Ella Coulson at ellac@pennwell.com
South Africa:
Leigh Angelo Managing Director – ITP Communications
Tel: + 27 (0) 869 9153;
email: leigh@tradeprojects.co.za
United Kingdom
Ella Coulson, Marketing Manager,
PennWell Corporation
T: +44 1992 656 652;
email: ellac@pennwell.com