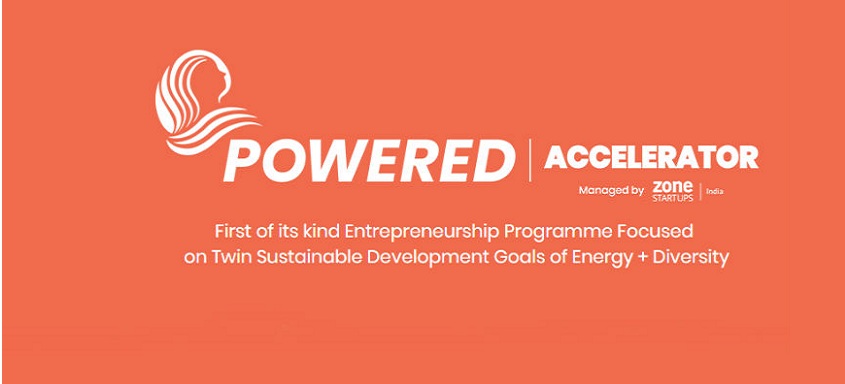 Ten women entrepreneurs have been selected as the first cohort into the POWERED Accelerator programme and will now receive financial and business support to develop their businesses and deliver solutions in access to energy across India.
In April this year, DFID India, Shell Foundation (the independent global charity), Department of Science and Technology, Government of India, and Zone Startups India announced the POWERED Accelerator – a first of its kind entrepreneurship programme focused on twin Sustainable Development Goals of Energy and Diversity. Following the launch in Mumbai, the POWERED Accelerator was launched in six cities across India.
The objective of the POWERED Accelerator is to support female-led ventures by helping them expand their innovative and consumer-responsive products and services; the ultimate goal being to empower women-owned and managed businesses in the energy space. The accelerator is focused on core themes of access to energy, sustainable mobility, waste to value, energy efficiency, and smart energy solutions.
More than 130 women entrepreneurs applied to the accelerator programme from varied backgrounds, all having created innovative solutions in the energy sector. The startups were evaluated based on the applicant's background, innovativeness, scale of impact, problem solution fit, clarity of thought, and programme fit. The top-ten entrepreneurs selected for the first cohort will now receive support for one year to scale their business including a six-week residential mentoring programme and access to an equity-free seed fund of $10,000 each.
"We know that given the right opportunities, women can play a critical role across the energy-value chain. As energy enterprises scale-up in India they provide rural and low-income women with new opportunities to generate income and achieve greater economic empowerment.  Through the POWERED programme we will work towards strengthening the ecosystem for more women-owned and managed businesses across the energy value chain. We are confident that these 10 women entrepreneurs will enable greater inclusion and sustainability towards a more energy secure and equitable future for all." – Gavin McGillivray, Head DFID India
"Shell Foundation is excited to see the first cohort of high quality female entrepreneurs come through the POWERED Accelerator programme. We believe these inspiring women have the potential to deliver long-term energy and mobility solutions that address market gaps and break down some of the barriers that are preventing low-income consumers from accessing these critical services. The Accelerator programme is one element of the POWERED initiative, a partnership between DFID India and Shell Foundation, which will deliver 5000 jobs, and support more than 100 women-owned micro-enterprises in rural and urban India." – Sam Parker, Director – Shell Foundation
 "At the time of launching POWERED Accelerator, we were not sure of the number of women-entrepreneur led start-ups in the extended energy sector. After 6-roadshows, and close to 2 months of extensive campaigning, we ended up getting more than 130 high-quality applications. Selecting only 10 from a shortlist of 30 businesses was a tough task. We see the entire application pool as a part of a larger funnel of start-ups that presents us with an opportunity to build other interventions in this niche ecosystem. We have some great partners onboard, and we look forward to making the first cohort a grand success" – Ajay Ramasubramaniam, Director – Zone Startups India
The cohort comprises of start-ups in areas ranging from access to energy, water conservation, application of energy in agriculture, easy finance, last-mile distribution, waste to fuel and more.   
The Cohort:
–       Simmi Sareen, Loans4SME
–       Srujana Raghupatruni, Cellerite Systems
–       Puspalata Pani, Kumidini Enterprise
–       Mousumi Medhi, HoneyComb Inventions
–       Amishi Parasrampuria, Upcycler's Lab
–       Kavita Aggarwal, BluPrints
–       Ruchi Jain, Taru Naturals
–       Manvi Dhawan, Agnij-Adjustable Thermoelectric Power Generator
–       Neha Upadhyaya, Guna
–       Nidhi Pant, S4S Technologies
 
1. Simmi Sareen, Loans4SME
Simmi is a veteran in financial services with more than 19 years of experience in credit and lending. She is head of the Mumbai-based startup Loans4SME, which is an alternative lending platform that connects businesses with debt providers. They aim to help small businesses navigate the complexities of the lending market, all the while enabling lenders to invest in the right company. The next step is to create products and structures that expand supply of capital for renewable energy beyond the currently existing lenders.
2. Srujana Raghupatruni, Cellerite Systems
Srujana is a postgraduate in Power Systems from IIT Delhi with 7 years' experience in teaching Electrical Engineering to graduates and undergraduates. She is the Founder and CTO of Hyderabad-based startup Cellerite Systems that is developing an innovative Electric Vehicle charger that focuses on reducing the charging time of the vehicle, thereby increasing the travel range of these vehicles.
3. Puspalata Pani, M/S KUMUDINI ENTERPRISE
Puspalata has a Master's Degree in Social Work (MSW) and Rural Management with 19 years of experience in youth leadership development. She is the Co-Founder of and manages operations at Odisha-based startup M/S Kumudini Enterprise, an organisation, which is completely run by women, that aims to provide energy services and devices in rural communities, with a special focus on Particularly Vulnerable Tribal Groups (PVTGs). They also promote training and capacity building of the rural communities with an emphasis on the women in the community.
4. Mousumi Medhi, HoneyComb Inventions
Mousumi has 8 years of experience in project management and holds an MBA Degree. She is the CEO of Mumbai-based startup HoneyComb Inventions, which is aimed at enhancing the duration of power back up supplies of healthcare facilities.
5. Amishi Parasrampuria, Upcycler's Lab
Amishi has 4 years of experience as a social entrepreneur in the field of sustainability. She is the Founder of Mumbai-based startup Upcycler's Lab, which makes sustainability-based learning tools for children above the age of five. They aim to create awareness and educate children on the need for sustainability in accordance with UN SDG 12 – Responsible Consumption and Production.
6. Kavita Aggarwal, BluPrints
Kavita has core experience in Embedded Systems Design, in Building ATC and War-Room communication infrastructure for IAF. She also holds an MBA degree from University of Leeds and an MCA Degree from IMT, Ghaziabad. She is the Founder and CEO of Delhi-NCR-based BluPrints, an R&D Driven Embedded Systems Technology Company specializing in Retail-Tech and Fin-Tech Devices. One of the focuses being a system designed for electricity billing.
7. Ruchi Jain, Taru Naturals
Ruchi holds a Master's Degree in Environment Change and Management from Oxford University. She has also worked with the Ministry of New and Renewable Energy, European Academies Sciences Council and as a Campaigner with 350.org and Indian Youth Climate Network. She is the Founder and CEO of Mumbai-based Taru Naturals, which is a network that connects farmer communities with clean technology and renewable energy. It is an ecosystem builder for small-scale farmers, wherein they mobilise the village community to adopt sustainable methods of agriculture such as solar power pumps, solar dryers, etc.
8. Manvi Dhawan, Agnij-Adjustable Thermoelectric Power Generator
Manvi has 2 years of experience in project management and systems engineering, she also holds a Master's Degree in Aerospace Engineering from IIT Bombay. She is the CEO and CFO of Mumbai-based Agnij- Adjustable Thermoelectric Power Generator, which is developing a product called Agnij. Agnij is a thermo-electric belt, which can be placed around any heated vessel or chullahs to use waste heat.
9. Neha Upadhyaya, Guna
Neha is an organic macrobiotic coach based in New Delhi. She is the Founder of New-Delhi based Guna, which trains rural women farmers in Ladakh and Sikkim to develop eco model villages through a focus on organic farming and the use of solar energy in post-harvest management by the use of solar dryers, solar pumps, etc.
10. Nihi Pant, S4S Technologies
Nidhi is a social entrepreneur who holds a Bachelor's Degree in Chemical Engineering. She is one of the Co-Founders of Mumbai-based S4S Technologies and heads marketing and sales in the company. S4S Technologies manufactures solar dehydrators that are used by farmers for food preservation; they also provide the farmers market linkage to sell these dehydrated food products.
As part of the broader aim of the programme, the accelerator will also be organising ecosystem development activities, grand challenges, a one-week residential boot camp, and an incubator for women in energy.
Zone Startups India will continue accepting applications for the next cohort on the website of the POWERED Accelerator – powered.org.in/accelerator/
Set up as a joint initiative of Shell Foundation and Zone Startups, and funded by DFID India (UK Government) and DST Government of India, the objective of the POWERED Accelerator is to support selected ventures, by helping them expand their innovative and consumer-responsive services, products, and financing; with an ultimate goal to increase economic empowerment of women-owned businesses in the energy space.
ABOUT THE PROGRAMME PARTNERS
The Department for International Development (DFID) India is a United Kingdom government department responsible for fostering development partnership between the UK and India.  The goal of the department is to eliminate world poverty and promote sustainable development. Department of Science & Technology (DST) was established in May 1971, with the objective of promoting new areas of Science & Technology and to play the role of a nodal department for organizing, coordinating, and promoting S&T activities in the country.
Shell Foundation is an independent UK-registered charity established by the Shell Group in 2000 to create and scale new solutions to global development challenges. Shell Foundation works with a small number of entrepreneurial partners to identify the market failures that underpin many of the world's problems and co-creates new social enterprises to solve them.  In 2016, SF identified key factors preventing enterprises and social investors from embracing gender inclusion. This is a unique opportunity to address these barriers and increase the Foundation's impact on women.
Zone Startups is a leading global technology accelerator, and early stage investment fund, with multiple accelerator programmes and entrepreneurship initiatives across Canada, India, and Vietnam. In India, the flagship programme is Zone Startups India, established in 2014 as a partnership between Ryerson Futures Inc. and BSE Institute; partly funded by Department of Science & Technology, GOI. Since then, in India, Zone Startups has also lent its programme set-up and management expertise to leading corporates such as Lodha Group, EY, Visa, Viacom18, Thomson Reuters, Barclays, KSUM, Publicis, CapGemini, Axis Bank and ICICI Lombard to name a few. Zone Startups India also operates empoWer, India's only tech accelerator for women entrepreneurs.