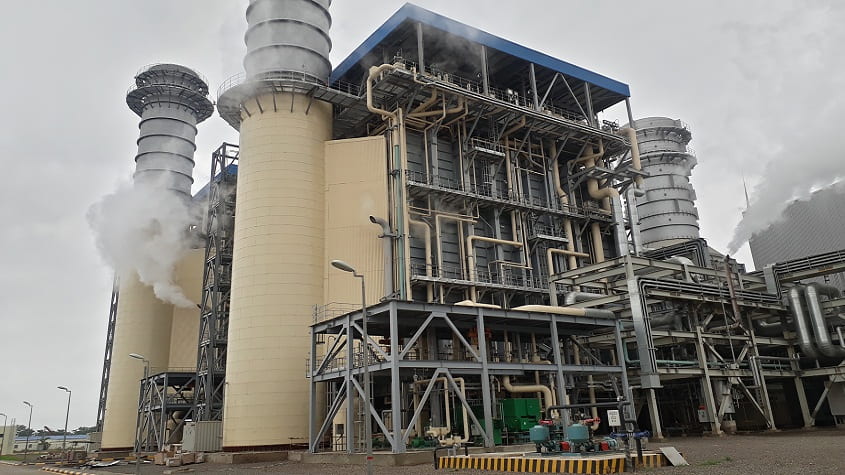 National Power Parks Management Company Limited , Harbin Electric International Company Limited and GE announced the completion of the Balloki power plant, following the successful conclusion of all commissioning works and performance-related tests.
Rashid Mahmood, CEO of NPPMCL said, "I am proud to announce that the Balloki project is now able to supply up to 1,223 megawatts (MW) of uninterrupted power to the national grid, the equivalent electricity needed to supply up to 2.5 million Pakistani homes. This is the second regasified liquefied natural gas (RLNG) power project developed by NPPMCL, the first being the Haveli Bahadur Shah (HBS) power plant, which entered full-fledged combined cycle commercial operations in May 2018. Together, the HBS and Balloki plants have already added over 5.5 billion kilowatt hours of power to the national grid while in the commissioning phase and they will continue to deliver efficient, low cost power for up to 30 years, making a meaningful difference in the lives of the people of Pakistan."
The contract to set up the plant was awarded by NPPMCL to HEI, which is the engineering, procurement and construction (EPC) contractor for the project and responsible for its installation works and commissioning schedule. HEI sub-contracted GE to supply two of its HA gas turbines, some auxiliary equipment and technical advisory services. The plant had earlier realized an impressive milestone by synchronizing an HA unit to the grid just 74 days after it was delivered to the project site, the shortest duration in which GE's HA technology has achieved this milestone anywhere in the world.
"The successful completion of Balloki power plant underlines the strong collaboration among NPPMCL, HEI and GE in driving the commissioning of the project. People from more than 25 countries came together to work on this project. Together, we brought the world's best to power Pakistan – local project management with Chinese engineering expertise and power generation technologies that were developed by advanced research and development teams based in North America and Europe," added Mr. Li Chao, Chief Operation Officer of HEI and General Director of 1st Power Division of HEI.
GE's HA technology has now helped to deliver two world records – one for powering the world's most efficient combined-cycle power plant, based on achieving 63.08 percent gross efficiency at Chubu Electric Nishi-Nagoya Power Plant Block-1 in Japan and another for helping EDF's Bouchain Power Plant achieve 62.22 percent net combined cycle efficiency in France. It has thus been recognized for record-setting efficiency in both 60 hertz and 50 hertz markets. Balloki is the third RLNG project equipped with GE's HA technology to reach completion in Pakistan, following the Haveli Bahadur Shah and Bhikki power plants. The three facilities are among the most efficient combined cycle power plants in the world today, adding a total of up to 3,600 MW to Pakistan's national grid. Efficiency matters as each point of efficiency can generate up to $50 million of fuel savings over 10 years for a 1,000 MW power plant.
"For more than 50 years, GE has delivered advanced technologies and worked to transform the power sector in Pakistan, and today marks an important milestone in our journey," said Russell Stokes, president and CEO of GE Power. "Our HA technology at the Bhikki, Haveli Bahadur Shah, and now Balloki power plants, is providing Pakistan with efficient, flexible, reliable and low cost power, enhancing the country's ability to meet its growing energy needs and improve the lives of millions of citizens."
GE's HA technology has undergone full-speed, full-load validation tests at GE's Greenville, South Carolina facility in the United States at extreme conditions well beyond those encountered while in service. Today, the HA has achieved more than 135,000 operating hours and is the fastest growing fleet of heavy duty gas turbines in the world with 76 units ordered by over 25 customers across more than 15 countries, including the United States, Mexico, Brazil, Pakistan, Japan, Bahrain, China, France and others. The technology continues to achieve ongoing recognition by industry third parties – EDF's HA-equipped Bouchain power plant in France was named as a Gas Plant of the Year by POWER Magazine in 2017, and Exelon's HA-powered Wolf Hollow II project in the United States was honoured as Power Engineering's Best Gas-Fired Project of 2017.
GE has supported the development of energy, transportation and healthcare infrastructure in Pakistan for more than 50 years. Today, GE-built technologies can generate the equivalent power needed to supply up to 25 percent of the country's electricity.
About National Power Parks Management Company Limited (NPPMCL):
National Power Parks Management Company Limited is a wholly owned company of the Government of Pakistan engaged in setting up the Balloki and Haveli Bahadur Shah regasified liquefied natural gas power plants to meet the energy demand in Pakistan.
About Harbin Electric International (HEI):
Harbin Electric International Company Limited (HEI) is an important member of the Harbin Electric Corporation, and is China's leading large-scale enterprise in power project contracting and the export of power equipment. Established in 1983, HEI is primarily engaged in the engineering, procurement and construction of thermal, hydro and combined-cycle power plants, and the supply of complete sets of equipment; moreover, the company can be contracted to build large-scale transmission facilities and public utilities, and provides professional comprehensive after-sales service. Since 2014, HEI has expanded its business in power investment to help resolve a global shortage of electric power. http://www.china-hei.com
About GE:
GE is the world's Digital Industrial Company, transforming industry with software-defined machines and solutions that are connected, responsive and predictive. GE is organized around a global exchange of knowledge, the "GE Store," through which each business shares and accesses the same technology, markets, structure and intellect. Each invention further fuels innovation and application across our industrial sectors. With people, services, technology and scale, GE delivers better outcomes for customers by speaking the language of industry. www.ge.com
About GE Power:
GE Power is a world energy leader that provides technology, solutions and services across the entire energy value chain from the point of generation to consumption. We are transforming the electricity industry by uniting all the resources and scale of the world's first Digital Industrial company. Our customers operate in more than 150 countries, and together we power more than a third of the world to illuminate cities, build economies and connect the world. For more information, visit the company's website at www.gepower.com