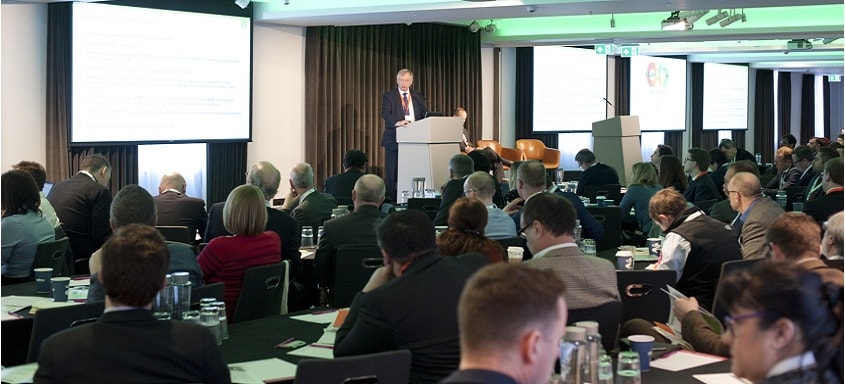 MA Business, organisers of the highly influential Energy from Waste Conference, announced details of the 15th annual event, taking place 26th-28th February 2019 in London. 
Hosted in association with Recycling & Waste World magazine, the conference is now open for delegate bookings at: www.efwconference.com
Delivered under the heading Waste to Fuel the Future, the Energy from Waste Conference offers an extensive programme designed to promote discussion and debate among the international energy from waste industry, thought leaders and key decision makers.  The opening keynote on 27th February will be delivered by Deputy Director, Waste & Recycling, for Defra, Chris Preston.
Returning to chair the proceedings is Ian Crummack, Managing Director of Cobalt Energy who commented, "The 2019 Conference comes at a pivotal moment for the energy from waste sector in the UK. Since 1994, there has been more than 40 successful projects built now in operation and many more are being developed. Most of the existing plants are used for treating municipal waste; yet there is far more commercial waste available in the UK than municipal. Additionally, any available subsidy regimes are being realigned to focus on increasing and diversifying the energy created from waste. The Conference will address these issues and provide a focal point to meet like-minded professionals in the sector, which continues to grow in significance in the face of Brexit and other challenges."
Conference highlights include a panel debate looking the long-term role for EfW in the UK, and whether we should be exploring alternatives. Panellists are: Harriet Parke, Senior Consultant, Eunomia Research & Consulting, Jacob Hayler, Executive Director, Environmental Services Association, Jarno Stet, Waste Services Manager, Westminster City Council and Robert Corijn, Group Chair RDF Industry Group and Marketing Manager, Attero.
The conference closing session will be delivered by Dr Stephen Wise, Bioenergy Director, Energia, looking at some of the latest projects exploring the evolving opportunities in the EFW market.
In addition, there will be sessions looking at overcoming planning objections, heat networks, site safety standards, business incentives and skills, training and diversity in the EfW industry.
The Energy from Waste conference 2019 includes an impressive line-up of renowned international speakers, with input from technologists, government and industry.  The programme hosts professionals representing ESA, Department for International Trade, Eunomia, Suez, Cory, CEWEP, Attero and Energia plus many more.
Delegates are also invited to attend an exclusive site visit to the Viridor Ardley ERF plant, Bicester, Oxfordshire. The facility began operation in 2014, treating 300,000 tonnes of non-recyclable waste. It will divert at least 95% of Oxfordshire's residual municipal waste away from landfill and generate enough electricity to power around 38,000 homes. Return coach travel will be provided from London and places are limited.
An exhibition of leading suppliers and service providers runs simultaneously alongside the two-day conference providing direct access for delegates to leading industrial technology and service specialists.
Finally, delegates and exhibitors are invited to attend the relaxed and informal drinks reception to celebrate a successful first day of conference.
To take advantage of the Early Bird rate, book before 10th January 2019. For the full conference schedule and to book online visit: http://www.efwconference.com/programme/

About MA Business
MA Business synonymous with high quality brands and values that make it the UK's number one media business in the manufacturing and engineering design communities. Its long-established core products are targeted at design, production technology and management readers across every discipline and manufacturing sector.
MA Business is part of the Mark Allen Group. The Mark Allen Group is a progressive media business, which delivers high-quality content through market-leading journals, magazines, books, events and websites.