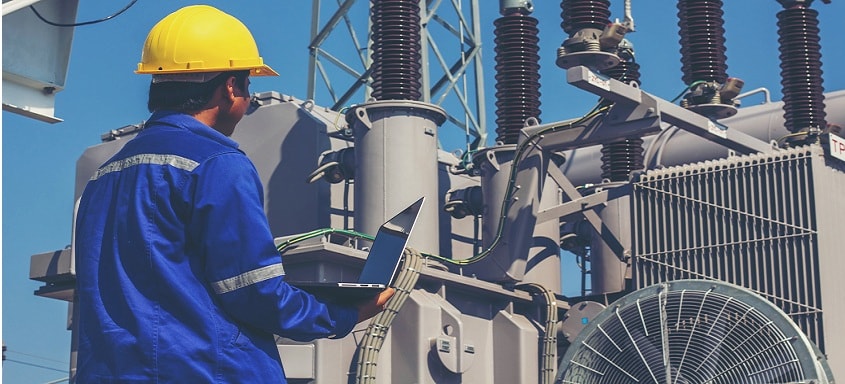 Industry leading research launched by MIDEL, the world's leading brand of ester-based transformer fluids, reveals the real and significant threat posed when a transformer fails, and a high level of concern about its impact on business continuity.
The research entitled the MIDEL Transformer Risk Report reveals that 6 in 10 industry professionals who took part in the survey had experienced transformer failure in the last five years, while 5 in 10 said transformer failure would significantly impact or halt their businesses' operations.
Barry Menzies, Managing Director Global of MIDEL, said: "Transformers are critical components of our electricity infrastructure, but the impact and extent of transformer failure is not widely documented.
"The MIDEL Transformer Risk Report shines a light on transformer failure and the findings are clear: it has a significant and prolonged impact on businesses. An interruption to business operations can be very expensive, demonstrate poor corporate social responsibility and impact business continuity.
"The good news is that many of the causes of transformer failure are largely within the operators' control. It's relatively straightforward to replace old equipment and components and upgrade maintenance regimes; however, the survey suggests a level of concern that indicates industry needs to think more strategically about asset management and dedicate more resources to mitigating the risk of failure."
The survey, which attracted responses from original equipment manufacturers, industry consultants, and transmission and distribution operators, aims to enhance industry understanding of the failure of transformers; a crucial but often overlooked part of electricity infrastructure. The resulting report assesses the impact, levels of concern and general industry attitudes towards transformer failure.
Transformer failure a business continuity concern
The level of worry about the threat of transformer failure is high among businesses with 80% of respondents expressing their concern. Although the risk to staff and the public was naturally a key concern for respondents, the survey also revealed that business continuity was a top priority.
Almost all respondents recognised the implications of transformer failure on business continuity and loss of revenue by identifying it as a key factor to assess the risk level of. Supporting this finding, safeguarding business continuity appears as one of the top three drivers for improving transformer performance.
The results indicate that the impact of transformer failure on business continuity is not to be taken lightly. When asked what impact a transformer failure would have on their business, half of respondents said a failure would either significantly impact (41%) or halt operations on their site entirely (9%).
Moreover, results indicate that many businesses' operations would be hugely disrupted in the event of a failure. Notably 71% of respondents indicated it would take in excess of three days to reinstate power supply following a transformer failure, with 11% of respondents saying it could take six months or more.
 
The importance of operations and maintenance regimes
The quality of equipment and components is considered as a top option for reducing transformer risk by 87% of respondents, followed by maintenance schedules (76%) indicating the importance of considering transformer failure from the outset.
"It's great to see that industry already recognises the benefit of using high quality components and equipment from the outset and the benefit of scheduled maintenance to reduce the risk of transformer failure" said Barry Menzies, Managing Director Global of MIDEL.
However, in addition to safety, the maintenance of transformers, or the lack thereof, was cited as the top cause for concern by respondents (61%), while nearly 70% said driving down operating and maintenance costs is a key motivator for improving transformer performance, indicating a potential conflict when it comes to cost versus maintenance scheduling.
"Safety will always be a top priority but operations and maintenance also weigh heavily on transformer owners and operators. Companies are feeling the strain of ongoing operation and maintenance costs, which worries them as they recognise the importance of a good O&M regime" continued Barry Menzies.
The responses suggest that maintenance is also key for environmental protection; nearly 80% said planned maintenance is a top measure for protecting the environment around transformers, with containment structures (65%) and bio-degradable transformer fluids (61%) as the next most popular options.
Barry Menzies continues "Transformer failure risk is taken very seriously, and it stands to reason that transformer owners and operators would do everything in their power to reduce it. Using ester fluids is just one of the ways to address some of the causes of failure; not only do they better protect against fire and avoid harming the environment, they can also lessen the operations and maintenance burden, which was consistently cited as a top concern.
"It's reassuring to see an industry so mindful of its duty to both human and environmental safety and making tangible efforts to protect both alongside their own assets. This shows a positive and proactive attitude when it comes to transformer risk."
About the Survey
The MIDEL Transformer Risk Report was launched in September 2018 and ran for three weeks. Respondents shared views from all over the world, with the majority listing their main operating areas as Europe (49%), followed by Africa (16%) and Asia (13%), Americas (11%), Middle East (7%) and Australia (4%). The survey attracted responses from transformer OEMs (original equipment manufacturers), accounting for 39%; industrial and commercial transformer operators (19%); and both transmission (8%) and distribution network operators (8%). Of those which answered 'other' to type of business (26%), organisations ranged from transmission and distribution companies, to wind power, to consultancies.
The MIDEL Transformer Risk Report can be downloaded here.
About MIDEL
MIDEL the world's leading brand of ester transformer fluids, is manufactured by M&I Materials Ltd. Since the 1970s, MIDEL transformer fluids have been chosen by utilities and transformer manufacturers across the globe. MIDEL synthetic and natural ester fluids are acknowledged for their excellent fire safety and environmental protection properties, driving installation savings as well as mitigating transformer fire risk. Used in mainstream distribution and power transformers worldwide (MIDEL fluids are proven up to 433kV), MIDEL enables transformer manufacturers to develop innovative transformer designs for specific applications or locations. Our range of natural and synthetic ester fluids offers a proven, biodegradable alternative to conventional transformer oils – all delivered with our proven technical knowledge and applications expertise. Learn more at www.midel.com
About M&I Materials
M&I Materials Ltd is a family owned manufacturing company based in the UK with offices in China, India, UAE, the USA and South Africa. Since our origins in 1901 we have built a strong, independent business known globally for innovative products, flexibility, the high quality of our technical knowledge and award-winning customer service. M&I Materials exports a range of products to over 60 countries worldwide, working in partnership with leading universities and research facilities across the globe to commercialise materials for cutting-edge industries, from power and aerospace, to nuclear medicine and high performance motorsports. Learn more at www.mimaterials.com