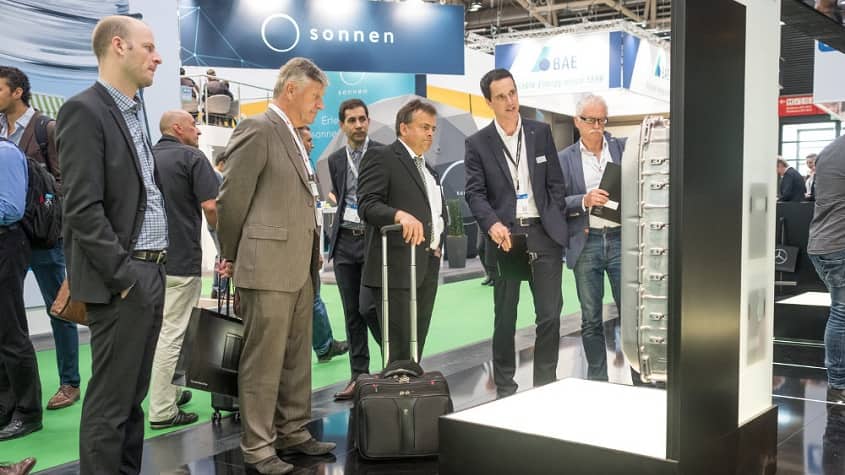 From international partnerships to cross-border storage projects, the globalization of the energy storage industry is picking up steam. Companies are stepping up their activities abroad and tapping into new sales markets.
The growing interest in transnational cooperation and the rising demand for exports reflect the global energy storage industry's enormous growth potential. From June 20–22, 2018, visitors to ees Europe in Munich will get a first-hand look at the opportunities opened up by internationalization. As Europe's largest, most international and most visited exhibition for batteries and energy storage systems, ees Europe provides an ideal platform for international exchange.
Energy storage systems are a fundamental component of the global energy transition. The ability to store energy from renewable sources for later use as needed turns fluctuating energy sources such as solar and wind into a reliable energy supply. To help this new form of energy supply prevail around the globe, more and more companies are pooling their knowledge, drawing on the regional expertise of their partners and exporting their solutions abroad. International collaborations not only contribute to the success of renewable energy, they also provide companies with opportunities for global growth.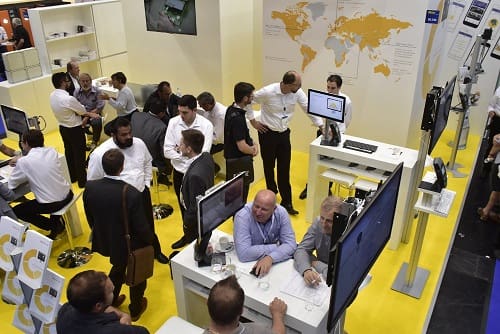 Analysts at IHS Markit expect the annual global deployment of energy storage systems to reach 4.7 gigawatts by 2020 and 8.8 gigawatts by 2025. If this prediction holds, grid-connected energy storage installations will reach a cumulative capacity of 52 gigawatts by 2025. The German market for energy storage is also trending upwards.
According to the German Solar Association (BSW-Solar), approximately 60,000 solar storage systems are currently operating in Germany, with the number expected to grow to potentially 100,000 over the next two years. "The demand for solar storage units in Germany is growing, driven by falling costs and a wide array of technologically advanced products. And the trend toward owning your own solar storage system is steadily spreading to other European markets," says Carsten Körnig, CEO of BSW-Solar.
ees Europe supports companies in their internationalization efforts
ees Europe is the ideal meeting place to drive the internationalization of the storage industry forward. Trade visitors to the renowned exhibition come together with international exhibitors and industry leaders with global market strategies. Take, for example, sonnen, which is providing the newly founded Energy Alliance Italia in Bergamo with 20,000 storage systems. Or Younicos, which supplies battery storage systems to Singapore.
"We are a global leader in battery and energy management solutions for energy producers, suppliers, industrial customers and microgrids, and we meet our customers and business partners at ees Europe," explains Jayesh Goyal, Managing Director at Younicos.
In addition to the exhibition, ees offers a variety of opportunities for exchange and global networking in the form of forums, workshops and a conference. The ees exhibition is also represented with international events in San Francisco, São Paulo and Mumbai. This allows the energy storage exhibition to support companies in presenting their solutions for the regional market locally and pushing ahead with their internationalization strategy.
The smarter E brings together a comprehensive range of topics along the value chain
ees Europe is one of four energy exhibitions taking place in 2018 under the new umbrella of The smarter E Europe. As the innovation hub for empowering new energy solutions, The smarter E Europe presents cross-sector energy solutions of the future. Starting in 2018, The smarter E Europe will bring together the renowned Intersolar and ees Europe exhibitions along with two new energy exhibitions: Power2Drive Europe and EM-Power.
Successfully implementing storage projects increasingly requires transnational and cross-sector solutions, as yet another partnership makes clear. The German company Solarwatt, which is exhibiting at ees Europe, is pooling its expertise with Fronius, an Austrian solution provider with a presence at Intersolar Europe. "Cross-sector and international partnerships such as the one between Solarwatt and Fronius ensure that we find the best solutions for the success of the energy transition. That's why the international audience found at ees and Intersolar Europe provides an ideal environment for us to present our products to customers in all of the important European photovoltaics markets," explains Jörg Erdmann, Director of Marketing and Communication at SOLARWATT.
ees Europe and the parallel events will take place from June 20–22, 2018 under the umbrella of The smarter E at Messe München.
For more information, please visit:
www.ees-europe.com/en
www.TheSmarterE.de/en
About ees Europe
ees Europe is the continent's largest and most visited exhibition for batteries and energy storage systems. Since 2014, ees Europe has been held annually at the Messe München exhibition center in Munich. It serves as the industry platform for manufacturers, distributors, users and suppliers of stationary storage solutions and technologies for electrical energy as well as battery production technologies.
The accompanying ees Europe Conference highlights and consolidates current industry issues.
With additional ees events in San Francisco, Mumbai and São Paulo, ees is represented on four continents.
In 2018, ees Europe is taking place in parallel to Power2Drive Europe, the exhibition for charging infrastructure and e-mobility, for the first time. With its focus on traction batteries and topics relating to charging infrastructure, Power2Drive complements ees Europe perfectly. Intersolar Europe, the world's leading exhibition for the solar industry and its partners, and EM-Power, the new exhibition for the intelligent use of energy in industry and buildings, will also take place at the same time. All four exhibitions are being held under the umbrella of The smarter E Europe – the innovative platform for new energy solutions.
For more information on ees Europe, please visit: www.ees-europe.com/en
ees Europe is organized by Solar Promotion GmbH, Pforzheim, and Freiburg Wirtschaft Touristik und Messe GmbH & Co. KG (FWTM).
Contact:
Solar Promotion GmbH | P.O. Box 100 170 | 75101 Pforzheim, Germany
Sabine Kloos
Tel.: +49 7231 58598-0
Fax: +49 7231 58598-28
info@ees-europe.com