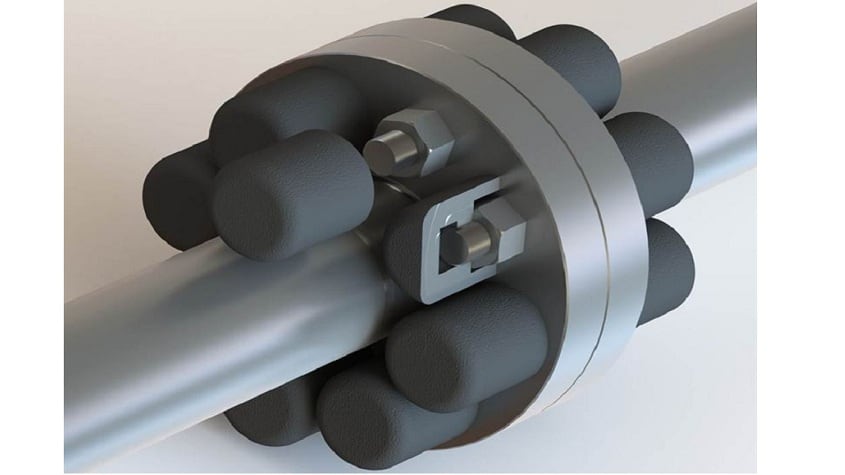 Trelleborg will present its range of passive fire protection solutions at Offshore Technology Days (OTD) 2017 in Stavanger, Norway. Located in Hall B on stand 2708, the company will showcase a number of offshore innovations including Elastopipe™, Vikodeck™ and FireNut™.
Torbjorn Pettersen, Sales Manager for Trelleborg's offshore operation based in Norway, states: "As the offshore oil and gas industry continues to push the limits, improving fire safety is becoming an ever greater critical element, resulting in a growing need for higher performance solutions which are guaranteed to perform in extreme environments.
"Our range of passive fire protection solutions include: Elastopipe™, a flexible piping system; Vikodeck™, a surface protection material and FireNut™, a fire protection for bolted connections or flanges. All our fire protection solutions are manufactured using our Firestop technology and protect people, structures and equipment in the most severe fire scenarios."
Elastopipe™ is a patented flexible piping system developed for transporting a variety of fluids and is the first corrosion-free, explosion, impact and jet fire resistant flexible piping system. This next generation system uses synthetic rubber instead of traditional materials and incorporates the only piping material approved for offshore deluge systems that has survived sequential explosion, impact and jet fire testing. Elastopipe™ has been independently tested and certified by DNV, as well as approved by Lloyds, RMRS, ABS and the US Coast Guard.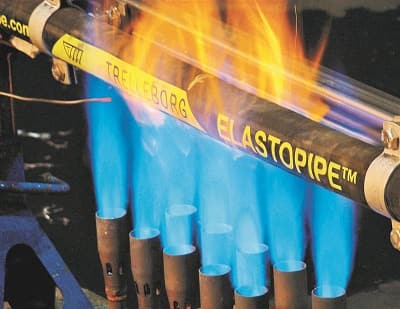 Vikodeck™ is designed to offer surface protection against blast, jet and pool fire in harsh environments. It can be tailored to withstand various chemical and mechanical conditions. In addition it provides excellent corrosion protection and anti-fatigue dampening support for the comfort and safety of employees.
FireNut™ is a light weight, easy to install alternative to the fire-insulated metal boxes used for the protection of bolted connections or flanges on offshore installations. A rubber-based fire protection system, it specifically protects just the nuts of a bolted connection or flange. In stark contrast to the traditional bulky metal boxes, this lightweight solution is customizable to accommodate almost any bolt size, is easy to install and extends the service life in the event of a fire, being resistant to both jet fire and pool fire.
OTD is a meeting place created by, and for the Norwegian Offshore Suppliers. Here you can meet all the players in the business in one place, from the big majors to the smaller niche companies, as well as enjoying the very special OTD spirit.
For additional information at the exhibition, stop by stand B2708 to speak with our industry experts Torbjorn Pettersen, Christoffer Biering, or Stein Hovde or visit www.trelleborg.com/offshore

For press information or additional information on Trelleborg Offshore,
contact
Ruth Clay,
Mobile: 1 281 740 5755;
ruth.clay@trelleborg.com,
@OffshoreInsight, LinkedIn.
Trelleborg's offshore operation and Trelleborg Group
Using advanced polymer material technology, Trelleborg's offshore operation provides high integrity solutions for the harshest and most demanding offshore environments. As part of the Trelleborg Offshore & Construction Business Area of Trelleborg Group, Trelleborg's offshore operation specializes in the development and production of polymer and syntactic foam based seismic, marine, buoyancy, cable protection and thermal insulation products, as well as rubber-based passive and active fire protection solutions for the offshore industry. Within its portfolio are some long established and respected brands including, CRP, OCP, Viking and Emerson & Cuming. Trelleborg's offshore operation has been providing innovative solutions to the industry for over 30 years. www.trelleborg.com/offshore

Trelleborg is a world leader in engineered polymer solutions that seal, damp and protect critical applications in demanding environments. Its innovative solutions accelerate performance for customers in a sustainable way. The Trelleborg Group has annual sales of SEK 31 billion (EUR 3.23 billion, USD 3.60 billion) and operations in about 50 countries. The Group comprises five business areas: Trelleborg Coated Systems, Trelleborg Industrial Solutions, Trelleborg Offshore & Construction, Trelleborg Sealing Solutions and Trelleborg Wheel Systems, and the operations of Rubena and Savatech. The Trelleborg share has been listed on the Stock Exchange since 1964 and is listed on Nasdaq Stockholm, Large Cap. www.trelleborg.com