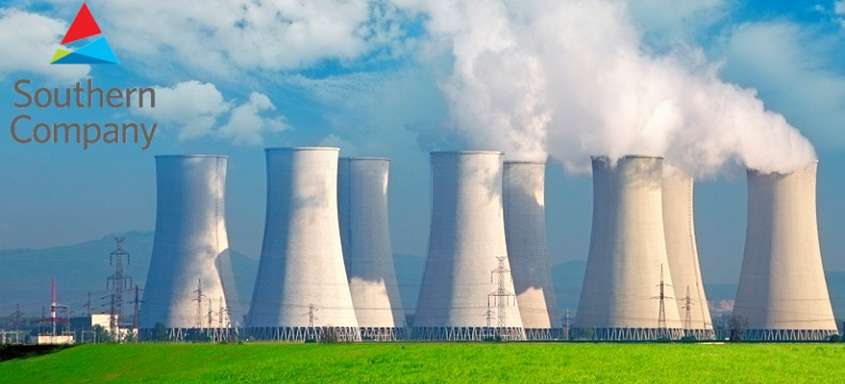 Southern Nuclear in collaboration with South Carolina Electric & Gas was honored by the Electric Power Research Institute (EPRI) with a Technology Transfer Award for the development and implementation of a project titled Pilot plant application of risk-informed in-service inspection to new build fleet.
James Agold with Southern Nuclear's Engineering Programs worked with SCE&G on the project to develop more informed operational and maintenance policies. Agold, who retired from Southern Nuclear last year, accepted the award Tuesday night at the EPRI Nuclear Power Council Advisory Week in Charlotte along with Southern Nuclear and SCE&G colleagues in attendance.
"I am proud of the Southern Nuclear team for continuously seeking innovative solutions that advance our industry and help deliver the nuclear promise of clean, affordable and reliable nuclear energy," said Southern Nuclear President and CEO Steve Kuczynski. "James and the team have developed policies for the new fleet build that will provide substantial benefits by reducing costs, worker exposure and radiation waste while improving plant safety."
More specifically, the new policies will decrease the scope of the inspection population between 60-90 percent and provide a conservatively-estimated cost savings between $1 and $2 million per ten-year inspection interval.
"The 2016 Technology Transfer Award winners have taken EPRI Research & Development to new levels in order to shape a sustainable energy system," said Arshad Mansoor, senior vice president of R&D at EPRI. "Working in a collaborative environment, their advancements benefit their utility and the entire industry because we all have a stake in power system transformation."
About Southern Nuclear:
Southern Nuclear, a subsidiary of Southern Company , is a leader among the nation's nuclear energy facility operators and an innovator in advanced nuclear technologies. Southern Nuclear is an essential part of Southern Company's energy portfolio, and its importance will continue to grow as America transitions to a low-carbon energy future. While the company produces clean, safe and reliable nuclear energy, it's also an economic engine powered by quality jobs and community service. Southern Nuclear operates a total of six units for Alabama Power and Georgia Power at the Joseph M. Farley Nuclear Plant near Dothan, Ala.; the Edwin I. Hatch Nuclear Plant near Baxley, Ga.; and the Alvin W. Vogtle Electric Generating Plant near Waynesboro, Ga. Southern Nuclear is the licensee of two new nuclear units currently under construction at Plant Vogtle that are among the first nuclear units being constructed in the United States in more than 30 years. Southern Nuclear received numerous accolades in 2016 for leadership in the advancement of nuclear energy including the Special Achievement Award by the United States Nuclear Infrastructure Council and the Presidential Citation by the American Nuclear Society. Southern Nuclear also received two of the Nuclear Energy Institute's Top Innovative Practice awards and special recognition for achieving excellence in research and performance. Southern Nuclear's Plant Hatch received the ANS Operations & Power Division's Utility Achievement Award for plant improvements that resulted in a record-setting refueling outage duration. The company's headquarters is in Birmingham, Ala.
About Southern Company:
Southern Company is America's premier energy company, with 44,000 MW of generating capacity and 1,500 billion cubic feet of combined natural gas consumption and throughput volume serving 9 million electric and gas utility customers through its subsidiaries. The company provides clean, safe, reliable and affordable energy through electric utilities in four states, natural gas distribution utilities in seven states, a competitive generation company serving wholesale customers across America and a nationally recognized provider of customized energy solutions, as well as fiber optics and wireless communications. Southern Company brands are known for excellent customer service, high reliability and affordable prices that are below the national average. Through an industry-leading commitment to innovation, Southern Company and its subsidiaries are inventing America's energy future by developing the full portfolio of energy resources, including carbon-free nuclear, 21st century coal, natural gas, renewables and energy efficiency, and creating new products and services for the benefit of customers. Southern Company has been named by the U.S. Department of Defense and G.I. Jobs magazine as a top military employer, recognized among the Top 50 Companies for Diversity by DiversityInc, listed by Black Enterprise magazine as one of the 40 Best Companies for Diversity and designated a Top Employer for Hispanics by Hispanic Network. The company has earned a National Award of Nuclear Science and History from the National Atomic Museum Foundation for its leadership and commitment to nuclear development and is continually ranked among the top utilities in Fortune's annual World's Most Admired Electric and Gas Utility rankings. Visit our website at www.southerncompany.com
For further information: 
Southern Nuclear Communications, 
205-992-5395, 
www.southernnuclear.com